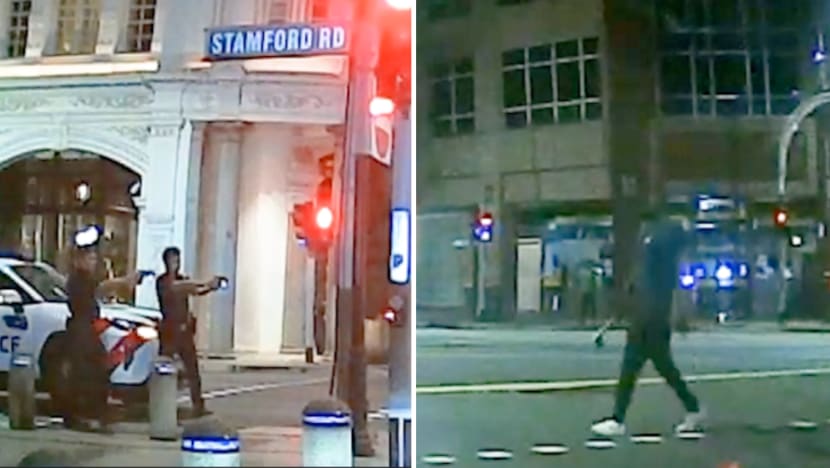 SINGAPORE: A 25-year-old man was arrested early on Tuesday (Apr 11) after he was seen carrying an axe along Stamford Road in an incident recorded by a passing driver.
A 71-year-old man was taken to hospital in connection with the incident, which involved a fight.
In response to a CNA query, the police said they were alerted to a case of a fight along Stamford Road at about 2.30am. 
"A 25-year-old man was subsequently arrested for possession of offensive weapon, using criminal force to deter a public servant from the discharge of his duty and using abusive language against a public servant."
"A 29-year-old man is assisting with investigations. An axe was also seized," SPF added.
The injured 71-year-old man was conscious when taken to hospital by the Singapore Civil Defence Force. CNA understands that the man's injuries were not caused by the axe and are not life-threatening.
Investigations are ongoing.
In dashcam footage of the incident, which was recorded at the junction of Stamford Road and Victoria Street, two police officers are seen emerging from their vehicle before they are approached by a man holding an axe in a downward position in his right hand.
One of the officers gestures at the man before they both draw their Tasers and point them at him.
The man quickly comes to a halt some distance away from the officers. He then throws the axe to the side of the road and raises his hands briefly.
The officers keep their Tasers raised and the man appears to talk to them for the rest of the 92-second video, which ends with an ambulance approaching the scene.