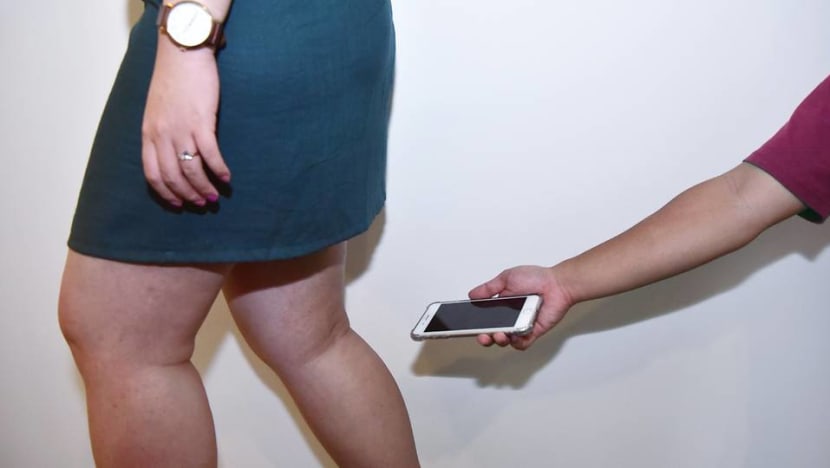 SINGAPORE: While driving to his girlfriend's place, a man noticed a woman walking by in a skirt and decided to follow her first in his car, then on foot.
He followed the stranger into a lift, where he pointed his phone camera up her skirt and later punched her when she tried to stop him from fleeing.
Tan Hiang Peng, 31, was jailed for 11 weeks on Wednesday (Jul 6) after pleading guilty to two charges of insulting the woman's modesty and voluntarily causing hurt.
A third charge of possessing obscene films was taken into consideration for sentencing.
The court heard that the man, an insurance agent, was driving from Hougang Avenue 3 to his girlfriend's apartment when he spotted the victim at around 9pm on Sep 23, 2020.
"He decided to follow her because, among other things, he perceived that she was wearing a short skirt," court documents stated.
Tan followed the woman in his car for some distance before stopping at a car park to continue watching her.
When he saw the woman walk towards a lift lobby, he decided to follow her on foot.
When the woman entered the lift, Tan rushed in as the lift door was closing and pressed a random floor number. They were alone in the lift.
He stood behind the woman, who was listening to music on her earphones, and held his phone under her skirt. The flashlight on his phone was turned on.
After several moments, the victim noticed the light from Tan's phone and shouted at him, according to court documents.
She tried to grab his hand, but Tan pushed her chest. A scuffle ensued, during which Tan tried to flee and the victim tried to grab his shirt collar to prevent him from escaping.
Tan then punched the victim twice in the face and the victim's grip on him loosened. Police camera footage captured him running out of the lift and down the stairs back to his vehicle.
Tan drove on to his girlfriend's place, where he changed his top and footwear. To avoid detection, he threw away the shirt and slippers he wore during the incident in a communal rubbish bin on the ground floor, the court documents said.
Tan was identified through the police camera footage, and arrested at his girlfriend's apartment the following day.
During investigations, Tan claimed that he had thrown away his shirt and slippers because they were "torn" during the scuffle.
He acknowledged that he was addicted to pornography, and said that he had placed his phone under the victim's skirt because he had seen similar acts in pornographic videos and was "curious and excited" to try this himself.
He also claimed that he had wanted to "test the flashlight" on his phone.
The police found more than 2 terabytes worth of pornographic videos and images on electronic devices seized from Tan, who admitted knowing that downloading and storing pornography was an offence.
The man did not record an upskirt video of the victim.
Deputy Public Prosecutor Jarret Huang sought 10 to 12 weeks' imprisonment, citing a significant level of premeditation and the confined space in which the offences happened.
He also highlighted that Tan immediately turned to violence instead of surrendering after he was caught, and then took pains to conceal his involvement.
These aggravating factors demonstrated that Tan's behaviour was aberrant even compared to the "typical upskirt offender", he said.
The penalty for insulting a person's modesty is up to a year in jail, a fine or both.
The punishment for voluntarily causing hurt is up to three years in jail, a fine of up to S$5,000 or both.