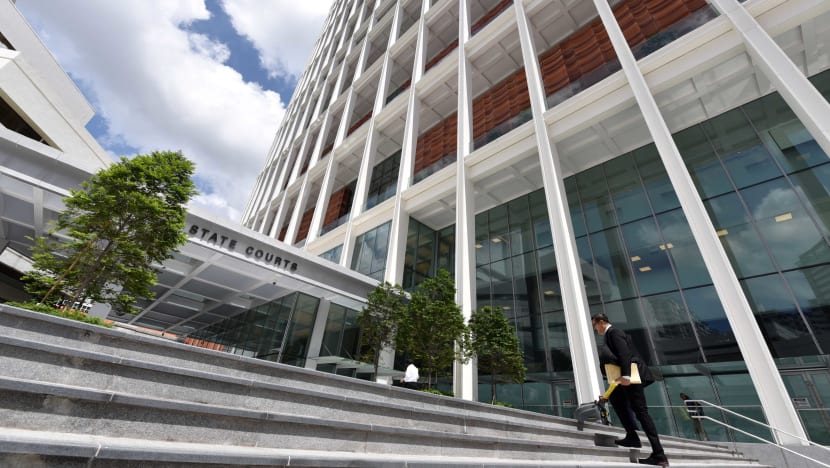 SINGAPORE: A 30-year-old man who forged a doctor's memo to show he was fully vaccinated against COVID-19 was sentenced to three weeks in prison on Wednesday (Sep 29).
Zhang Shaopeng was found guilty of forging the document, which he then used to dine in at a Japanese restaurant at Orchard Central shopping mall earlier this month. 
COVID-19 regulations at the time allowed groups of five to dine-in at restaurants if they are fully vaccinated.
The court heard that Zhang and two colleagues, all Chinese nationals, were scheduled to attend an exhibition in the United States on Sep 21 for work. 
However, as foreign nationals who had been in China for at least two weeks prior, they were not allowed to enter the US. The three decided to travel to Singapore and stay in the country for more than two weeks before flying to the US.
On Aug 25, Zhang's colleagues - a 32-year-old man and a 25-year-old woman - went to a Raffles Medical clinic to validate their COVID-19 vaccination certificates. Both also underwent serology tests and received a doctor's memoranda certifying their vaccination status. 
On Aug 28, Zhang was informed by his colleagues that in order to dine at restaurants, he would need a document certifying he was fully vaccinated. 
The next day, he asked his male colleague to send him a photo of the doctor's memo from Raffles Medical, which he then edited using a mobile phone app to insert his own name.
On Sep 1, Zhang offered to buy his colleagues a meal at the Orchard Central branch of Tanuki Raw.
At the entrance of the eatery, a restaurant supervisor asked the three to show proof of their vaccination status.
Zhang's female colleague produced her doctor's memo, while the male colleague showed a photo of the document.
Zhang showed a photo of his vaccination certificate, issued by the Tonglu County Women and Children's Healthcare Hospital in China.
However, as the certificate was written in Chinese characters, the supervisor asked for a document that was in English and recognised by the Singapore Government. 
The accused then showed her the photo of the forged memorandum on his phone, so as to "fraudulently induce" her to allow him entry into the restaurant, said Deputy Public Prosecutor Ng Jun Chong. 
The supervisor took a picture of Zhang's photo of the memo, as well as that of his colleague. 
The pictures were then sent to the restaurant manager, who noticed that the identification number on the documents in both photos was the same. 
The three were then asked to leave the restaurant, the prosecution noted. 
When Zhang was asked by restaurant staff about the forged document, he stated that "their agent in China prepared everything including the hotel and certificate for them". 
Later that day, the restaurant manager lodged a police report against Zhang and his colleagues. 
Although Zhang deleted from his phone all copies of the forged document as well as the photo it was based on, a copy of the photo of the doctor's memo was recovered from his iCloud storage account. 
Raffles Medical confirmed on Sep 2 that the accused had not visited its clinic and on Sep 14, and Zhang was arrested for forgery. 
The prosecutions asked for Zhang to be sentenced to between three and four weeks' jail, describing the fraud as deliberate in nature and intended to deceive restaurant staff.  
However, Zhang's lawyer, Cory Wong of Invictus Law, asked for his client to be given a "sufficiently high fine" instead. 
There was no evidence that Zhang was COVID-19 positive, Mr Wong said, noting that his client's polymerase chain reaction test upon entry to Singapore was negative and that he served the entire term of his stay-home notice. 
Zhang was also fully vaccinated, having received both shots of the Sinovac vaccine by February this year, the defence said. 
For committing forgery, Zhang could have been sentenced to a maximum of four years in jail or a fine, or both.