Man who shot woman with revolver in 1981 armed robbery sentenced to jail
Chin Sheong Hon fled Singapore in 1981 after robbing a woman at gunpoint. He was repatriated from Thailand in 2013, but was found unfit to plead by a court in 2015 due to his delusional disorder.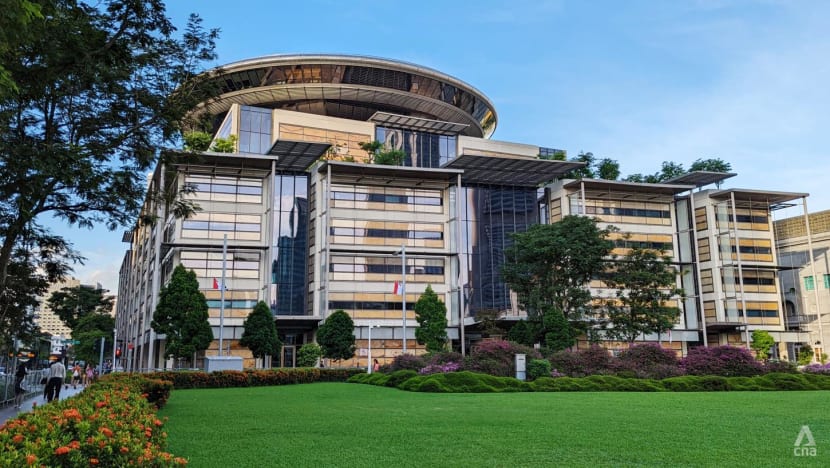 SINGAPORE: A man who fled the country after committing a slew of armed robberies in 1981, including shooting a woman with a revolver for S$92,000, was sentenced by a court on Tuesday (Nov 15).
Chin Sheong Hon, now 72, was sentenced to 18 years' jail. He pleaded guilty to two charges of armed robbery, with a third charge taken into consideration.
He fled Singapore for Thailand after the robberies in 1981, returning to the country only in 2013 when he was repatriated. 
However, the High Court in 2015 found that he was of unsound mind and incapable of making his defence.
He was detained pending an order by the minister and was discharged from this order in July 2021, after he was found to be fit to plead to the original charges.
The court heard that Chin committed a series of armed robberies in 1981.
In the first robbery, the chief cashier of Singapore Shuttle Bus left his office in Geylang on the morning of Jul 16, 1981.
He had with him more than S$16,000 in a briefcase and bag to deposit in a bank. The man went to his car, which was parked beside his office, and placed the money on the ground to retrieve his key.
Chin went up to the man and pressed a revolver to his waist, telling him not to raise an alarm. The man feared for his life and complied, handing over the money to Chin.
Chin later fled after a white van pulled up beside the victim's car. The victim made a police report.
On Nov 6, 1981, a woman left her office in Upper Thomson with a briefcase containing S$92,000 in cash and cheques. She was heading to a nearby bank with her brother to deposit her company's money.
As she was walking towards the bank, Chin came up to her and shot her with a revolver. 
The woman collapsed and Chin grabbed the briefcase and fled with the victim's brother in pursuit. Chin left the scene after another person on a motorcycle picked him up.
The victim suffered a gunshot wound, a ruptured stomach and lacerations to her lower lung. She survived her injuries.
A third robbery in 1981 involving a much smaller sum was taken into consideration for sentencing.
CHIN'S MENTAL CONDITION
A report by the Institute of Mental Health (IMH) dated January this year found that Chin has a longstanding history of delusional disorder.
Chin was diagnosed with this disorder in 2015 after he was repatriated to Singapore from Thailand.
The previous IMH report in May 2015 referenced a dementing illness and brain damage, but Chin was objectively observed thereafter to be "entirely lucid", the court heard.
His cognitive functions are intact and he does not suffer from a dementing illness, but has to be monitored.
However, Chin was found to lack insight into his mental illness and complies with taking medication only as a consequence of being incarcerated.
He is of unstable character, with a risk that he will commit offences of a similar nature in the foreseeable future due to his ongoing chronic mental illness, the court heard.
The IMH report said he will benefit from being held in a secure and structured environment to ensure ongoing compliance with his psychiatric treatment.
Chin, who appeared in court with a shaven head and wearing a purple prison jumpsuit, interjected and said: "I am very remorseful for what I have done."
Deputy Public Prosecutor Timotheus Koh asked for life imprisonment for Chin. He said that Chin had made off with a total of about S$110,000 and remained at large for more than 30 years.
Defence lawyer Mervyn Cheong, who represented Chin under the Criminal Legal Aid Scheme, asked instead for a total of 13 years and seven months.
JUDGE COMMENTS ON "LIFE IMPRISONMENT"
Justice Pang Khang Chau said a peculiar feature of this case was that because the offences were committed in 1981, he was required to pass sentence in accordance with the law as it stood then and not in accordance with the law that was subsequently amended.
"What this also means is that if I were to sentence the accused to life imprisonment, it would in effect be a sentence of 20 years' imprisonment as opposed to imprisonment for the remainder of the accused's natural life," said Justice Pang.
He said this was because Chin's offences were committed before the Court of Appeal revised the definition of life imprisonment in the 1997 case of Abdul Nasir.
Justice Pang said that both sides agree that Chin's sentence should be backdated to Jun 6, 2013, when Chin was arrested. 
Chin has been in remand for almost nine-and-a-half years, said Justice Pang. The majority of this was spent in a psychiatric ward, because there was an assessment by the court that he was not fit to plead.
The judge declined to impose a sentence of life imprisonment, but agreed with the prosecution that there were aggravating factors that called for "serious sentences" to be imposed.
These include the use of firearms, the discharge of a firearm, premeditation, a substantial amount of money involved and the fact that Chin absconded to Thailand to evade justice.
He said that with the sentence of 18 years, after considering one-third remission and the nine-and-a-half years spent in remand, Chin will likely serve about two-and-a-half years.
The charge of armed robbery involving the use of a revolver with hurt caused drew a maximum sentence of life imprisonment. The maximum sentence for the other charge of armed robbery while putting a person in fear of instant death was a maximum of 10 years.