A manufacturer and a food caterer among new players feeding Singapore's urban farming boom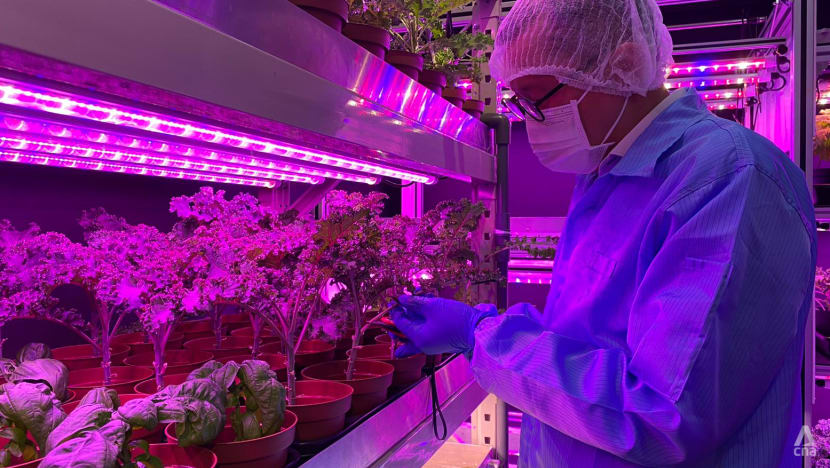 SINGAPORE: In a small room tucked away on the second floor of a precision engineering factory in Tuas, pots of kale and lettuce stacked in vertical racks grow under the glow of pink-purple lights.
These light-emitting diode (LED) lights have been designed to shine at a customised spectrum that will help crops grow better. Smart sensors also keep tabs on temperature and humidity in the room, while a special water treatment system reduces bacteria growth.
In here, the goal is to find the best way to farm vegetables indoors, all with the use of technology.
"You can control everything, even how much nutrients or water is being used for each plant," said Mr Nelson Lim, co-founder of I.F.F.I, which stands for Indoor Farm Factory Innovation.
"We want to bring indoor farming into something more precise, where you calculate the least input for the best output. That is precision farming," he told CNA.
Mr Lim is also the chief executive of precision engineering firm TranZplus Engineering, which is the parent company of I.F.F.I. TranZplus' two-storey office in Tuas now houses both a manufacturing facility for semiconductor components and a farming showroom.
"A lot of people ask me: 'Nelson, are you crazy? You're in engineering, why suddenly do farming?' Actually, the two are not unrelated. We can put our engineering skills to good use in indoor farming," Mr Lim said, while demonstrating the farming racks that can be adjusted according to height and size.
Robotics is another expertise that the company has incorporated into its farming solutions to not just improve the yield and quality of crops, but also workflow efficiencies.
For instance, automated machines that can perform seeding, transplanting, potting and harvesting tasks will be put to work at I.F.F.I's mega indoor farm when ready at the end of this year.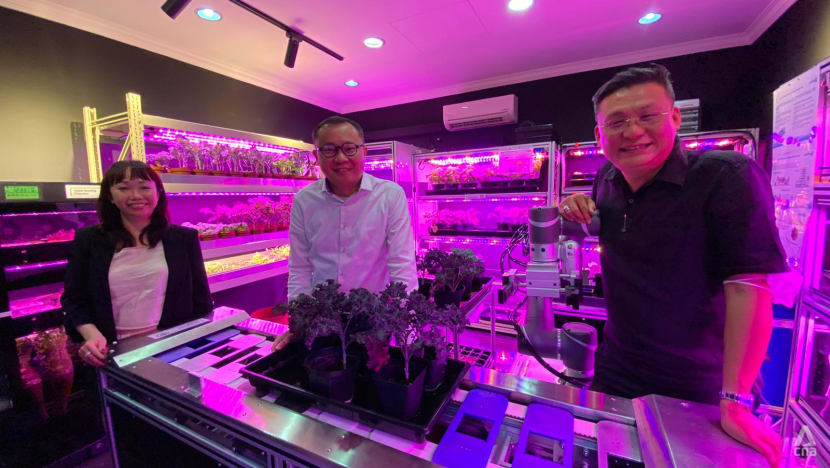 SEEDING A DIVERSIFICATION
TranZplus' venture into agriculture was first seeded in 2016 when it became one of the vendors for Panasonic's indoor farm in Singapore.
"Initially, they just wanted to have a rack. Then we thought why not have racks that can be customised, why not put in an irrigation system and other types of automation?" Mr Lim recalled. "We worked out a prototype and they were impressed."
The company kept on with research and development after that, while being involved in setting up three other small-scale farms. In 2019, it decided it had gained enough experience to give it a shot.
Mr Lim said the decision to venture into indoor farming was driven by "strong business potential", partly on the back of Singapore's "30 by 30" goal to produce 30 per cent of the country's nutritional needs locally by 2030.
The COVID-19 pandemic has accentuated the potential, with global disruptions to the harvesting, shipping and sale of food making it even more important for the country to have its own resources. Indoor farms can be the solution, he added.
Last September, I.F.F.I. became one of the nine urban farms to secure grants totalling S$39.4 million from the Singapore Food Agency.
Its 38,000 sq ft indoor farm, which remains under development at the JTC Space @ Tuas, will be using a soil-based cultivation method that allows more vegetable varieties to be planted.
When operational, the mega farm will be able to produce 800 to 1,000kg of vegetables, like nai bai and spinach, per day, said Mr Lim.
Another new player on the field is food caterer Kitchen Haus, which co-founded "farm-to-table" concept brand Frux Earth a few months ago.
With its core business facing a slow recovery amid the pandemic, the company has been diversifying actively in search of new opportunities over the past year.
Agriculture is "not unrelated territory", chief executive Patrick Chan said. "It's still part of the food ecosystem so when the opportunity came, I agreed instantly."
It teamed up with home-grown urban farming company Metro Farm for the new venture. With the latter's expertise, the farms under Frux Earth – three sites spanning 60,000 sq ft – are powered by an aquaponics system that converts fish waste into nutrients for the vegetables.
For instance, its 12,000 sq ft rooftop farm atop an industrial building in Bendemeer has eight fish tanks with red tilapia and jade perch. These fishes were chosen for their hardiness and ability "to produce more waste", said Metro Farm's director Chris Toh.
"We have a filter to separate the fish waste, which is then broken down by bacteria. Our system will then keep the nutrients flowing to the vegetables 24/7," said the farm's other director Brandon Toh, who added that the system is "self-sustainable" and keeps costs low.
The Bendemeer farm, with its 720 vertical plant towers, can harvest more than 30,000 stalks of vegetables, including purple lettuce and kale, a month. The fish will also be sold once they reach table size.
Mr Chan said: "This is a breath of fresh air for us and we pivoted because we want to jump on the trend of food sustainability.
"I think Metro Farm sees the value in us having the know-how of food preparing, catering and retail. And we partner them because it's not easy to set up a farm and they are the experts."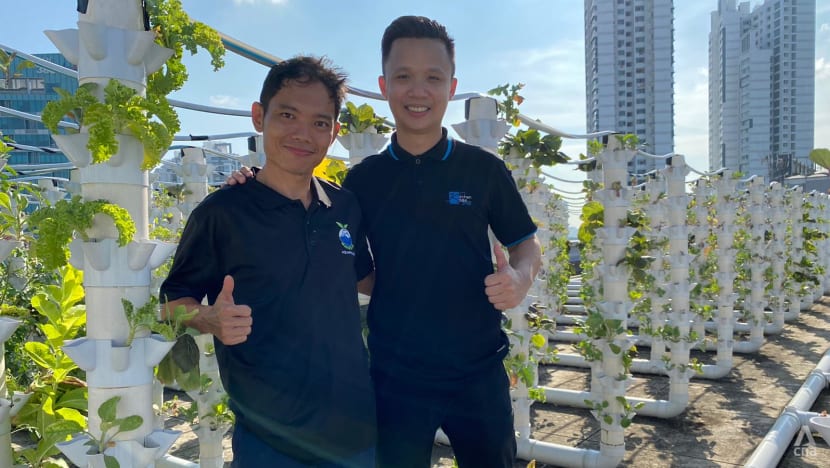 OPPORTUNITIES AND CHALLENGES
Metro Farm, which started its first farm in Kranji almost nine years ago, noted that the local agriculture sector has become "much more vibrant".
While the presence of new and bigger players means greater competition, the increased attention has also made it easier for businesses to secure farming sites in land-scarce Singapore, including vacant rooftops on both public and private buildings.
"In the past, we have to explain what is a rooftop farm and what we are doing but now, more landlords are opening up to the idea," said Mr Brandon Toh, although he noted that not all rooftops are suitable given the need to take into consideration the additional loads of farming.
Frux Earth has plans to open three more urban farms over the next few months.
Its "farm-to-table" menu is in the works as it ramps up its crop production, while it is also gauging the interest for a weekly vegetable subscription service, said Mr Chan.
These "culture boxes", as they are called, will be filled with 1 to 2kg worth of freshly harvested organic vegetables and delivered to the doorsteps of customers every week. For now, it has started supplying a few restaurants located near its farm at the Marina Country Club.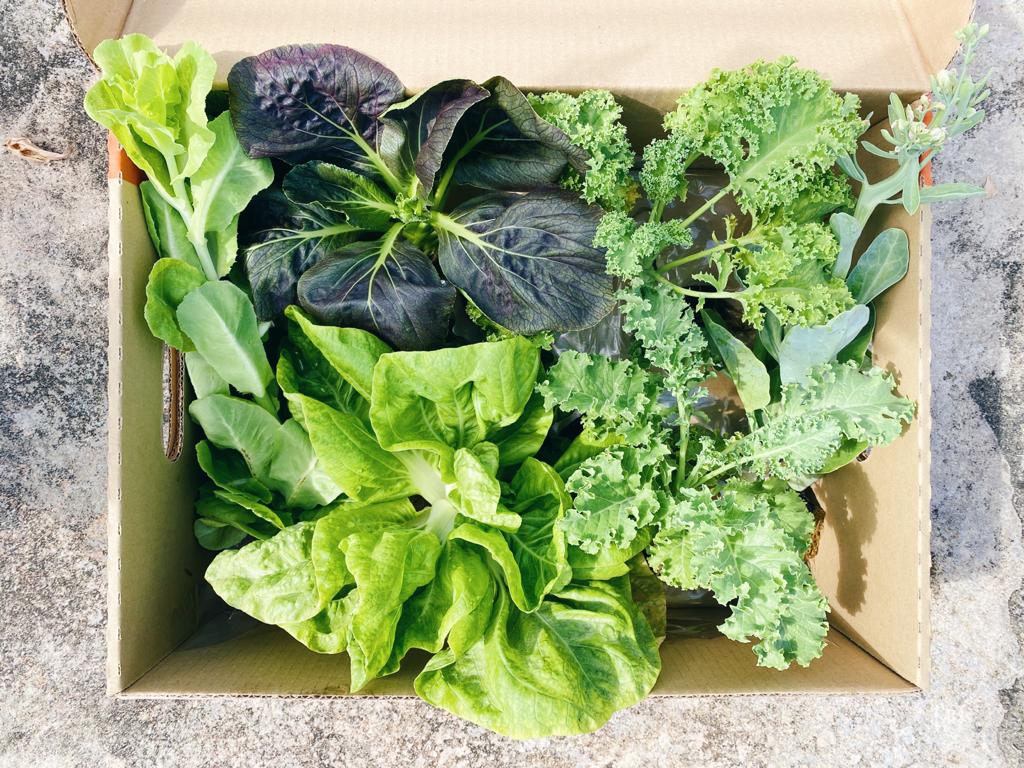 Over at I.F.F.I, the protracted pandemic and its impact on labour and supplies of raw materials have caused some delays at its mega indoor farm which was initially scheduled to open in the middle of this year.
"We are catching up and hopefully we can have everything ready soon," said Mr Lim. "Certainly, costs have also gone up with the increase in raw material prices, but we are managing that."
Meanwhile, the company is working on opening an "indoor farm pro-shop".
"There will be a mini-farm set up for visitors to understand and raise awareness about indoor farming," said I.F.F.I chief operating officer Kelvin Ng.
"If they like what they see and want to start their home cultivation system, they will also be able to purchase everything they need at the shop. We will even have consultants ready to guide you. It will be a one-stop shop about indoor farming."
I.F.F.I. also sees opportunities beyond Singapore where they can serve as consultants or designers to those looking to set up indoor farms. For instance, in Russia where crop production is a challenge due to the cold climate.
Its technologies can also be deployed in "bite sizes" even in traditional food-producing countries as solutions to specific problems, such as water pollution.
Mr Ng said: "There are many opportunities emerging in the space of indoor farming, and we want to be bold and seize them."