MAS will need 'creativity and caution' to navigate new challenges and opportunities for Singapore: PM Lee
The Monetary Authority of Singapore marks its 50th anniversary this year.
SINGAPORE: The Monetary Authority of Singapore (MAS) will need its "optimal blend of creativity and caution" to navigate new challenges and create opportunities for Singapore's financial sector and economy, said Prime Minister Lee Hsien Loong on Thursday (Oct 7).
In a speech to mark the agency's 50th anniversary, Mr Lee highlighted challenges that include disruptive technologies such as artificial intelligence and the Internet of Things, new business models such as decentralised finance and the use of crypto assets, as well as the transition to a low-carbon economy.
MAS' approach of caution with creativity has delivered results for Singapore over the years, said Mr Lee. 
He noted that although MAS was initially conceived as a dedicated organisation to carry out the "specialised functions" of central banking and financial regulation, its responsibilities have "expanded considerably".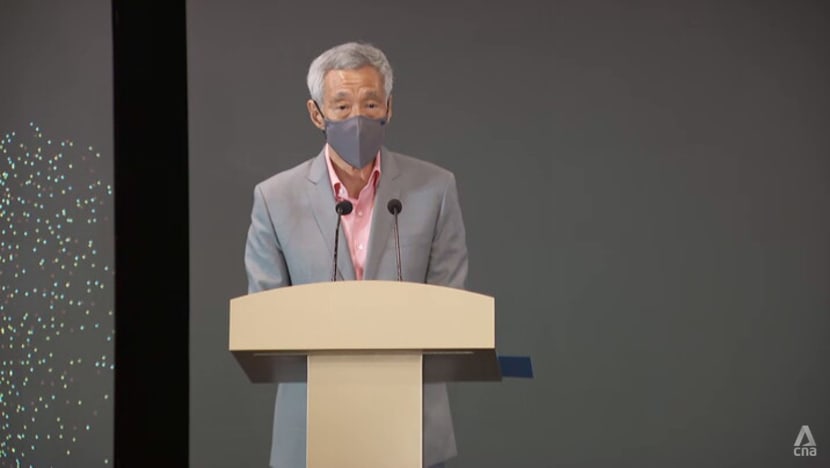 "MAS has played a major role in Singapore's economic and financial development," said Mr Lee. 
"It adhered to sound economic principles, while creatively adapting policy frameworks to suit Singapore's context. It set high regulatory and supervisory standards while taking a facilitative and risk-proportionate approach. It ensured financial stability while promoting innovation and seizing opportunities."
Addressing guests at an appreciation event for MAS partners, Mr Lee also credited the agency's success to its close collaboration with the private and public sector, citing five key examples.
FIVE KEY EPISODES
Mr Lee noted that in 1968, the Government worked with the private sector to bridge the gap in global trading hours between America and Europe.
In 1981, MAS became the first central bank to adopt an exchange rate-centred money policy framework. Along with the Government's "ethos of fiscal prudence and long-term orientation", it ensured more than four decades of "low and stable inflation", he added.
In the late 1990s, MAS "comprehensively" liberalised the financial sector amid a globalising and more competitive financial landscape, said Mr Lee, adding that it "benefited greatly" from the private sector's insights and expertise.
The agency also moved from a "one-size-fits-all" approach of regulating the financial institutions to a "more tailored" supervisory approach.
The 2008 Global Financial Crisis led to low interest rates and "abundant" liquidity in Singapore. This fuelled the "rapid overheating" of the residential property market, the Prime Minister said.
He added that MAS took an "atypical" response to these pressures, including coordinating policy actions with other government agencies, which most central banks eschewed.
"These proved a potent combination in cooling and stabilising the property market, and in the process safeguarding financial stability," he said.
The final key development was the advent of FinTech in the mid 2010s - non-financial players using technology to offer financial services solutions.
MAS was "one of the earliest" financial regulators to promote FinTech, but it also ensured that regulation kept up with the risks, said Mr Lee.
"None of this would have been possible without close partnership with the financial industry, FinTech community, the institutions of higher learning, and of course, the rest of government," said the Prime Minister.
This partnership and trust will become "more critical and relevant than ever", said Mr Lee. 
"The journey ahead will be as challenging as ever. But I am confident that the MAS team, together with support from our industry, will continue to deliver on its mission faithfully and successfully."