Crypto curbs: Industry players say ad ban not the only way to protect retail investors in Singapore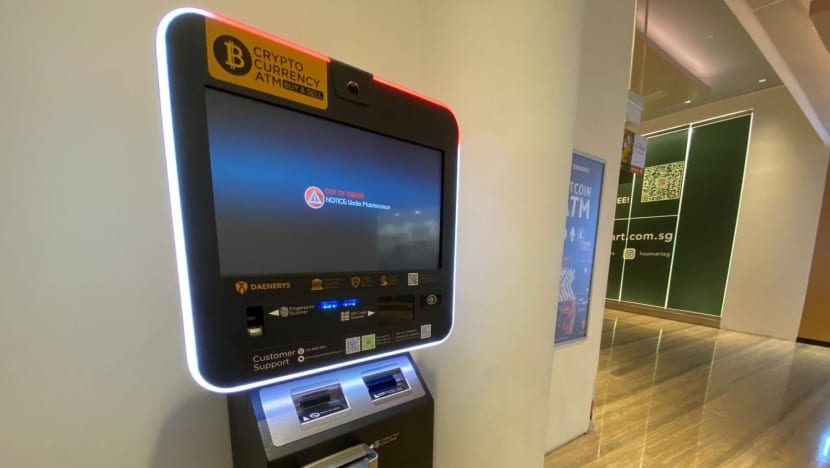 To comply with new guidelines prohibiting public advertisements, firms have pulled the plug on cryptocurrency ATMs around Singapore
Industry players recognise that the new guidelines are in line with MAS' stance on cryptocurrency trading being "highly risky", but said other ways can be explored to protect retail investors
Others were concerned about how the guidelines, which seem to indicate a tougher stance, may impact Singapore's ambitions to be a key player for cryptocurrency-related businesses
SINGAPORE: While they understood the need to shield retail investors from the potential risks of cryptocurrencies, some industry players say there are other ways to do so instead of a clampdown on consumer advertising.
They were responding to a new set of guidelines announced by the Monetary Authority of Singapore (MAS) on Monday (Jan 17), which prohibited cryptocurrency trading service providers from taking up public advertisements and engaging third parties like social media influencers.
This means that companies can only market or advertise on their own corporate websites, mobile applications or official social media accounts.
MAS said the new guidelines are intended to discourage cryptocurrency trading by the man in the street because of the "high risks" involved.
Mr Chia Hock Lai, co-chairman of the Blockchain Association Singapore, said the central bank's latest move is consistent with its stance that cryptocurrency trading is not suitable for retail investors but "it would have been better if the industry was consulted" to arrive at a more balanced approach.
He suggested classifying cryptocurrencies as specified investment products, such as structured warrants or futures, which require retail investors to go through an assessment before being allowed to invest. 
"This will help to address the concern of ignorant retail investors getting involved but it does not deter more sophisticated investors or those who know what they are getting into," said Mr Chia.
"For example in general, younger investors prefer digital assets to traditional investments, and they understand blockchain. So we have to strike a balance."
CRYPTO ATMs
The regulator's latest guidelines also prohibit cryptocurrency firms from providing physical automated teller machines (ATMs) in public areas. Such convenient access "may mislead the public to trade … on impulse", MAS said.
There are fewer than 10 such ATMs in Singapore currently.
Deodi, a local fintech firm, said it has shut down its two bitcoin ATMs. One of them located at Sim Lim Square was removed a day after the guidelines were issued, although the quick action was "purely coincidental", according to its chief executive Zann Kwan.
"We already decided last quarter to pivot away from our retail base … and we had notified our landlord that we will be removing the ATM on Jan 18," she told CNA.
"(The guidelines) will expedite the shift that we have already in mind."
While the impact on the firm is minimal, Ms Kwan said: "If MAS' focus is on protecting retail investors, there are actually other ways to do it like education or (by creating) certain purchase limits for retail investors, both online and offline."
She added that ATMs are typically "the easiest and cheapest way" for beginner investors who want to start with small dollar amounts. This is due to the lower fees incurred on transactions via the ATMs, compared with online platforms.
And in view of the rising number of scams, a physical interface also gives investors more confidence, she said.
"This is not a dubious link that says 'Want to buy crypto? Click here'. This is a company with physical machines and having leases with property landlords," Ms Kwan said.
"But now we feel that the option is no longer available for those who prefer to go to a physical bitcoin machine … I think an industry consult could have provided some of these solutions that can better address the MAS' concerns," she added.
Daenerys & Co, the biggest cryptocurrency ATM operator here, has described the guidelines as "an unexpected surprise".
"To comply with the sudden announcement, we have ceased to offer buy or sell services via our five ATMs while seeking further clarification from the MAS," it told CNA.
"SUSTAINABLE GROWTH"
Other businesses, such as Fomo Pay, DBS, Triple A, said they are not affected by the latest guidelines as they do not target retail investors. These companies have been granted licences to provide cryptocurrency services in Singapore out of a pool of about 180 applicants.
DBS, for instance, said its digital asset ecosystem currently serves corporate and institutional customers, as well as accredited investors.
"As Singapore deepens its expertise and stature as a global hub for digital assets, it is imperative that clear guardrails are established to encourage sustainable growth," said a spokesperson, who added that the guidelines will help to promote investor confidence and lay the foundation for a credible digital asset industry in Singapore.
Triple A's chief executive Eric Barbier told CNA that the MAS' move did not come as a surprise as retail investors are "generally not fully apprised of the risk" involved. Meanwhile, other countries are also regulating or looking to police advertisements for cryptocurrency assets, he added.
At Independent Reserve Singapore, managing director Raks Sondhi said the firm is currently re-evaluating its marketing efforts to ensure that future campaigns are aligned with the guidelines.
The cryptocurrency exchange, which secured its licence from the MAS in October, said that the retail segment in Singapore forms only a portion of its entire business, which includes other segments such as institutions and family offices.
"We understand and appreciate the emphasis on consumer protections that MAS has for retail investors," Mr Sondhi added.
"Our team looks forward to working with MAS and our industry associates, in finding a balance between protecting the consumers and ensuring continued and responsible industry growth."
A TOUGHER STANCE: GOOD OR BAD?
MAS, in its press release this week, said it had observed "some" cryptocurrency firms actively promoting their services in Singapore, which could encourage people to trade impulsively.
The central bank did not name the companies, but some observers said marketing efforts by Crypto.com could have been a key reason behind the recent guidelines.
The cryptocurrency exchange had previously taken up a large billboard advertisement along the Orchard Road shopping belt, alongside other advertisements in train stations and on taxis. Its commercial featuring Hollywood star Matt Damon was also aired in movie theatres here.
"Crypto.com has been vigorously promoting its cryptocurrency services, even splashing out to hire American actor Matt Damon to front its ads," said Associate Professor Chen Tao from the Nanyang Business School at Nanyang Technological University (NTU).
The finance professor added that the firm's tagline "Fortune Favours the Brave" is misleading, because it encourages investors to trade "without informing them of any potential risks".
Crypto.com declined comment when contacted by CNA. However, its chief executive Kris Marszalek told Bloomberg this week that Singapore "is very supportive of blockchain technology and the cryptocurrency industry in general".
Similar efforts to rein in public advertising of cryptocurrency assets are also under way in other parts of the world.
Britain's finance ministry said on Monday that it will crack down on "misleading" advertisements that often target retail consumers with poor knowledge of the risks.
In Spain, advertisers and companies that market cryptocurrency assets will have to inform authorities at least 10 days in advance about the content of their campaigns targeting more than 100,000 people.
The rules, which take effect in mid-February, will also apply to influencers - with more than 100,000 subscribers - who are paid to advertise and promote these assets.
But the latest guidelines, combined with the low licence approvals so far by the MAS, indicate that authorities are inclined "to take increasingly strict measures" to guard against risks associated with cryptocurrency trading, said Assoc Prof Chen.
Mr Chia, the co-chairman of the Blockchain Association Singapore, raised concerns over the perception of Singapore as a "crypto hub".
"I think the harm could be in terms of the optics as this sounds like a message to the wider international community that we are getting tougher on crypto," he told CNA.
Others are less worried.
Professor Sumit Agarwal from the National University of Singapore (NUS) Business School said: "I'm not worried that this will have a negative impact on the attractiveness of Singapore as a place for financial innovation. 
"Singapore is still encouraging innovation in cryptocurrencies and the blockchain technology that comes with it, but with the right safeguards in place. So in fact, people and businesses will realise that this is a good thing."