Meet Max Zeng, the Singaporean student winning hearts on a prestigious British TV quiz show
Social media is abuzz with reviews of the Imperial College London student's knowledge of geography on University Challenge. But do Singaporeans realise the impact of his performance? CNA speaks to the "human atlas" about his brain.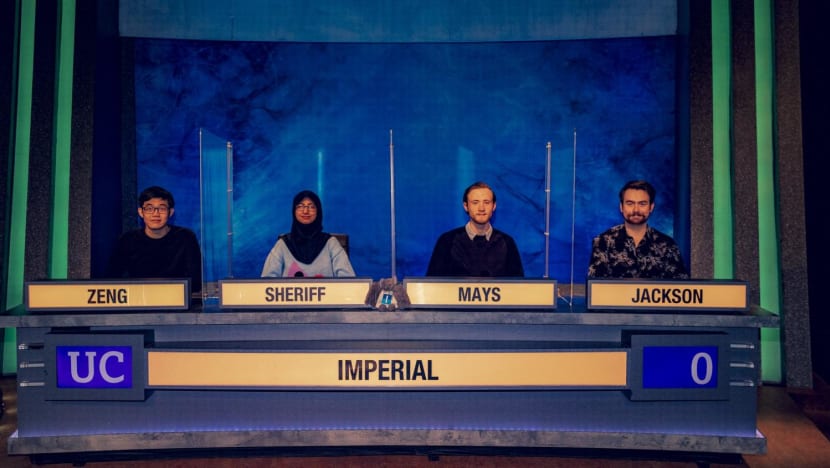 SINGAPORE: A map of India is flashed on screen. Its state borders have been completely removed. With just a pin on the map indicating a state capital, contestants are supposed to name the capital city and its corresponding state. 
The stakes are high in the quarter-finals of the popular, long-running British television quiz programme, University Challenge, between student contestants from King's College London and Imperial College London that was aired in January this year. 
But Maximilian Zeng, a player from Singapore on Imperial College's team, is unbothered. The biochemistry student hits the buzzer to respond mere seconds after the first location pin is shown and coolly fires off his answer. 
"Uh, Chennai and Tamil Nadu." 
Zeng, as he is often referred to by the British public, gets it correct – and Imperial College gets three more similar bonus questions. 
"That one is Lucknow and Uttar Pradesh," the 21-year-old replies when he sees the next pin on the map before a teammate can nominate him to answer. 
He continues to nail the answers to the next two questions, as easily as if he is simply being asked his name. 
"Bhopal, Madhya Pradesh." 
"Kolkata, West Bengal." 
And just like that, Britain's newest social media darling is born. 
In the comments section of a YouTube video showing that particular episode, one commenter writes: "Rumour has it that Google Maps confers with Zeng before any map inclusions." 
Another says, "You can drop Zeng in the middle of the Pacific, he'll still know the way home." A few touted him as "GPS Zeng", while another called him "The Human Atlas".
On Twitter, one user says tongue-in-cheek: "Never piss Zeng off, because it's almost certain HE KNOWS WHERE YOU LIVE!" Another is "pretty sure" Zeng "invented geography". 
Someone else claims, "Zeng is so bloody brilliant, I suspect he'd even be able to find his way walking around Andover." (A scathing online review calls Andover the "Gulag of Hampshire" in Britain and to "avoid it at all costs".) 
Such is the fanfare around Zeng's knack for hyperniche geography questions in a country with a strong quiz culture – and where Zeng found an audience that embraces his lifelong "fixation" with maps.
"I JUST THINK OF MAPS ALL DAY" 
It began when he was three. 
Zeng received his first world map then, and by the time he was six, he knew all the countries and capitals. 
"As of this point in time, I'm fairly sure I can name on a map the administrative divisions, first level divisions of maybe 180 countries of 193. 193 being (the) United Nation Member States. So yes, (maps) have been part of my life," he told CNA over Zoom. 
He even had to be "banned from the atlas" when he was in Primary Five, because it was affecting his concentration.
"I stare at maps for about four hours a day. Not in one stretch, but I just stare at maps when doing other things. I'll just tab into Maps and tab out of it. I use OpenStreetMap; I hate Google Maps. I have OpenStreetMap open constantly; I'll just tab in, tab out," he added. 
But just what is it about maps that draws him in? 
"It's kind of a ... fixation. I have very little of a social life. So I have a very restricted set of interests. I just think of maps all day," he replied gingerly. 
"I had a globe next to my bedside at like three years old, and I just memorised everything on it. And then I got my Geographica which was a (roughly) 600-page, A4-size for-scale world atlas when I was six years old. Again, I just spent all day looking at it." 
Now 22 and in his third year at university, Zeng first realised he could put his interest in geography to use on University Challenge because every match has a picture round – and "one of them is almost guaranteed to be a map". 
"The first picture round is normally a map, or normally geography-related. I don't like flags but I can answer questions on flags. I have a reputation on my team for complaining about the questions I answer after I answer them. But the point is, I can answer them. So that's obviously an advantage," he said, laughing. 
Despite his talent, however, Zeng hasn't chosen to study geography at university, because his "main interests aren't actually in geography per se".
"My main interests are in linguistics, anthropology, language distributions; linguistics as in a repertoire of all languages or how they're related to each other or how to speak them. So I'm more interested in the cultural side of geography," he said. 
"But it just so happens I'm good at physical geography. And physical geography is more prominent in University Challenge."
Zeng added that studying anything which isn't science, technology, engineering and mathematics (STEM) in a classroom or examinable setting "causes me to lose interest very quickly in the subject". 
Why is University Challenge so well-loved?
"(The programme) is a very long-running institution, and I think that is actually why it's liked by people. Another reason (for its popularity) is because I think it's part of this quiz night on Monday where there are (other shows) Mastermind and Only Connect on TV. So people just tune in on Monday to get their weekly fix of quizzes," suggested Zeng. 
"I think the UK has a bit more of a quiz culture than other countries, particularly Asian countries." 
Moreover, with the TV landscape in Britain "continually evolving", the endurance of University Challenge makes it "almost like a household name", added Lee Taylor, a spokesman for Lifted Entertainment, the ITV Studios label which produces the show. 
"It has just remained a consistent part of British culture." 
University Challenge, which has been on air since 1962, is currently shown on the BBC. 
There was even a film made about it, Starter for Ten, based on a novel by English author David Nicholls. The story centres around its protagonist trying to get onto University Challenge, and his attempts at romance with another member on the team. 
NO FLASHCARDS, JUST PASSION 
Preparation for University Challenge can be "intense", according to numerous articles about strategies and tips, not least since the topics covered tend to be highly specialist in nature. 
For instance, another question in the same episode in which Zeng showcased his knowledge about the map of India was: "Its animal figures are often said to resemble those of Hieronymus Bosch. The Tilled Field is a work of about 1924 by which Catalan painter?" (The answer is Joan Miró.)
Zeng, who is a former Hwa Chong Institution student, said that "rote memorisation" in the Singapore education system can be beneficial for the purpose of a quiz like University Challenge, as it "teaches you how to answer questions with single answers". 
But he "doesn't approve of it that much". He is not a fan of making flashcards to cram for the quiz – a popular study strategy. 
"I don't like the concept of a quiz as something that you study for. I like to compare it to the early Olympic Games (which) would … only allow amateurs. I kind of want the idea of a quiz to be like that. Obviously it's not a tenable idea because people are going to study for it," he explained. 
"But how much do you know out of your own interests, your own ability, rather than what you study for the sake of answering quiz questions? Personally, I just go in with whatever I have learnt so far."
The only thing that Zeng learnt "for the purpose of University Challenge" was the list of Nobel Prize recipients for peace, because "everyone on the team was learning the Nobel Prizes for at least one field". 
"That was the only thing I learnt explicitly. Everything else I refuse to. I refuse to learn anything for the (sake of a) quiz," he said.  
"QUITE CONSERVATIVE" PLAYER 
This seeming confidence may stem from Zeng being a "quite conservative" quizzer. He doesn't hit the buzzer to answer a question unless he "absolutely knows the answer", although he noted that other people may encourage buzzing when one simply has an inkling of the answer. 
"People might say I have fast buzzers or I might be taking risks. I see a lot of comments about that. But pretty much every single time I press the buzzer, I'm like 99 per cent sure of what the answer is going to be," he said. 
"A lot of other people take major risks, and sometimes it pays off, but I don't."
As such, Zeng has previously "auto buzzed" in a map round. 
"If you're very good at a topic that's going to come out in a picture round, then you should just buzz before you see the picture. What happens is the picture is shown after (host Jeremy) Paxman finishes the question. So you just buzz as soon as he finishes the question. You're trusting that you can get it when you see it, after (the announcer) calls your name," he said.  
Zeng also admitted that sometimes an answer becomes obvious beyond a certain point in the question. 
"I (have hit) buzzers three words in, five words in. And it's because at that point, the answer can't be anything else. If you know the subject well enough, you can actually gauge (the answer)," he said. 
The strategy, he added, is not to make the answer "super specific". 
"You mention what is needed in the answer. For example, Missouri can refer to a river or a state. If you think the answer might be either the river or the state, you can just buzz on 'Missouri' and they'll just accept it." 
DON'T BE AFRAID TO HIT THE BUZZER 
So if there is one piece of advice Zeng has to offer, it's not to be afraid to hit the buzzer. 
"Even if I still beat the other team to it, I still regret certain questions. My team always laughs at me for saying this, but I make a lot of fuss about how I could have answered faster," he said. 
Recalling a time where he had to name Uzbekistan in an answer, he couldn't help fretting about how he could have done better even though he got it right.
"I remember I randomly went into a bookshop when I was 10 and I saw an atlas that contained a map of Uzbekistan. I saw the provinces had funny names – at that time at least, I thought they were funny. So I just memorised them on the spot. At 10 years old, I could have answered the question faster than I actually did on the show at the age of 21," he explained. 
But Zeng also added that it's normal to have regrets.  
"Generally, you're gonna get stuff wrong that you actually know or you're gonna miss passes that you should have gotten. It's natural, and don't stress yourself over it." 
With Imperial College's next showing scheduled for Feb 14 against the University of Reading, Zeng remained tight-lipped about any potential spoilers, and even declined to share whether he expected his team to make it this far.
Since filming for the show has wrapped up, he no longer needs to set aside time for training sessions with his team. But the thing that has endured is his devotion to geography. 
Recently, for example, he memorised the states of Brazil as they appear on the Brazilian flag as stars. He had known the states of Brazil for "a very long time", but didn't know their positions on the flag until recently. 
"The other thing I've memorised recently … Today I got past 240 in the largest Japanese cities quiz," he said. 
And all this, he added, is simply stuff he would do normally.