Mediacorp's AI video editing solution and Young Reporter Challenge win recognition at INMA Global Media Awards
Mediacorp won a silver for Best Innovation in Newsroom Transformation for its artificial intelligence-powered video editing solution AI SmartCut as well as a silver for Best Use of an Event to Build a Newsbrand for Young Reporter Challenge 2022.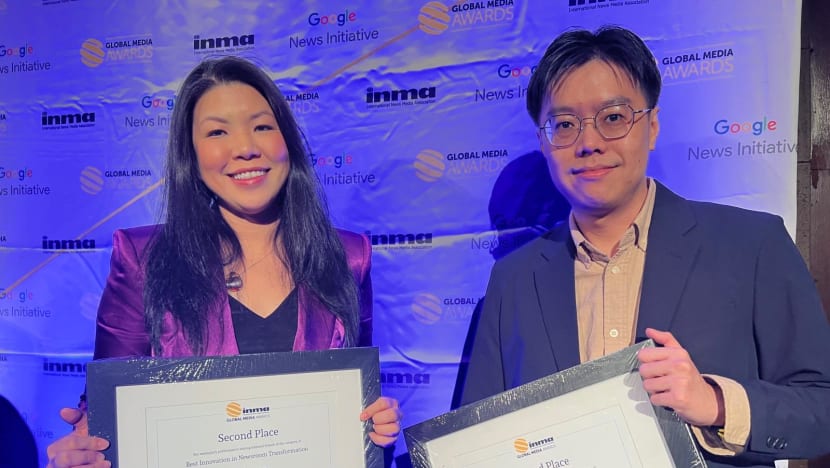 NEW YORK: Mediacorp has won recognition at the International News Media Association's (INMA) Global Media Awards in New York for its artificial intelligence project to automatically clip out video reports from CNA's news bulletins and to get them published online within minutes of being broadcast. 
The project, called AI SmartCut, won a silver award for Best Innovation in Newsroom Transformation on Friday (May 26). 
AI SmartCut, a custom AI solution developed by Mediacorp, Voice Interaction and Qvest, uses voice recognition and natural language processing to identify news video stories and interviews.
These are automatically edited as individual news clips and fed into CNA's content management system for easy publication on CNA's website, app and YouTube channel.
The AI solution replaces the current labour-intensive process and frees up CNA editors to do more value-added journalism. It also gives readers a more media-rich experience when browsing CNA articles.  
Congratulating the team from CNA on the global award, Mediacorp Editor-in-Chief Walter Fernandez said: "The newsroom AI team has been innovating with technology partners from around the world to design, build and adapt AI tools to improve workflow efficiencies, eliminate mundane work and equip journalists with new capabilities in areas such as transcription, translation, text, voice, video and verification.
"In parallel, we are crafting guidelines on the build and use of AI in the newsroom so that we don't undermine the trust we have painstakingly earned from our audiences nor compromise our journalistic standards."
Mediacorp also won a silver at the INMA Global Media Awards for Best Use of an Event to Build a Newsbrand for 8world's Young Reporter News Challenge 2022.
The initiative saw 8World running a competition for secondary school students to create video news reports. It gave them a taste of journalism and is a core part of the Chinese-language newsroom's outreach efforts to a younger audience.