Couple say 'I do' in Singapore's first metaverse wedding
Avatars dancing the night away in the couple's themed 1970s disco glam metaverse wedding were all customised, from their personalities to their retro outfits.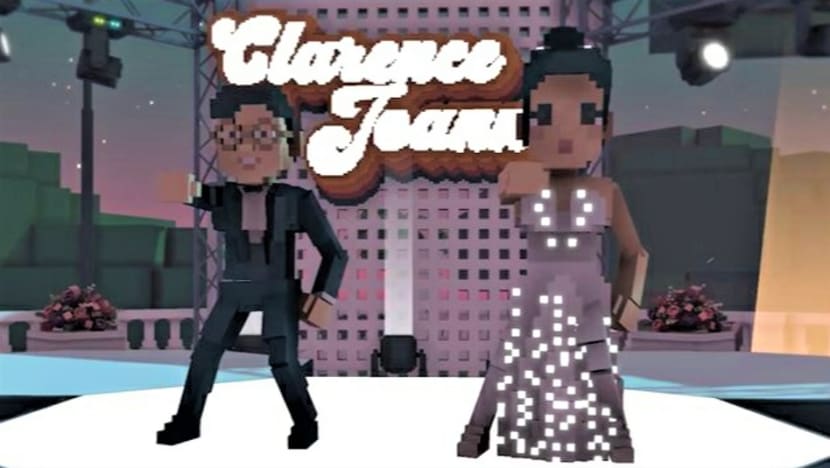 SINGAPORE: Avatars clapped and cheered as the digital likeness of Mr Clarence Chan and Ms Joanne Tham sealed their vows with a kiss at a virtual altar during their metaverse wedding – in what they say is the first of its kind in Singapore.
Family and friends, the wedding officiator, and even the bride's pet dog, were present in pixel form – and also in physical form – at the couple's hybrid wedding this month that straddled both the physical and digital worlds.
"We actually met in real life," laughed Mr Chan, when asked if the couple met virtually. "We had this idea of a crossover because we wanted to create scenes that both reflect and exceed what we can do in (real life)."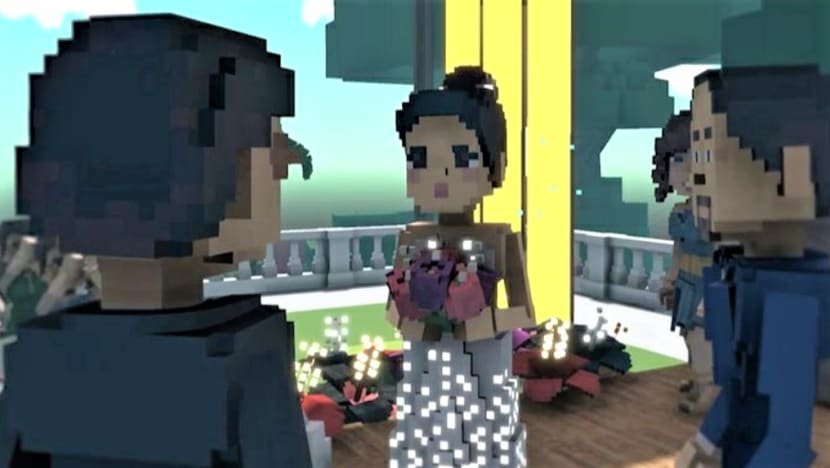 Mr Chan said this is the first wedding held on decentralised virtual world The Sandbox, and the couple marked the happy occasion by planting the Singapore flag in their digital wedding venue.
"We were the first in the world to do this in The Sandbox and just like Neil Armstrong, we wanted to plant the Singapore flag, being proud Singaporeans ourselves," said Mr Chan.
AVATARS, SUPER TREES, 1970S DISCO
Avatars dancing the night away in the couple's themed 1970s disco glam wedding were all customised, from their personalities to their retro outfits.
"What's exciting in the metaverse wedding, is that you're not limited to coming in your physical human form or wearing typical clothing. You can come as alien, a robot, a polar bear… the possibilities are endless," Mr Chan said. 
The wedding venue was decorated with super trees, a Cinderella horse-drawn carriage, and a giant calligraphy sign of the word "xi", a Chinese character commonly seen at Chinese weddings meaning "double happiness". 
Ms Tham walked down the aisle at the virtual location – a digital recreation of popular wedding venue The Alkaff Mansion on Telok Blangah Hill.
The mansion's distinctive architecture and recognisable key features like its garden conservatory, European-style water fountains, and broad balustrade stairways were brought to life in their digital forms by design agency Smobler Studios.

The agency said that with the metaverse, celebrations are no longer limited by physical presence or by distance.

"We are thrilled at being able to create Singapore's first ever metaverse wedding ... allowing friends, family and loved ones from afar to join in the celebrations across the globe," said co-founder Ms Loretta Chen.
The groom, whose avatar was seen performing a breakdancing sequence during the wedding, said that digital space offers infinite creativity and unique experiences, limited only by imagination.
"Web3 allows us to give things like attendance passes, NFTs (non-fungible tokens), which allow us to offer token-gated utilities like VIP access areas or special badges … this kind of enhances the overall wedding experience."
FRIENDS, FAMILY, WIFE ONBOARD
The couple said that while they still had to hold a conventional physical wedding at a hotel for their aunts and uncles, most of their friends and families were excited at the idea of the metaverse nuptial. 
"The concept was very well received by our guests. I think many are truly excited because this is their first time attending a wedding that combines both physical and virtual metaverse elements," said Ms Tham.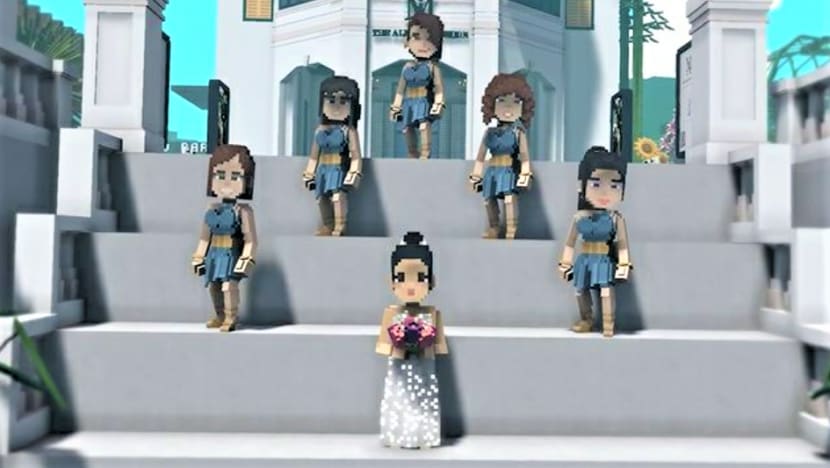 The bride herself needed no persuading. Ms Tham said that while the virtual wedding was a passion project of Mr Chan's due to his interest in crypto and the metaverse, she was thrilled to see their physical wedding transformed into virtual reality.
"We're really excited because we were able to replicate aspects of our wedding onto the metaverse, from our vows to the attendees, right down to the outfits," the bride said. "We even managed to create a version of my designer gown!"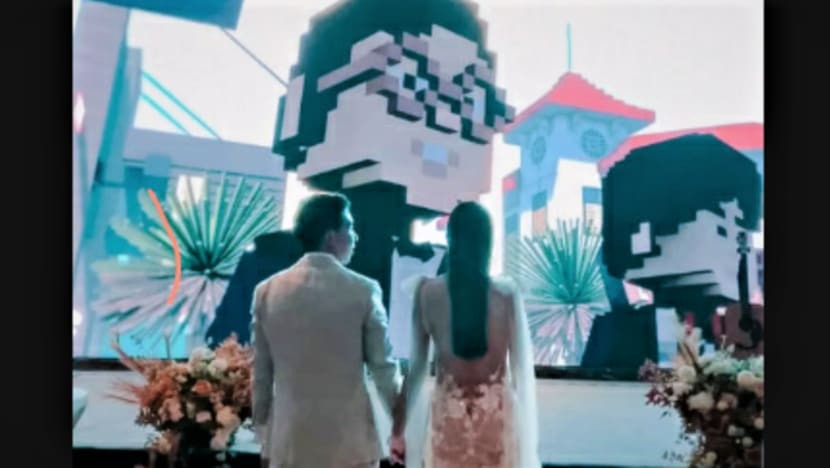 "THE SKY IS NO LONGER THE LIMIT"
Events and virtual reality businesses said they foresee opportunities for metaverse events, mainly because the digital world offers experiences that are impossible in real life.
"The charm of the metaverse is really about having something where traditional weddings cannot," said Ms Jessie Tan, marketing representative of The Alkaff Mansion.
"We are exploring merely the tip of the iceberg with this inaugural wedding (by Clarence and Joanne). We cannot wait to see what other couples decide to create in time to come, be it a fairy tale, gravity-defying bohemian, Star Wars inspired or Bridgerton wedding," Ms Chen said.
"Even the sky is no longer the limit with the open metaverse," she said.