No mid-year exams for students entering JCs and Millennia Institute from 2024
General Paper will become a compulsory subject and Project Work will be graded on a pass or fail basis.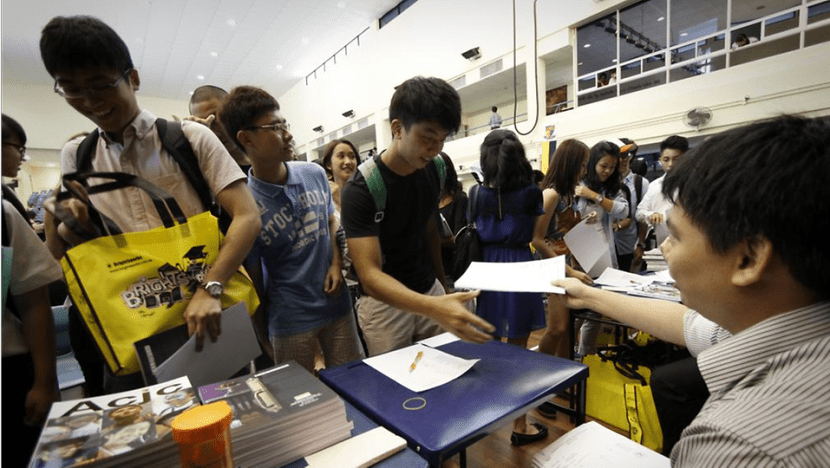 SINGAPORE: There will be no mid-year examinations for students of junior colleges and Millennia Institute (MI) for cohorts entering the schools from 2024, announced the Ministry of Education (MOE) on Wednesday (Mar 1). 
Speaking in Parliament during the Committee of Supply debates, Education Minister Chan Chun Sing said the changes are part of the ministry's efforts to move away from an over-emphasis on testing and academic results. 
This follows a similar move to remove mid-year exams in primary and secondary schools.
"The time saved from preparing for examinations can be channelled towards deeper student engagement and learning through more varied experiences," he added. 
The removal of mid-year examinations will not be replaced by more school-based assessments, and JCs and MI must not administer more than one weighted assessment per term, MOE said in a separate press release. 
The content of most of Singapore's A-Level syllabuses is already similar or narrower than the international syllabuses used as benchmarks for comparison, said Mr Chan. 
"It is not possible to reduce curriculum content further without compromising the overall rigour," he added 
General Paper will be made compulsory for all JC and MI students from 2024, to allow students to develop skills such as critical thinking through the study of current affairs and contemporary issues.
The Knowledge and Inquiry subject, which focuses on the nature and construction of knowledge, can currently be offered in lieu of General Paper, or as a "contrasting subject". Students are required to take at least one contrasting subject, instead of all humanities or all science subjects. 
From 2024, Knowledge and Inquiry will be offered only as a "contrasting subject", MOE announced. 
Project Work will also become a pass or fail subject from the 2024 JC and MI intakes, and students will need to pass the subject for university applications, said Mr Chan. 
With the change in the way Project Work is graded, the computation of students' university admission scores will also change. 
From 2026, a JC or MI student's fourth content-based subject will be included in the computation of the score only if it improves their score. 
"This will also allow our students to better calibrate their learning load so that more time can be redirected to holistic development," said Mr Chan. 
Currently, JC and MI students applying to autonomous universities must include four content-based subjects, General Paper and Project Work in their application. 
For a student who offers four H2 content-based subjects, their lowest-scoring H2 subject is considered an H1 subject for the purpose of calculating the score. This will continue under the new system. 
Today, three H2 subjects account for 20 points each. General Paper, Project Work, as well as their remaining content subject account for 10 points each, bringing the highest possible score to 90 points. Mother Tongue, which also counts for 10 points, is included only if it improves the score, and the overall score is then rebased to 90. 
Under the new system, the three H2 subjects will still account for 20 points each. General Paper will also account for 10 points, but both the remaining content subject and Mother Tongue will be included only if they improve the overall score, upon a total of 70 points. 
"Parents and educators may be concerned that our pre-tertiary students will no longer take their fourth content-based subject or PW work seriously," said Mr Chan. 
"We believe that our students will still apply themselves."