Living conditions in dormitories better since COVID-19 but more improvements needed, say foreign workers
SINGAPORE: Living conditions in migrant worker dormitories are better now than before the pandemic, with more space in rooms and cleaner facilities, said workers.
But some of them told CNA that communal kitchens and toilets can still get dirty, especially over weekends.
During the pandemic, dormitories were thrust into the spotlight when COVID-19 spread quickly, and many of them were declared isolation areas. There were reports of unsanitary and cramped conditions, as well as insects in catered food. 
Over the last few years, the government announced plans to build new dormitories with improved living standards, which include more spacious rooms and Wi-Fi coverage in all rooms.
As of Apr 1, the Foreign Employee Dormitories Act (FEDA) was expanded to cover about 1,500 dormitories, up from 53. It means these dormitories need to meet the authorities' standards.
Three migrant workers who spoke to CNA said they have seen improvements at their dormitories.
"Now, dormitory facilities (are) much better," said a 30-year-old worker who declined to be named.
He stays in a factory-converted dormitory in Tuas and said 20 people slept in his room on double-decker beds before the COVID-19 pandemic. That number has been halved to 10, and beds are spaced 1m apart.
He believes operators are more conscientious because there has been more interest in dormitories. Social media has also made it easier for images of dirty dormitories to be shared online, he said, pointing out that most workers have mobile phones with cameras.
"Everyone (is) now alert," he said.
KEEPING DORMITORIES CLEAN
Westlite Mandai has beds for more than 6,000 workers. Units at the dormitory come with attached toilets, showers and a kitchen.
One worker, Mr Kamrul Faraji, said having these attached facilities makes it easier to keep things clean, compared with other dormitories he stayed in previously.
"Little bit dirty, we clean already," he added.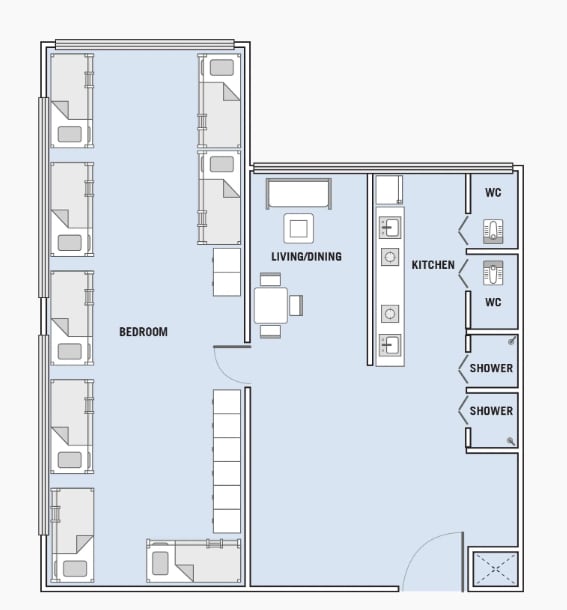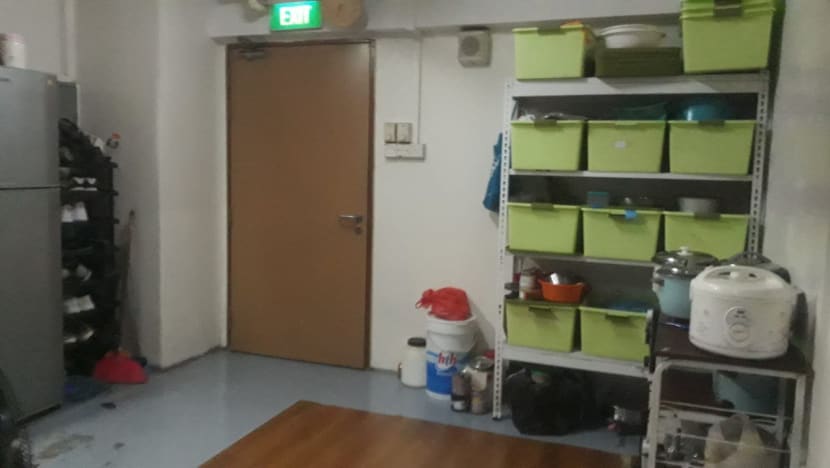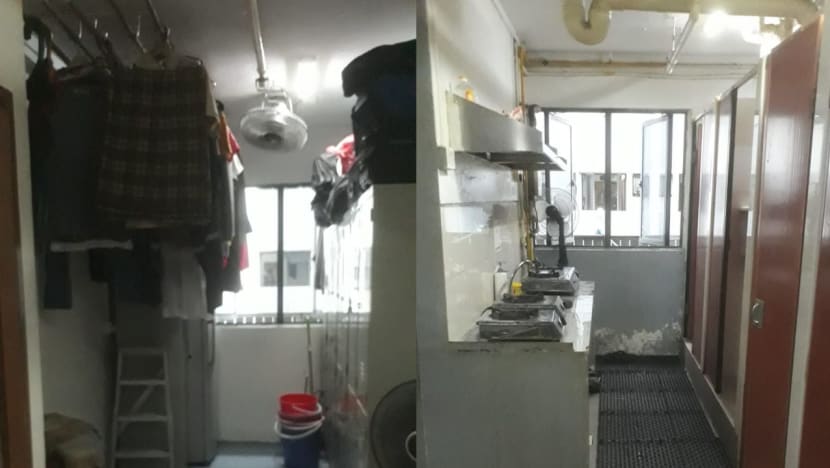 Centurion Corporation, which manages Westlite dormitories, said residents are responsible for maintaining cleanliness in their own units.
The units are inspected every fortnight to ensure cleanliness and hygiene, said the company in response to CNA's queries.
"If a unit fails the inspection twice in a row, we will clean the unit for them, with their employers bearing the cost," said Mr Kong Chee Min, chief executive officer of Centurion Corporation.
There is also a "cleanest room" competition every quarter where residents who maintain the highest hygiene standards in their rooms are given cash vouchers.
Mr Kong added that common toilets are cleaned twice a day.
"During COVID-19, a high level of hygiene and cleanliness had to be delivered and Westlite increased cleaning frequencies up to seven times a day at its dormitories," said Mr Kong.
"Now that COVID-19 (is) endemic, we have reverted to twice a day but ramped up on sanitisation, including the use of high-intensity antiviral agents," he said.
Sanitising stations are also placed in communal areas that are frequented by residents. 
IMPROVED STANDARDS
Dr Benjamin Kuan, chief executive officer of HealthServe, said dormitory operators are paying more attention to improved hygiene and reduced density post-pandemic.
HealthServe is a non-governmental organisation that provides healthcare and other forms of support to migrant workers.
Dr Kuan said larger dorms are also better equipped with better Wi-Fi and facilities for cooking or doing laundry.
"However, now that the dust from COVID-19 has settled, sustainability is key," he said, noting that costs are rising and there is increased demand for housing for workers.
"Upkeeping these improved standards would also require substantial and continual investment in effort, time and costs. It is important to ensure that these increased costs are not passed on to migrant workers, who are already receiving low wages," he added.
FEDA has been expanded to cover all dormitories with seven or more beds. Previously, only dormitories with 1,000 or more beds were licensed under the Act. 
All dormitories regulated under the Act have to meet requirements set by authorities, including standards on minimum space per resident, maximum room occupancy, cleanliness and ventilation. These standards are set according to the size of the dormitory.
Expanding FEDA will allow the Ministry of Manpower (MOM) to raise standards and respond quickly to future emergencies, Manpower Minister Tan See Leng said in parliament in March.
Dr Tan also said MOM will announce a plan later this year for existing dormitories to transit to the new improved standards.
"This will take into consideration what existing infrastructure in the dormitories today that they can support, as well as the potential disruption to the dormitory bed supply, and how this will impact the inflow of the migrant workers," he said.
AREAS FOR IMPROVEMENT
Cleanliness and overcrowding are still problems for some workers. One worker who lives in Sungei Tengah Lodge showed CNA photos of overflowing bins, messy kitchen facilities and clogged toilet sinks.
"Saturday and Sunday cannot go to the toilet, it's too dirty," said the worker, who declined to be named.
There was some improvement in the living conditions after the COVID-19 pandemic hit, but things have become worse, he said.
He added that the dormitory is overcrowded, common areas are dirty and there are bed bugs and small cockroaches in his room.
CNA spoke to more than 10 workers at Sungei Tengah Lodge. Most of them said conditions were decent and that they did not have complaints. However, when asked about insects, some said bugs in rooms are to be expected.
The operator of Sungei Tengah Lodge declined to comment.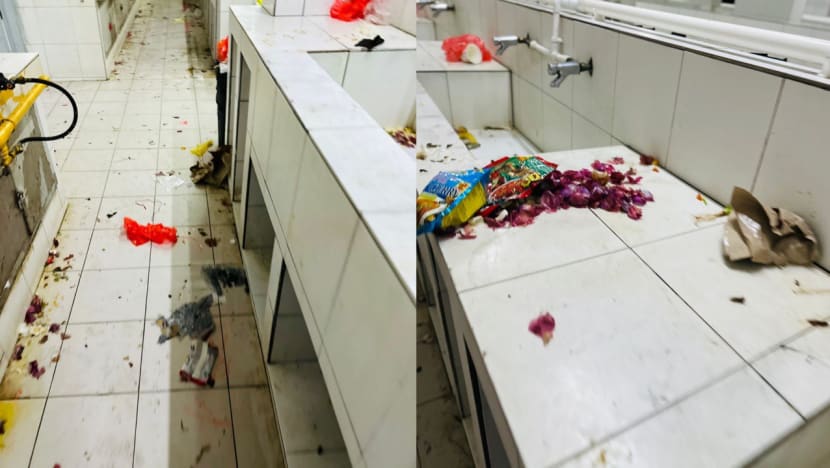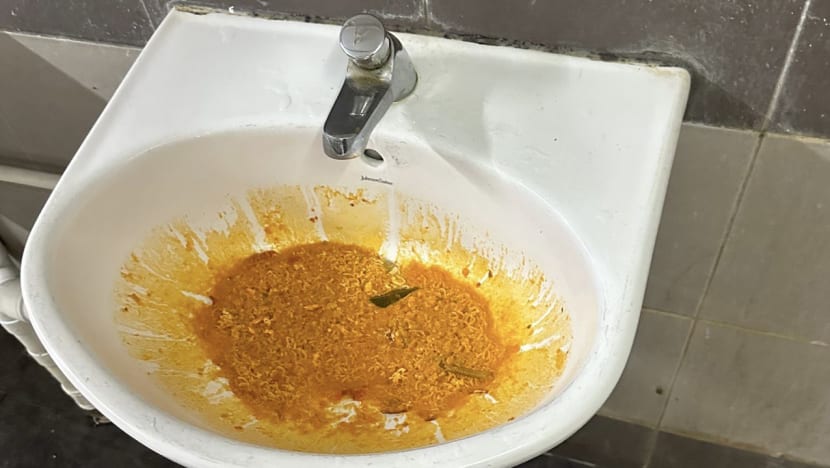 "NOT ENOUGH SPACE"
Mr Faruk, who also stays in Sungei Tengah Lodge, said things are "very good" and common areas are cleaned every day except Sunday.
But he said his room, which has six double-decker beds for 12 residents, is not very big and that there is "not enough space".
Sungei Tengah Lodge is one of the biggest dormitories in Singapore, with beds for about 25,000 workers in 10 residential blocks. Residents share communal toilets and kitchens.
Westlite Mandai dormitory has units that can each accommodate up to 16 workers. Mr Faraji, who stays in one of these units, said having 16 people in the bedroom was too many.
Some of his roommates have moved out, so there are currently 10 people in his room, which is better, he said.
In 2021, the Ministry of Manpower said most dormitory rooms had 12 to 16 residents "in practice". 
Crowded dormitory rooms were highlighted during the pandemic, when workers were often confined to their rooms as the virus spread rapidly among residents. With dormitories locked down, some communal facilities were closed.
PROBLEMS WITH WI-FI, CATERED FOOD
Workers also said they rely on using mobile data to stay connected because the Wi-Fi cannot reach their rooms.
Westlite's management said the surfing speed in the dormitories is 5Mbps (megabits per second), which is comparable to Wireless@SG - a free wireless broadband service in public places in Singapore.
"We monitor the bandwidth and access regularly and have required our Wi-Fi service provider to install additional boosters where needed," said Mr Kong.
Complimentary Wi-Fi is offered in communal areas in Westlite dormitories, but a subscription is needed for Wi-Fi in the units.
Another complaint is that catered food in the dormitories is not up to standard. A worker who stays in a factory-converted dormitory said the catered food is not healthy or tasty.
"It's too ... oily, sometimes the food is spoilt," he said, adding that his dormitory does not have cooking facilities and there are no canteens nearby.