Singapore does not authorise transfer of arms or 'items with potential military application' to Myanmar: MFA
The foreign affairs ministry responds to a report claiming that Singapore functions as a strategic transit point for items that feed the Myanmar military's weapon production.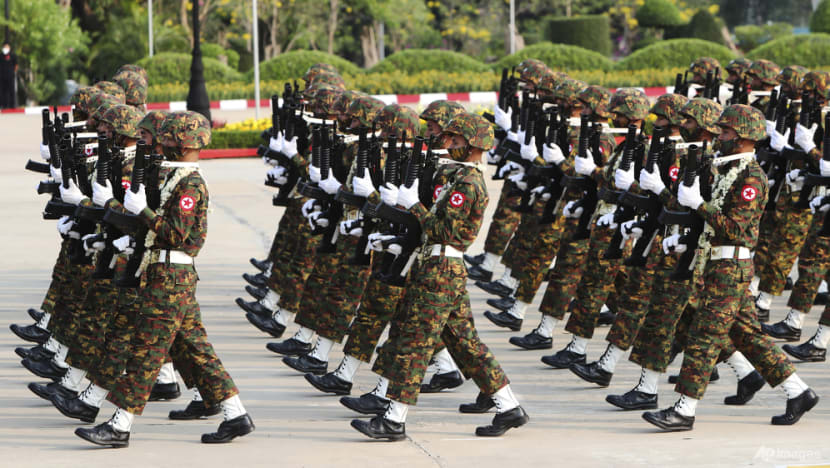 SINGAPORE: Singapore does not authorise the transfer of arms or "items with potential military application" to Myanmar, said the Ministry of Foreign Affairs (MFA) on Wednesday (Jan 18). 
There is serious risk that such items may be used to inflict violence against unarmed civilians, a spokesperson added.
The ministry was responding to a report published by the Special Advisory Council for Myanmar (SAC-M) on Monday, which claimed that Singapore functions as a "strategic transit point for potentially significant volumes of items" - including raw materials - that "feed" the Myanmar military's weapon production.
Austria, France, China, India, Israel, Ukraine, Germany, Taiwan, Japan, Russia, South Korea and the United States are also identified in the report as hosting companies which supply materials to a Myanmar state-owned entity producing military weapons. 
Myanmar's army or junta seized power in February 2021 and the country has been embroiled in violence between soldiers and anti-coup rebels since. More than 2,000 people have been killed in crackdowns on dissent, according to local monitoring groups.
MFA said Singapore was looking into the contents of the report by SAC-M, which comprises independent experts and former United Nations (UN) officials. 
"Preliminarily, we note that many of the assertions pertaining to Singapore relate to economic activities pre-dating the February 2021 military coup," said a ministry spokesperson in response to CNA's queries.
MFA said it was "a matter of public record" that in June 2021, Singapore voted in favour of a UN General Assembly resolution to prevent the flow of arms into Myanmar.
"This is on top of our strict compliance with our international obligations on international arms sales and transfers, as well as UN sanctions and embargoes against any country," the ministry added.
The SAC-M report said companies in Singapore were brokering deals and exporting items to either the Directorate of Defence Industries (DDI) - a state-owned company producing military equipment for Myanmar - or associated civilian front companies.
The report also said weapons currently being produced at DDI factories include heavy machine guns "originally developed and manufactured" by Chartered Industries of Singapore - a company established in 1967 to manufacture ammunitions and later renamed Singapore Technologies (ST) Kinetics.
"Although there is only sparse public information citing business activities between ST Kinetics and the DDI, a source has suggested that ST Kinetics still sells unspecified equipment to Myanmar through a dealer in Thailand," SAC-M wrote in its report.
In a statement issued Thursday, ST Kinetics' parent company ST Engineering said it "does not have any ongoing sales, agreements or licences" with the DDI.
"We abide by all applicable laws and observe all UN sanctions and treaty obligations to which Singapore is a signatory in the conduct of our business," the defence and technology group added.
MFA also pointed out on Wednesday that Singapore submits reports on international arms transfers to the UN Register of Conventional Arms (UNROCA). These submissions are publicly available and show that Myanmar has not received such transfers from Singapore, said the ministry.
It said that Singapore has a "robust" export control regime, with control lists updated regularly to align with international commitments and obligations as well as relevant non-proliferation regimes. 
"We will not hesitate to take action against those who contravene our laws," said MFA.