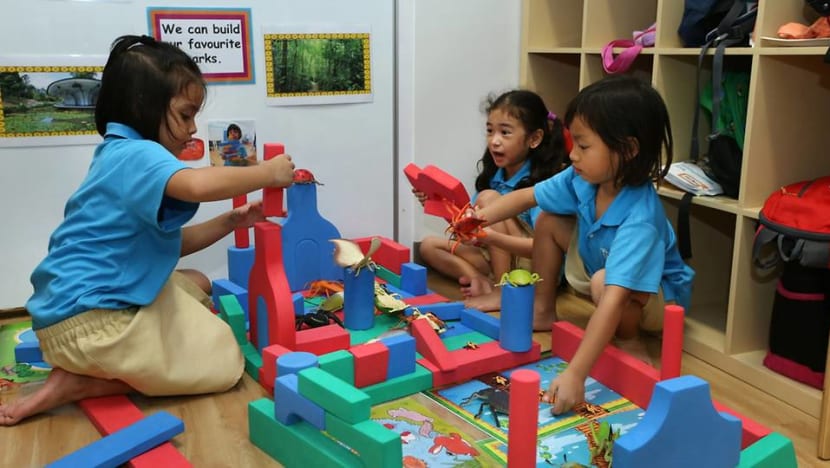 SINGAPORE: The Ministry of Education (MOE) said on Monday (Aug 6) it will open seven new MOE kindergartens in 2021, which will bring the number of MOE kindergartens to 36. 

The new kindergartens will be located at primary schools in Bukit Panjang, Potong Pasir, Punggol, Tampines, Pasir Ris and Ang Mo Kio. 
MOE Kindergarten @ Greendale
Greendale Primary School, 50 Edgedale Plains, Singapore 828848

MOE Kindergarten @ Cedar
Cedar Primary School, 15 Cedar Avenue, Singapore 349700

MOE Kindergarten @ Mayflower
Mayflower Primary School, 200 Ang Mo Kio Ave 5, Singapore 569878

MOE Kindergarten @ Meridian
Meridian Primary School, 20 Pasir Ris St 71, Singapore 518798 

MOE Kindergarten @ Tampines Primary
Tampines Primary School, 250 Tampines Street 12, Singapore 529426

MOE Kindergarten @ West View
West View Primary School, 31 Senja Road, Singapore 677742

MOE Kindergarten @ Zhenghua
Zhenghua Primary School, 9 Fajar Road, Singapore 679002
Last year, the ministry said it will increase the number of MOE kindergartens to 50 by 2023 to provide more quality and affordable pre-schools for children.
Of the 50, 13 will open in 2019 and 2020. 
The seven new kindergartens will collaborate with Early Years Centres, operated by PCF Sparkletots. 

Registration for admission to Kindergarten 1 in 2021 for the seven new kindergartens will take place in 2020. The registration exercise will be open to Singapore citizens and permanent resident children born between Jan 2, 2016 and Jan 1, 2017. 

Details of the registration exercise will be released in the first quarter of 2020.
The ministry also said that the two MOE kindergartens at Dazhong and Farrer Park primary schools will offer full-day care services for children starting in January next year.