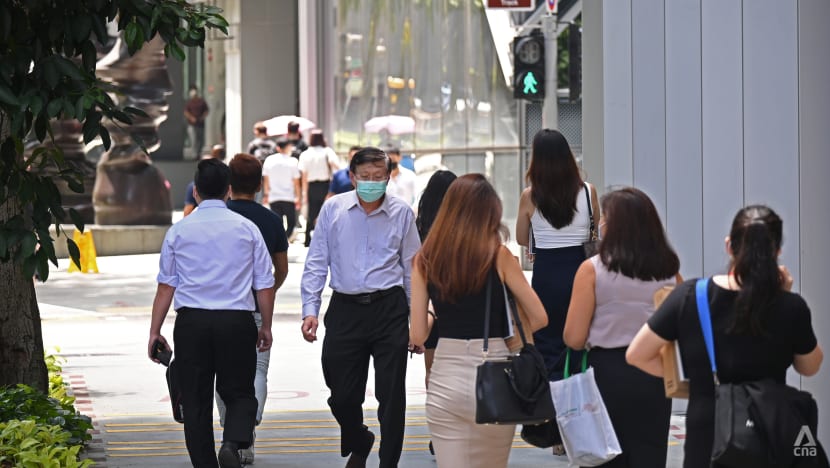 SINGAPORE: Singapore reported 4,248 new COVID-19 cases as of noon on Friday (Oct 29) as 16 more people died from complications due to the virus.
The fatalities, who were aged between 44 and 90, had various underlying medical conditions. The Ministry of Health (MOH) did not specify what these conditions were. The 44-year-old individual was not vaccinated against COVID-19
This brings Singapore's death toll from the coronavirus to 380.
Among Friday's cases, 4,246 infections are locally transmitted, comprising of 3,710 in the community and 536 in migrant workers' dormitories.
Two are imported cases, MOH said in its daily update released to media at 11.43pm.
The weekly infection growth rate is 1.15 as of Friday. This refers to the ratio of community cases for the past week over the week before.
As of Friday, Singapore has reported a total of 192,099 COVID-19 cases since the start of the pandemic.
Over the last 28 days, 98.7 per cent of the 92,499 infected individuals had no or mild symptoms.
Another 0.8 per cent required oxygen supplementation in the general ward, 0.2 per cent were unstable and under close monitoring in the intensive care unit (ICU), while 0.1 per cent were critically ill and intubated in the ICU. Those who have died make up 0.2 per cent.
"Seniors 60 and above, especially if unvaccinated, continue to be more adversely affected by COVID-19," said MOH. 
HOSPITALISATIONS AND HOME RECOVERY
As of Friday, a total of 1,614 patients are warded in hospital. Of these, 257 patients need oxygen supplementation in general wards.
In the ICU, 80 cases are unstable and under close monitoring to prevent further deterioration, and 59 are critically ill and intubated.
A total of 3,011 cases were discharged on Friday, of which 489 are seniors aged above 60.
 
Over the past seven days, the number of fully vaccinated people who are critically ill in the ICU per 100,000-population is at 0.5, while non-fully vaccinated cases are at 4.4.
In the same period, the number of fully vaccinated and non-fully vaccinated cases who died are 0.1 and 0.9 per 100,000-population respectively.
Among seniors aged 60 and above, the number of fully vaccinated and non-fully vaccinated cases who are critically ill in the ICU are 2.1 and 35.0 respectively. The number of fully vaccinated and non-fully vaccinated seniors who died are 0.3 and 8.8 respectively.
As of Thursday, 84 per cent of people in Singapore have received the full regimen or two doses of COVID-19 vaccines, while 85 per cent have received at least one dose and 14 per cent have received their booster shots.
ACTIVE CLUSTERS
MOH said it is closely monitoring five active clusters.
Five new cases were added to the cluster at PCF Sparkletots at Whampoa Block 85 on Friday, bringing the total number of infections linked to the cluster to 17. Majority of the cases involved students, with six cases being household contacts of the students. 
The cluster at the Institute of Mental Health grew to 221 infections, with 16 new cases added on Friday. The majority of the cases involved patients, with 14 staff members infected. It is currently the largest cluster on the list. 
Clusters at Maple Bear Loyang, NTUC Health Senior Day Care (Taman Jurong) and Banyan Home at Pelangi Village also added new cases.
HPB VOUCHER SCHEME
More than 2,000 seniors have been successfully referred for their first dose of COVID-19 vaccination through a programme by the Health Promotion Board (HPB). 
Under the programme, those who refer unvaccinated seniors aged 60 and above for their COVID-19 jabs will receive a S$30 e-voucher.
An HPB spokesperson said that the voucher is given to the referrer once HPB is able to verify that the senior has been fully vaccinated.
The Let's Get Our Seniors Vaccinated programme was launched on Aug 13 and will run until Nov 30, according to the HealthHub website.
HPB said that 1,514 e-vouchers have been issued as of Oct 28.