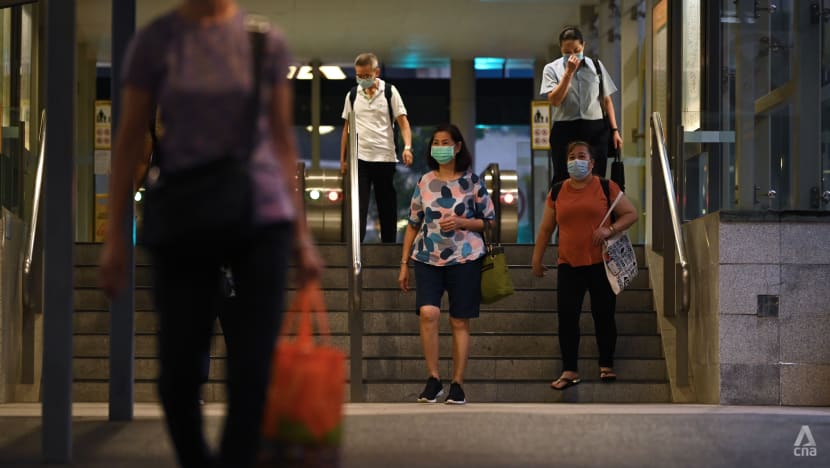 SINGAPORE: Singapore reported 3,112 new COVID-19 cases as of noon on Saturday (Oct 30) as 14 more people died from complications due to the virus.
The fatalities, who were aged between 63 and 98, had various underlying medical conditions. The Ministry of Health (MOH) did not specify what these conditions were.

This brings Singapore's death toll from the coronavirus to 394. 

The 3,112 new cases reported on Saturday are a decrease from the 4,248 reported on Friday.
Among Saturday's cases, 3,108 infections are locally transmitted, comprising 2,608 in the community and 500 in migrant workers' dormitories.
Four are imported cases, MOH said in its daily update released to media at about 11.30pm.
The weekly infection growth rate is 1.14 as of Saturday. This refers to the ratio of community cases for the past week over the week before.
As of Saturday, Singapore has reported a total of 195,211 COVID-19 cases since the start of the pandemic.
HOSPITALISATIONS
Over the last 28 days, 98.7 per cent of the 93,257 infected individuals had no or mild symptoms.
Another 0.8 per cent required oxygen supplementation in the general ward, 0.2 per cent were unstable and under close monitoring in the intensive care unit (ICU), while 0.1 per cent were critically ill and intubated in the ICU.
A total of 1,627 cases are currently warded in hospital, with 267 patients requiring oxygen supplementation in general wards. In the ICU, 69 cases are unstable and under close monitoring, and 60 are critically ill and intubated. The current overall ICU utilisation rate is 68.1 per cent.
A total of 3,912 cases were discharged on Saturday, of which 587 are seniors aged above 60.
Over the past seven days, the number of fully vaccinated people who are critically ill in the ICU per 100,000 population is 0.5, while that of non-fully vaccinated cases is 4.4.
In the same period, the number of fully vaccinated and non-fully vaccinated cases who died is 0.1 and 0.9 per 100,000 population respectively.
Among seniors aged 60 and above, the number of fully vaccinated and non-fully vaccinated cases who are critically ill in the ICU is 2.1 and 35.3 respectively. The number of fully vaccinated and non-fully vaccinated seniors who died is 0.4 and 9.3 respectively.
VACCINATION
As of Friday, 84 per cent of people in Singapore have received the full regimen or two doses of COVID-19 vaccines, while 85 per cent have received at least one dose and 15 per cent have received their booster shots.
ACTIVE CLUSTERS
MOH said it is closely monitoring seven active clusters.
Seven new cases were added to the cluster at St Luke's Hospital on Saturday, bringing the total number of infections linked to the cluster to 20.
The cluster at the Institute of Mental Health grew to 237 infections, with three new cases added on Saturday.
Clusters at Orange Valley Nursing Home (Clementi), ECON Medicare Centre & Nursing Home, the PCF Sparkletots branches at Changi Simei Block 141 and Whampoa Block 85, as well as Banyan Home @ Penlangi Village also added new cases.
SINOVAC COVID-19 JABS, MODERNA BOOSTER SHOTS
Individuals can make appointments to receive the Sinovac-CoronaVac COVID-19 vaccination at Raffles City Convention Centre from Saturday, with seniors being allowed to walk in without an appointment from Sunday, said MOH.

MOH also announced that, from Monday, people aged 30 and above will be able to walk in to any of the nine Moderna vaccination centres for their booster dose.
This applies to Singaporeans, permanent residents and long-term pass holders aged 30 and above who have completed the second dose six months ago.