No need to be frightened of 'timid' monitor lizards in urban areas, say wildlife experts
Last week, residents of Bedok North and Punggol came across monitor lizards at their HDB blocks. CNA spoke to experts to find out why the animals venture to such places, and what people should do.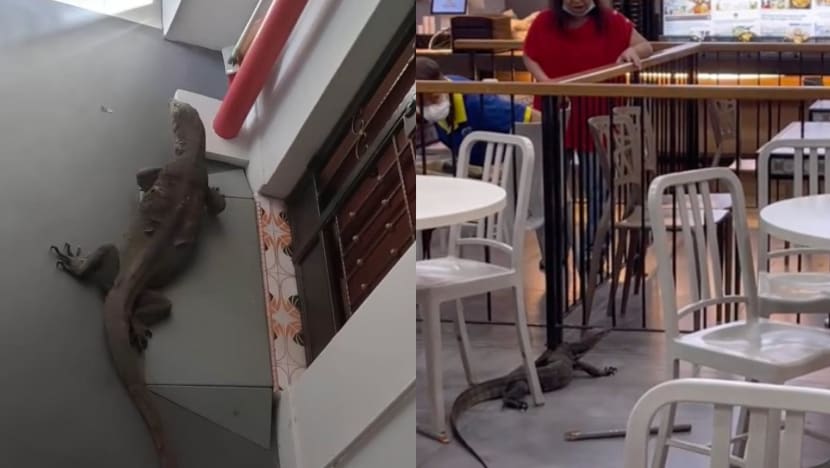 SINGAPORE: Monitor lizards have adapted well to urban areas and frequently use drains, which is why they have often been sighted in recent years at places like public housing blocks or coffee shops, wildlife experts told CNA.
Members of the public need not be frightened of them as they are shy creatures and will not be aggressive towards humans, they said.
Just last week, two monitor lizard sightings at Housing Board blocks made headlines. A Bedok North Road resident came across a Malayan water monitor outside her second-floor flat, while another made its way to a third-floor ledge and lift lobby of a Punggol block.
In January, customers at a Punggol coffee shop were shocked by the appearance of a monitor lizard. Video footage of the lizard scuttling around and a staff member shooing it away with a broom was posted on TikTok.
According to media reports dating back to 2013, the reptiles have also been seen in LRT lifts, on roads, outside malls and even under a train at an SMRT depot.
The one at Bedok North could have been provoked on the ground floor and climbed a staircase to get away from danger only to get stranded along the corridor, said Mr Kalai Vanan, co-chief executive officer of the Animal Concerns Research and Education Society (ACRES).
"The irony is that the monitor lizard is not far from its habitat. Monitor lizards, just like otters, are wild animals in Singapore that have adapted well to urban areas," Mr Kalai added, noting that it could have come from "relatively nearby nature areas" like Bedok Town Park or Bedok Reservoir.
"They are timid animals that will always flee when they feel threatened unless cornered … Being able climbers, many animals will often climb in search of a safe place."
Herpetological Society of Singapore president Kannan Raja said monitor lizards' natural habitats are shrinking. They may then venture to adjacent urban spaces in search of food, which "increases the risk of human contact and conflict", he added.
Dr Shawn Lum, former president of Nature Society (Singapore) and senior lecturer at Nanyang Technological University's Asian School of the Environment, noted that some might be shocked to find water monitors wandering through urban areas because they associate the animals with mangroves and reservoirs.
However, since it is common to find them in and around drains, the monitor lizard at Bedok North could have been "living in easy walking distance" from where it was spotted, Dr Lum said.
"In the middle of the day, when people are at work and an estate may be rather tranquil, a monitor lizard could conceivably go quite a distance undetected by any residents."
Malayan water monitors are the most common monitor lizards among the three species that can be found in Singapore.
They can grow up to 3m long, while the other two species – the clouded monitor lizard and the Dumeril's monitor – can grow to a length of 1.5m, according to the National Parks Board's (NParks) website.
Monitor lizards are mostly carnivorous, feeding on a huge variety of food types such as insects, crabs, snakes and fish. They also play an important role as scavengers in biomass breakdown and nutrient recycling.
You may also be interested in: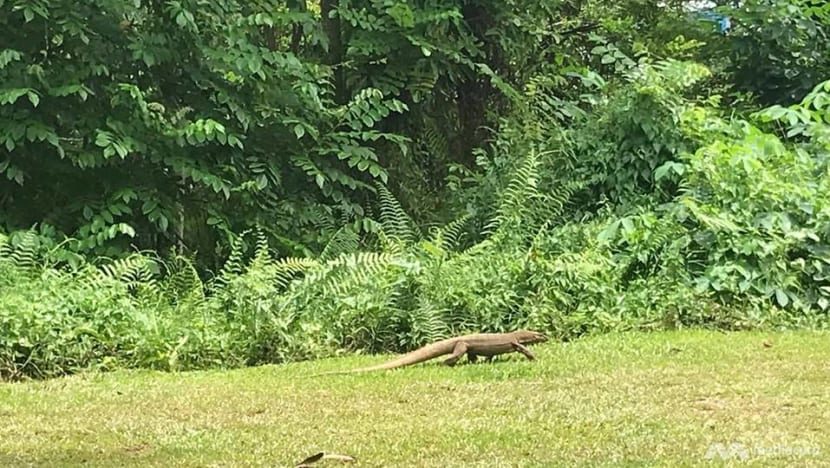 SHOULD PEOPLE BE CONCERNED?
Dr Lum said that monitor lizards – like most wild animals – may try to defend themselves if they are cornered and feel threatened, but will "gladly" choose an escape route if there is one.
While they do not pose any danger, how humans react to them and the possibility of encounters with monitor lizards turning ugly is a reason for concern, he added.
"Even if a monitor lizard walks into a flat, it would pose little to no danger to its occupants. But they can give people an almighty fright," Dr Lum said.
"I can imagine some people being very scared by a monitor lizard – they can easily surpass a meter from nose to tip of the tail – especially if they turn up outside your door."
Mr Kannan agreed that monitor lizards do not pose any harm if people keep a "safe and respectful distance".
Nevertheless, he expressed concerns that interactions with monitor lizards, such as the Bedok North one, stem from "increasing detrimental pressures on local wildlife".
WHAT TO DO
People who come across a monitor lizard should keep a distance, allow space for it to move or leave and make sure others do not attack it.
"If the monitor is in a space where it can't leave or it's too far from any kind of natural habitat, do alert the relevant authorities or organisations who'd help with proper relocation of the monitor," Mr Kannan added.
Those with some experience with monitor lizards can "gently guide" them away from potentially dangerous situations such as venturing onto a busy road, said Dr Lum.
He suggested that those who find monitor lizards outside their flats, such as in Bedok North, call NParks and not an exterminator.
Mr Kalai said that the public can also call ACRES for advice, and help to safeguard the animal until rescuers arrive.
"There are no reasons to be concerned though. As we green our city more, such occurrences will be more frequent as wild animals are able to adapt and find food in HDB estates," Mr Kalai added.
Dr Lum said people can happily coexist with urban wildlife "if we enjoy the company of our wild neighbours and know what an appropriate response would be when such encounters can be risky".
"It's just like with human neighbours – much more often than not, getting to know our neighbours is enriching, meaningful and fun."