Faith, conscience and a future without 377A: What MPs said while debating laws on gay sex and marriage
Many in the House also shared personal stories of friends and colleagues who were part of the gay community.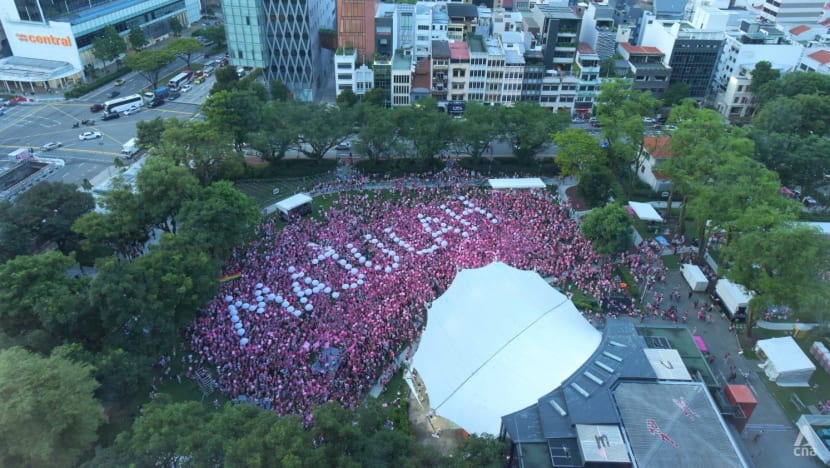 SINGAPORE: After a two-day debate in Parliament, Singapore's lawmakers on Tuesday (Nov 29) agreed to repeal the colonial-era Section 377A of the Penal Code and to amend the Constitution to protect the definition of marriage from legal challenges.
When the law banning gay sex was last discussed in the House 15 years ago in 2007, Parliament voted to retain it, with Prime Minister Lee Hsien Loong saying then to "leave Section 377A alone".
In August this year, he first announced the Government's intention to repeal the law and on Tuesday evening, wrote on Facebook that he was "very happy" with the "major milestone".
The vote to strike down Section 377A passed with 93 MPs for the repeal, three against it and no abstentions. The constitutional amendment was passed with a majority of 85 to two votes, with two Members of Parliament abstaining.
From personal anecdotes and concerns about the symbolism of the legislative changes to reflections on advancing the conversation on lesbian, gay, bisexual, and transgender (LGBT) issues, here's a flavour of what MPs had to say on the matter.
XIE YAO QUAN
The People's Action Party (PAP) MP for Jurong GRC shared a personal story about a question he once posed to friends who were husband and wife and parents to two children.
"We were talking about their expectations of their children. I asked them, what if their son turns out to be gay and wishes to bring his partner home to meet them?" he recalled.
"Without missing a beat, they replied that they cannot even begin to contemplate and imagine such a scenario."
They do not belong to a minority of young parents today who would respond the same way, Mr Xie added.
"Yet if their son does turn out to be gay, I would make a guess that they will, one, love him all the same. And two, they will certainly not want their son and his acts of intimacy with his partner - consensual in private - to be labelled as criminal.
"Why should their son be labelled a criminal?"
HE TING RU
The Workers' Party's (WP) Sengkang representative - who abstained from voting on the constitutional amendment - spoke of an encounter with a close childhood friend who had moved away from Singapore and only reconnected with her in their 20s. 
"I remember sitting up late one night, chatting about the weather, about nothing in particular. I made a throwaway teasing comment about whether he would take girls to a particular spot to impress them," she said. 
"He suddenly grew quiet and paused for a long while, looking away. I could see that his mind was racing and he swallowed hard a few times. 
"Finally, he looked at me and said, 'You probably don't know this, but I'm gay. I thought a long time about whether to tell you but decided to do so because I think you would be ok with that.'"
Ms He's friend then shared how he felt compelled to tell "lie upon lie" to well-meaning relatives when he attended his sister's wedding months ago.
"He felt like a total charlatan. But overriding this was his greatest fear that he did not want to bring shame upon his parents. I will never forget the fear and anguish and pain in his eyes. 
"And I regret that this was not the first nor the last time I saw these emotions as someone came out to me about their sexual orientation all because they feared condemnation and disgust for who they were." 
BAEY YAM KENG
The PAP MP for Tampines GRC - who supported the repeal of Section 377A when he spoke on the matter in 2007- has several gay friends, some living with same-sex partners for decades, and he has "never looked at them differently".
Listing some notable Asian members of the LGBT community such as the late Hong Kong actor Leslie Cheung, Mr Baey said they probably struggled with their sexuality while living in a more "conservative and traditional Oriental society".
Cheung dealt with severe depression and took his life in 2003, having grappled for years under public scrutiny after coming out as gay in 1997. 
Mr Baey said: "This takes great courage. If we like their novels, lyrics and the songs they have written … But we have to regulate their private lives by law and not allow them to be intimate with their loved ones, then aren't we too selfish and overboard?" 
SUN XUELING
The Minister of State for Social and Family Development and Home Affairs said she has met with many individuals who run support groups for the LGBTQ+ community.
To the gay community, Section 377A, although not actively enforced, is seen as society's judgment of them, said the PAP MP for Punggol West.
"(It is) a rejection of their right to exist, criminalises their right to love and be loved in return, and makes them feel like a lesser citizen," said Ms Sun. 
"It also hangs like the Sword of Damocles over them since the law exists and reminds them that they are criminals even when what they are engaging in is a private consensual act between two adults." 
LIM BIOW CHUAN 
The PAP MP for Mountbatten said he was taken aback when PM Lee announced the intention to repeal Section 377A. 
"How do we explain to the many Singaporeans who are still pro-family and worried about the potential decline in family values?" he continued. 
Mr Lim said had met with the organisers of the Protect Singapore Town Hall, who told him their meeting - to call for the protection of marriage, family and children in light of Section 377A's repeal - was almost cancelled because of complaints and threats from the gay community. 
"So they complained that the minority in the gay movement are refusing to allow anyone to have a conversation about their concerns regarding homosexuality," he said. 
This small minority of "militant homosexuals" gives the others "a bad name by being bullies", said Mr Lim. 
He also asked that the Government ensure no organisation, company or school could compel staff or students to participate in "gay community projects" if they did not subscribe to the same values.
DENNIS TAN
WP's Hougang representative voted against the repeal. He called Section 377A a "symbolic social marker" and said people he had spoken to were concerned about the societal changes seen in other countries in gender identity, sex education and marriage laws. 
"Many expressed concern that the removal of such a marker may make it difficult for parents in setting down their family and social values at home," said Mr Tan. 
"Many are also concerned they will be stopped from expressing their contrary reviews on sexuality after the repeal including the fear of being cancelled." 
He went on to add that guided by his own faith and beliefs, he found it difficult to support the repeal, as he was "personally troubled by the removal of the marker that it represents". 
GERALD GIAM
WP's Aljunied representative, who also voted against the repeal of Section 377A, aired similar concerns.
"My conscience does not allow me to vote in favour of the repeal of Section 377A," he said. 
Urging those who were for repeal to accept that he was trying his best to uphold his values, Mr Giam said: "My vote is not an attack on their values nor a diminishing of their humanity in any way. 
"Some have criticised me for allowing my faith to inform my vote in Parliament, arguing that the two should be kept separate. However, what one member informed by their faith and conscience believed to be in the best interest of the country in some issues may differ from what another member believes." 
In closing, he admitted he was worried he might come across as prejudiced against members of the LGBT community. 
"Hand on heart, I am not. LGBT persons are human beings worthy of the same amount of love and respect that we accord to any other person." 
HOON HIAN TECK
The Nominated MP and professor was the third "noe" in the vote to repeal Section 377A.
If Singapore views the family unit as the basic structure of society, then there should be laws and institutions that support this, he said.
Prof Hoon added that the fourth industrial revolution would require workers to exercise a wide range of both cognitive and non-cognitive skills.
"In such an economy, I believe that family remains the bedrock of society where children learn complementary lessons from their fathers and their mothers so that they develop the skills needed to become well-functioning future workers."
LOUIS NG
The PAP MP for Nee Soon GRC called on Singaporeans to "continue to treat each other with dignity, respect and kindness".
"We cannot shy away from having conversations with people whom we do not identify with. We need to continue the dialogue on issues affecting the gay community with the intent of achieving progress for everyone." 
He said Singapore should recognise activists and organisations for their collective efforts over the years to raise awareness about the challenges faced by the gay community. 
Mr Ng also asked about those previously convicted under Section 377A. 
In response, Law and Home Affairs Minister K Shanmugam said in his wrap-up speech on Tuesday that there were a "small" number of individuals who were convicted between 1988 and 2007 for consensual and private homosexual acts between adults. He said he had instructed his ministry to consider how their records could be rendered spent or removed.
MARK CHAY
Beyond Section 377A, Singapore should ensure that its policies uphold the equal protection of rights for those who "do not fit squarely" into the definition of a traditional family unit, said the NMP.
These include single-parent households on top of the LGBTQ community. 
Mr Chay also called on the education ministry to include in its curriculum content on handling all definitions of relationships and not just in the heterosexual sense.
"Are we doing enough to ensure that our children understand that even though their peers may not fit into the definition of a traditional family unit … that these peers should not be treated differently, or worse, derisively?"