'Mum, I've got this': Joseph Schooling's message to mother before Olympic win
The Singaporean swimmer's parents reflect on a month elapsed since their son's history-making gold medal at Rio 2016.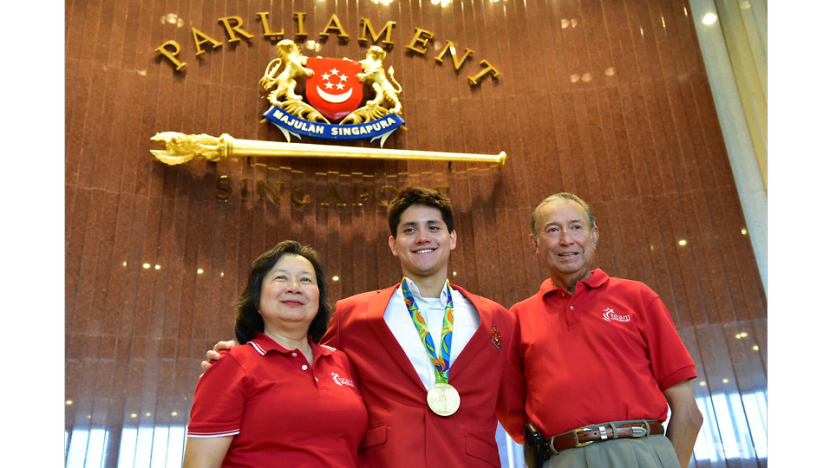 SINGAPORE: Rio 2016 will forever be remembered as the Games where Singapore achieved Olympic glory of the highest order, for the first time ever. When Joseph Schooling won the gold medal in the 100m butterfly event, it was not just a dream come true for him and his parents, but for the entire nation - a dream that Schooling's parents Colin and May had dedicated their lives to keeping alive.
When 21-year-old Schooling won his race in Olympic record time, Colin and May saw their son's dream - a dream he has held since he was eight - come true with the entire world watching. Their son had showed Singapore what it was like to achieve what many believed was near impossible. One month on from Rio, Cheryl Fox finds out what the road to Olympic glory has been like for both Colin and May Schooling.
COLIN: It's different now, we are recognised wherever we go.
MAY: Everybody has been very supportive, but I've kind of lost my identity. I am just "Joseph's mummy, Joseph's mummy, Joseph's mummy!" Or (Colin is) "Joseph's daddy, Joseph's daddy!" So they recognise us by Joseph. I'm really thankful that, you know, the Singaporeans are so receptive to what Joseph has done.
COLIN: It touched my heart. You know, sometimes newspaper clippings, they just put it in our basket outside.
MAY: They would, yes!
COLIN: … Because knowing that we would like to keep some extra copies. I was in a taxi just a few days ago, and this gentleman called me by my name - "Colin Schooling, father of Joseph". At the end of our journey, he said, "Could I take a photograph with you?" I said, "Of course." He said, "Then you don't need to pay." I said, "No, no. This is business, you've got to charge me, if not I will not allow you to take a photograph." I thought that was brilliant, you know.
CHERYL: Let me take you back to that day of the 100m butterfly final, that very moment that your son touched that wall before everyone else did in the pool. What was it like for you?
MAY: Just before his race, it's like, you are always very anxious, you know, you are just worried. I'm more worried that he doesn't achieve what he sets out to do. I am not worried about other people's expectations for him, because his standard is always higher than what people expect.
His message to me before the race was, "Mum, I have got this."
CHERYL: What was it like?
MAY: (Colin) saw the TV, I was there (in Rio). I did not even know there were three silvers.
COLIN: Yeah, I did not know.
MAY: All we did that whole group of us, his godma and the president of the Singapore Swimming Association, Kok Choy, and everybody, we just screamed. And everybody around us, there were Chileans, there were Germans, there were Czechoslovakians, everybody rejoiced with us, and we just screamed!
COLIN: My dream was to hear the "Majulah Singapura" sung in the Olympic stadium.
MAY: He did it.
COLIN: He did that for me.
CHERYL: When did you realise that your son Joseph had the spark in the pool? How did his passion for swimming develop?
COLIN: Since his first competition. In Tanah Merah, in the old days, they had concrete starting blocks, and Joseph walked when he was nine months old. So he could walk around, you know, he was a very strong baby. So he used to play, he would climb up the blocks and I would be down in the water just to catch him, and he would just jump, leap into the water, with no fear. It began with water safety. Because we had Joseph late in life, and I would not rest in peace if he drowned, you know what I mean.
My uncle's name is Lloyd Oscar Valberg, and he was the first Olympian in the 1948 London Olympics, he was the high jumper. They had a private chat, just uncle and grand-nephew. Then on the way back, all of a sudden in the car, he told his mother and me, "I want to go to the Olympics." "So young," I said, "Okay, I got it." But not taking it seriously. But he was serious about what he wanted.
CHERYL: At the age of 14, you made that decision to send your son all the way to the United States to train. What was that like for you?
COLIN: There were many mixed feelings. Apprehension, because...
MAY: … He was so young!
COLIN: The thing that spurred me on to send him to America was when he woke me up at four o'clock in the morning one day. And there was this little tap. I looked and said, "Oh my goodness it's Joseph. What are you doing so early son?" He said, "I have got to go for training, dad." I said, "You got to go for what! Training?" I said, "Do you really want to do this?" He said, "Yes, dad."
Then without thinking, you know, I said, "Maybe it's raining outside." He is going to get wet anyway. He turned the curtains, he said, "No it is not dad." Oh my goodness, so I have to bring him.
And it dawned on me, you know, for a little boy to wake me up at that time in the morning and he wanted to go training, this is a special, it's a special breed you know. It is a special character.
CHERYL: The road to glory, in this case, it's Olympic glory, it's never an easy one. How has it changed, this journey with Joseph, how has it changed the both of you?
COLIN: Joseph has a motto, and he says, "Dare to dream." And I'm telling the people of Singapore, you can dare to dream, nothing wrong with that.
MAY: But it is also telling parents that, well, the support has to come from parents for the kids and also, I think the whole sports culture in Singapore. We have to be supporting sports, which I think we are starting, there have been a lot of changes. We will get there.
COLIN: Even other sports and other disciplines will be more receptive now, and believe that it can happen.
MAY: Ya!