Man gets life imprisonment for murdering girlfriend's 9-month-old son
Mohamed Aliff Mohamed Yusoff pushed the baby's head against the wooden floorboard of his van multiple times.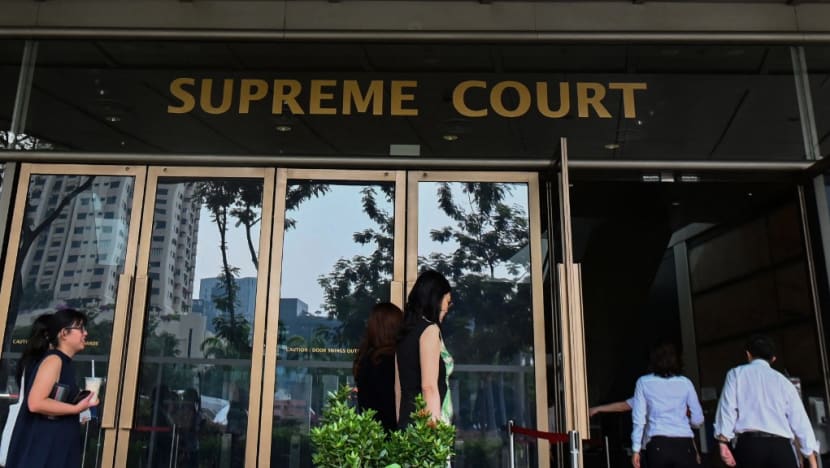 SINGAPORE: A 29-year-old man was given life imprisonment with 15 strokes of the cane on Thursday (Aug 11) for murdering his girlfriend's nine-month-old son in a van in Yishun.
Mohamed Aliff Mohamed Yusoff was sentenced after a High Court judge convicted him in July of murder.
Justice Mavis Chionh said that the death penalty was not warranted in this case, and noted that the prosecution did not seek it.
The victim, Izz Fayyaz Zayani Ahmad, died of traumatic intracranial haemorrhage caused by blunt force trauma.
On Nov 7, 2019, Aliff, Izz and Izz's mother Nadiah Abdul Jalil went out for dinner, during which the couple had a disagreement over how to discipline the baby for spilling a drink.
After dinner, Aliff volunteered to take care of Izz for the night and Ms Nadiah agreed. Aliff then drove Izz to a multi-storey car park at Yishun Street 81.
The prosecution's case was that Aliff inflicted blunt force trauma to Izz by pushing his head against the van's wooden floorboard at least twice between 10pm and 12.15am that night.
Aliff's defence was that the victim's death was an accident. He claimed that Izz "fidgeted and fell" from his right arm while he was trying to close the van's door and holding things in his left hand.
He claimed that the baby hit the floorboard of the van's rear cabin headfirst, bounced and hit his head again on the edge near the van's floor, then fell to the ground.
Justice Chionh said that the courts had found the death penalty was appropriate when an offender acted in a way that showed viciousness or disregard for human life. She found that Izz's death was not such a case.
On top of life imprisonment, the prosecution asked for 15 to 18 strokes of the cane. The defence sought five to six strokes of the cane, but the judge said this was manifestly inadequate.
GUILTY RULING
Justice Chionh previously ruled that the prosecution had proven its case beyond reasonable doubt.
She found that the version of events in which Aliff pushed the baby's head against the floorboard was consistent with the autopsy findings, citing expert evidence.
In contrast, the version in which Izz fidgeted and fell was not supported by the autopsy findings and medical opinion, said the judge.
Aliff's conduct after the incident was also "strikingly consistent with the behaviour of someone labouring under the guilty knowledge that Izz had died by his hand and fearful of being found out", she said.
"It was not the behaviour of someone who was anxious to get Izz's injuries treated after seeing Izz hurt himself in an accidental fall," she added.
After the incident, Aliff spoke to Ms Nadiah on the phone near midnight on Nov 8, 2019 and drove to meet her in Jurong East.
When Ms Nadiah saw her son lying on his back in the van's rear cabin, she picked him up and placed him in a baby carrier that she wore.
Aliff told her that if anyone asked what happened, she should say that Izz fidgeted and fell, and that Aliff did not call the hospital because he had called her.
He also told her to say that the victim's body was still warm when she met him, and that they went to the hospital after he turned cold.
Aliff eventually drove to the National University Hospital, where the victim was pronounced dead at 4.30am on Nov 8, 2019.
Ms Nadiah testified that Aliff suggested they pay someone to bury Izz and report him as missing a year later. She refused and insisted that her son should be given a proper burial.
She also described how Aliff delayed bringing them to the emergency department. After reaching the hospital, he took time to brush his teeth, wipe his body and dispose of his mobile phone.
Closed-circuit television footage from the hospital showed that Aliff took 36 minutes to bring Ms Nadiah and her son from the car park to the emergency department.
Justice Chionh said she believed Ms Nadiah's evidence, whereas Aliff was a "glib and disingenuous witness" who gave multiple differing versions of events that night.
In his police statements, Aliff shifted between admitting to pushing the baby's head against the floorboard and claiming that the victim accidentally fell.
The judge said Aliff's account of events was "riddled with inconsistencies" and "flatly contradicted" by medical evidence and other evidence.
"The head is a vulnerable part of the body, especially when one considers that the force in question was being applied by the accused, a full-grown adult man, to a nine-month-old child measuring only 71cm in height and weighing only 7.3kg at the time of death," said Justice Chionh.
"In the circumstances, the only logical inference to be drawn from the accused's actions was that he intended to cause head injuries to Izz when he pushed Izz's head against the floorboard of the van."
"GROSS PHYSICAL DISPARITY"
In sentencing, defence lawyer Kanagavijayan Nadarajan argued that Aliff had a "good relationship" with Izz during the two months of dating the baby's mother.
The lawyer said Aliff had volunteered to take care of the baby as he knew Ms Nadiah would be working the next day.
But Justice Chionh said this could not be a mitigating factor, as Aliff went on to violate Ms Nadiah's trust by inflicting physical violence on Izz and causing his death.
The judge also noted that Aliff's behaviour after Izz's death showed a disturbing lack of remorse.
She added that the courts took a tough stance towards offenders who cause the death of defenceless young victims through violence.
Among vulnerable victims, young victims were notable as the "gross physical disparity" with offenders often meant they could not protect themselves, she said.
Aliff's sentence was backdated to Nov 8, 2019, the day he was arrested.
Under the Prisons Act, after an offender has served 20 years of a life sentence, a review must be conducted and there is a possibility of reduction in the sentence.
The offence of murder under Section 300C of the Penal Code is punishable with death or life imprisonment with caning.