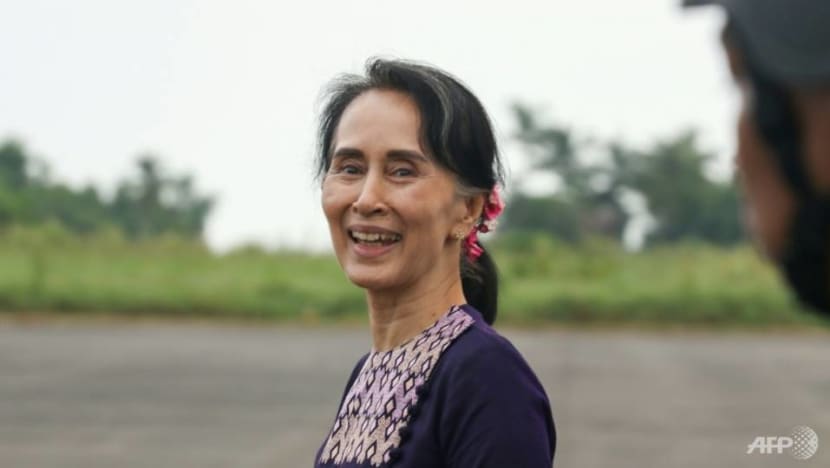 SINGAPORE: Myanmar leader Aung San Suu Kyi will be in Singapore for a four-day working visit from Sunday (Aug 19) to Tuesday, at the invitation of Prime Minister Lee Hsien Loong, the Ministry of Foreign Affairs (MFA) said.
During her visit, she will meet Emeritus Senior Minister Goh Chok Tong at the Lee Kuan Yew School of Public Policy and receive a briefing there. Mr Goh is the chairman of the governing board of the institution.
Aung San Suu Kyi will also call on President Halimah Yacob and Mr Lee, who will host a lunch for her, MFA added in a press statement. She will also meet Minister for Foreign Affairs Vivian Balakrishnan, who will host her for dinner.
On Tuesday, Aung San Suu Kyi will deliver the 43rd Singapore Lecture, moderated by Deputy Prime Minister Teo Chee Hean. There, she will give a speech titled Myanmar's Democratic Transition: Challenges and Way Forward. She is expected to address the situation in Rakhine State involving the Rohingyas.
Aung San Suu Kyi, who last visited Singapore in 2016, is on her third visit here and will be accompanied by Union Minister for the Office of the Union Government and National Security Advisor Thaung Tun, Union Minister for International Cooperation Kyaw Tin and Deputy Minister for the Office of The President Min Thu.
Singapore and Myanmar are working towards more bilateral trade through a Bilateral Investment Treaty for which negotiations are expected to be concluded by the end of this year. The two countries had a total bilateral trade of S$3.6 billion in 2017.