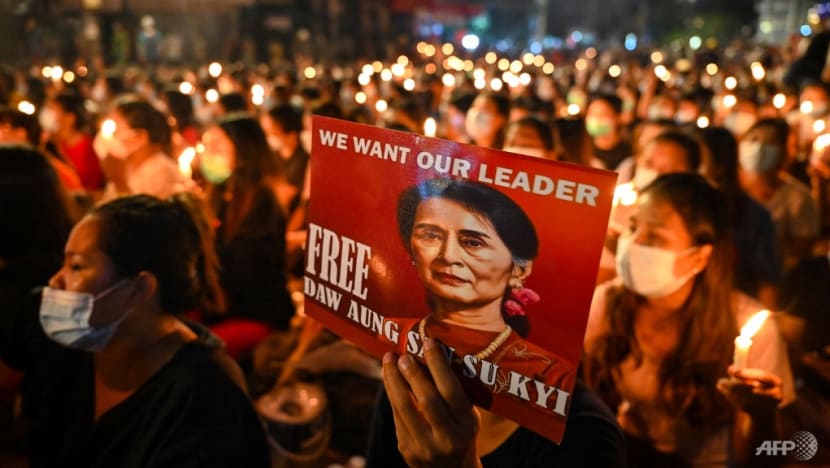 SINGAPORE: Singapore "remains deeply concerned" about recent developments in Myanmar and "disappointed by the lack of tangible progress" in implementing the Association of Southeast Asian Nations' (ASEAN) five-point consensus to end the crisis in the country, a spokesperson for the Ministry of Foreign Affairs (MFA) said on Tuesday (Dec 7).
"We reiterate our call for the cessation of violence, constructive dialogue among all parties, and urge the Myanmar military authorities to cooperate with the ASEAN Chair's Special Envoy on Myanmar to swiftly and fully implement the Five-Point Consensus, including by facilitating the Special Envoy's visit to Myanmar to meet with all parties concerned," the spokesperson said.
"Singapore also calls for the release of all political detainees including Daw Aung San Suu Kyi, U Win Myint and foreign detainees, and for the Myanmar military authorities to avoid actions that would be detrimental to eventual national reconciliation and restoration of peace and stability in Myanmar."
The comments came in response to media queries over recent developments in Myanmar.
On Monday, ousted Myanmar leader Aung San Suu Kyi was sentenced to four years in prison on charges of incitement against the military and breaching COVID-19 restrictions. Deposed president Win Myint was also sentenced to four years in jail on the same charges.
Both later had their sentences halved after they were "pardoned" by junta chief Min Aung Hlaing.
Aung San Suu Kyi, 76, has been detained since a military coup ousted her government on Feb 1, ending Myanmar's brief period of democracy. She faces a series of other charges, including violating the official secrets act, illegally importing walkie talkies and electoral fraud.
The junta has continued to crack down on opposition to the coup, with five people killed on Sunday after security forces rammed a car into anti-coup protesters in Yangon. 
In April, ASEAN leaders agreed on the need for an immediate end to the violence in Myanmar after an emergency meeting in Jakarta, which Min Aung Hlaing also attended.
Leaders reached a consensus on five points: Ending violence, constructive dialogue among all parties, the appointment of a special ASEAN envoy to facilitate dialogue, the provision of humanitarian assistance and a visit by the envoy to Myanmar.
The junta has, however, ruled out allowing an envoy to meet Aung San Suu Kyi.
ASEAN did not invite Min Aung Hlaing to a leaders' summit in October over his failure to implement the consensus. An ASEAN-China summit in November was also held without a Myanmar representative.
Source: CNA/Reuters/kg(gr)