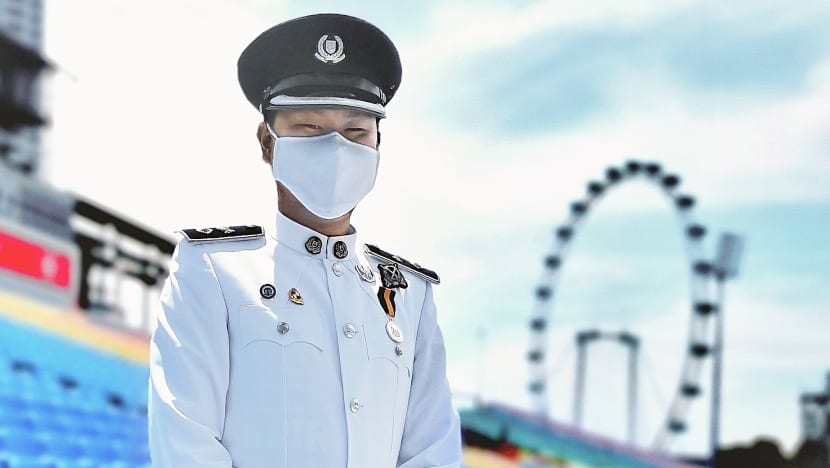 SINGAPORE: On Monday (Aug 9), Deputy Superintendent (DSP) Gregory Kang will be participating in a family tradition going back four decades - taking part in a parade on Singapore's National Day.
This year's National Day Parade has been postponed to Aug 21 amid a rise in COVID-19 cases, but a ceremonial parade will be held on Monday.
DSP Kang's father was part of the parade's marching contingent in 1980, while he was serving his National Service (NS) in the army. 
"What he shared with me was that when he was preparing for the National Day Parade back then as a young soldier, the training actually lasted way beyond the three to four months that parades of the past decades have usually done," said the 29-year-old. 
"They started training actually more than half a year to even almost a year before the actual parade."
Three decades after that, his older brother also took part in the 2009 parade while performing his NS - not as part of the marching contingent, but as a performer. 
"One thing that I remember very vividly was that he was involved in one of the performance segments and was wearing a bright silver suit, together with some of his fellow soldiers," he shared. 
Come this National Day, DSP Kang will join this tradition, leading the 72 officers who form the Singapore Police Force's (SPF) Guard of Honour contingent.
"This is not a tradition that I think I purposely set out to build, but it is indeed quite an honour to be able to carry on what others before me have done," he said.
His family is "quite proud" that he was chosen to represent the SPF, DSP Kang said, adding that they shared "quite a lot of encouragement as well as kind words" as he leaves home early in the morning and on weekends to prepare for the parade.
DSP Kang shared that his father had told him that in the past, the marching contingent would march long distances, through Singapore's heartlands, on their way to the parade. 
"So I think that is his way of encouraging me to say that, well, many people have done it before in the past, and now you have the chance to do it. So do it well, and do it proudly," he said. 
"Because you will not only represent the men and women of the Singapore Police Force, but also generations that have come before."
When he started training for the parade in June, DSP Kang - who joined the SPF five years ago - was serving as the commanding officer of Kampong Java Neighbourhood Police Centre, overseeing about 100 officers on a day-to-day basis. 
On Jul 19, he was seconded to the Ministry of Home Affairs, where he now serves as assistant director of policy development. 
He acknowledged there was some difficulty in juggling his new responsibilities while rehearsing for the parade. 
"I think all officers who participate in the National Day Parade do so with the recognition that this involves additional commitment, and sacrifices of some of your personal time," he said. 
When preparations began for the parade, it was still with the view that there would be a full-scale parade, as in the years prior to the COVID-19 pandemic. 
That was until tightened restrictions under Phase 2 (Heightened Alert) were reinstated last month to try to stem a spike in COVID-19 cases. The smaller ceremonial parade will be held at the Marina Bay floating platform on Monday.
"A lot of initiative and effort" has been made to arrange working safe management measures, said DSP Kang.
These include regular COVID-19 tests for all participants, as well as "very clear segregation plans" between the different contingents, he said. Participants are "well-supported" in executing such measures as planned by the working committee, he added.
Despite these hurdles, DSP Kang believes the show must go on, as the parade is a sign of Singapore's "resilience and ability to pull through crisis".
"In many years' time, when we look back on National Day 2021, what we will see is a nation that has gone through this COVID-19 pandemic (and) come out of it, became stronger and yet managed to stay resilient, stay united and stay tough throughout this whole episode," he said.