NHB hopes exhibition on successful Singaporean fashion design can inspire others to chase their dreams
Mr Andrew Gn's pieces have been worn by music royalty like Beyonce and Lady Gaga.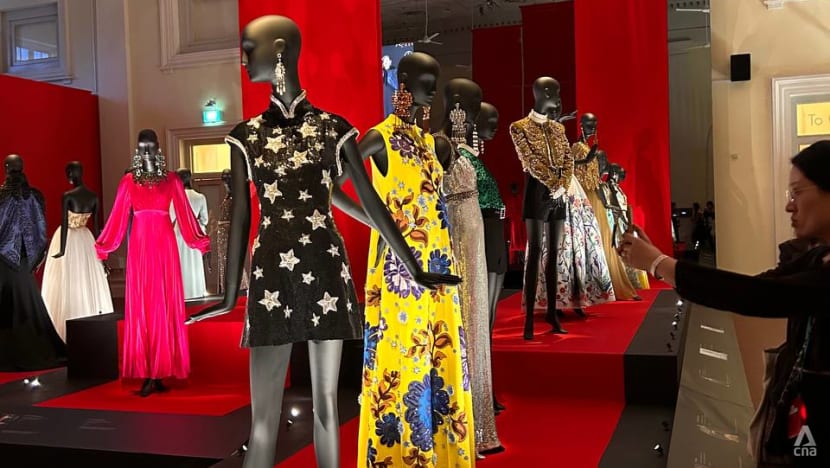 SINGAPORE: Fashion designer Andrew Gn's glamorous gowns are no stranger to the limelight.
They have  been worn by music royalty like Beyoncé and Lady Gaga. He is also the only Singaporean to feature regularly at Paris Fashion Week.
In a bid to inspire other Singaporeans to chase their artistic dreams like Mr Gn, the Asian Civilisations Museum (ACM) will put the spotlight on him and his work in its newest exhibition,  Andrew Gn: Fashioning Singapore and the World.
Mr Gn, who was born in Singapore and completed his A-Level examinations here, left the country after National Service to pursue his passion. He is now based in Paris.
Back in Singapore for his exhibition, he told CNA his mother was his first fashion stylist-cum-mentor.
She would take the fabrics his father brought home from countries like Indonesia, Pakistan and the United Arab Emirates to a tailor in Chinatown, with a young Mr Gn in tow.
"I would be extremely observant, listening to her discussing every single detail of how she wants to make her clothes," he said, adding that that was his first fashion experience.
"It was magical to see all this beautiful two-dimensional fabric being transformed into three-dimensional clothing."
His journey into the industry began when he managed to persuade his parents to fund his overseas fashion education at Central Saint Martins, he said.
RECOGNISING SINGAPOREAN TALENT
ACM director Kennie Ting told CNA that it is important for a public and national institution to showcase a Singaporean designer who has worked hard and found success.
"That is the kind of narrative that I feel is important for younger designers and just young people in general here: That there is hope. There is opportunity," he said.
He added that more local designers need to be profiled.
"We have a lot of Singaporean designers who are doing relatively well locally, as well as abroad. And to me, this particular show is just the beginning. I think it kickstarts our … movement to collect more in the space of design," he said.
The National Heritage Board (NHB), which manages Singapore's national museums and heritage institutions, wants to give the design industry a new lease of life. Its new heritage plan includes schemes to help Singaporeans better recognise prominent designers and their creations.
Alongside several other organisations, the NHB is launching a design collection. This means more cross-disciplinary collaborations and greater recognition for designers in fashion and beyond.
IMPROVING SINGAPORE'S FASHION SCENE
Industry expert Bernard Lim, programme leader of Fashion Business and Management at the Nanyang Academy of Fine Arts, said the initiative will be beneficial.
"It will help to serve as an archive to look at Singapore's cultural heritage and I think it will also give some talking points and interests for the general public to encourage them to support the local designers," he said.
Mr Gn said that Singapore should create its own fashion community.
"Community grows community and then you can export that to the world and I think that's very much what we should do," he said.
He had some words of wisdom about the industry for aspiring designers.
"Fashion is like a marathon. You need to manage your creativity like you're pacing your breath. And I think for the fact that it's constantly changing, you need to reinvent yourself all the time," he said.
"You need to make yourself relevant, irresistible and desirable."
The exhibition will showcase over 100 pieces of Mr Gn's work when it runs from May 27 to Sep 17.