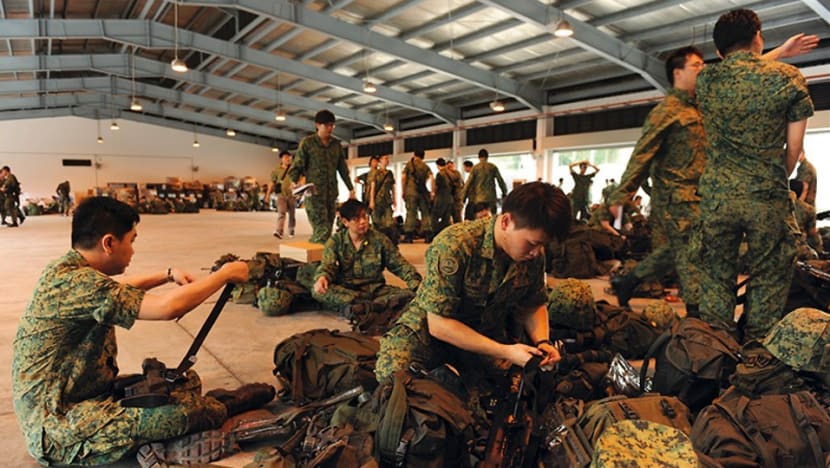 SINGAPORE: More than 1,000 women have applied for a two-day camp next month which will give them a taste of military service in Singapore.

However, only about a hundred are expected to fall in when the Women's Boot Camp takes place from Sep 1 to 2 at Maju Camp.

The camp will allow participants to engage in activities many Singaporean men performed while serving National Service (NS).
These include the handling of a SAR 21 weapon, tasting combat rations, going on a route march, participating in a standard obstacle course and building a basha, or impromptu tent. They will also get to eat at the cookhouse and sleep in military bunks.
"Through this camp, the organisers hope to give women a glimpse of what our national servicemen go through so that they can better relate to national servicemen's experiences and demonstrate stronger support and involvement in NS and defence," Ang Mo Kio Women's Executive Committee (WEC) chairman Joanna Portilla said. 

The event is organised by the Women's Integration Network (WIN) Council's Ang Mo Kio WEC and comes after a Dads For Life Camp organised by the Centre for Fathering last year.
Participants at the Women's Boot Camp are required to be a citizen or a permanent resident aged 13 and above. A fee of S$45 for PAssion Card holders and S$55 for those without is also required. 
The event was announced on Facebook on Jul 17, and the post has since garnered nearly 3,000 shares.

Despite the overwhelming response, the organiser will proceed with about 100 participants to give them an "optimum experience of the camp", Ms Portilla said. 

No additional days will be added for the camp, she added.

The youngest applicant is 13 years old while the oldest is 64, Ms Portilla said. 
On safety measures, she said the participants will partner with female military regulars and volunteers from the Singapore Armed Forces Volunteer Corps to ensure their safety.
A medic will also be on site throughout the duration of the camp, she said.
"The safety of our participants are of paramount importance. There will be a safety brief conducted for all participants at the start of the camp."