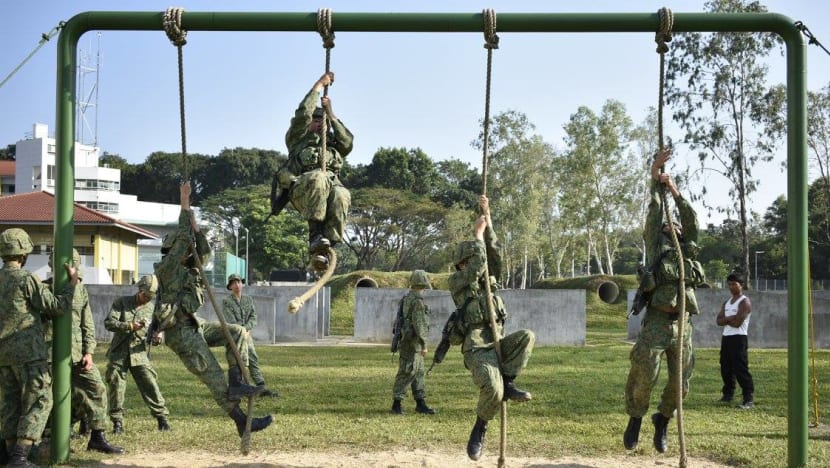 SINGAPORE: All national servicemen in the Singapore Armed Forces (SAF), Singapore Police Force (SPF) and Singapore Civil Defence Force (SCDF) will receive a S$125 (US$92) to S$200 increase in their National Service (NS) allowance.
The increase will take effect on Jul 1 and is dependent on their rank and vocation, the Ministry of Defence (MINDEF) and Ministry of Home Affairs (MHA) said on Monday (May 29).
"With this adjustment, national servicemen will see their NS allowances increase by between 10.9 per cent (and) 21.7 per cent," said the ministries.
A full-time national serviceman (NSF) holding the rank of recruit or trainee will receive an allowance of S$755, an increase from the current amount of S$630.
An SAF NSF naval diver or SPF NSF police tactical trooper or SCDF NSF firefighter holding the rank of Corporal will receive a monthly allowance of S$1,250, up from the current S$1,050.
NSFs receive a 5 per cent increment for every 12 months that they serve in that rank. NSmen receive a 5 per cent to 10 per cent increment if they satisfactorily complete an NS activity in the preceding work year, said MINDEF and MHA.
Three adjustments to NS allowances have been made over the last 10 years, the most recent being in March 2020 when allowances were increased by S$70 to S$120, the ministries said.
"The NS allowance, which supports full-time national servicemen in their basic personal upkeep, is reviewed and adjusted periodically to ensure that it remains adequate," MINDEF and MHA added.