COVID-19 Research Workgroup at NCID wins national award for contributions to pandemic response
The six National Medical Excellence Awards 2021 recipients also include Professor Dale Fisher of National University Hospital, one of 12 international experts selected for the first WHO-China Joint Mission on COVID-19.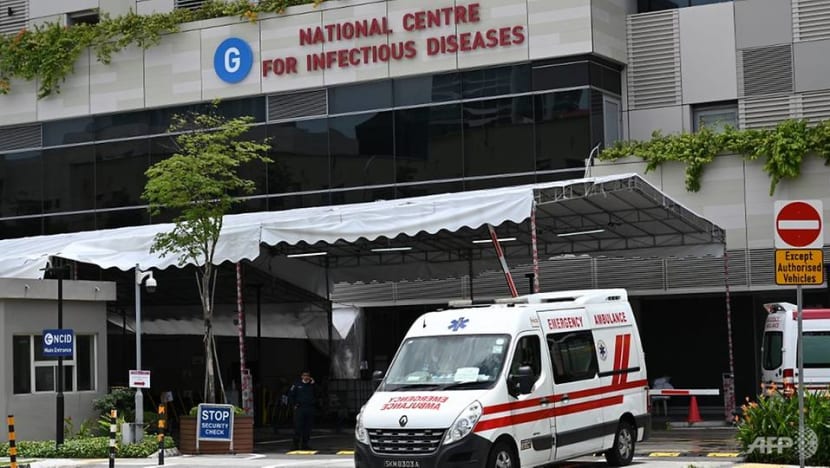 SINGAPORE: The COVID-19 Research Workgroup at the National Centre for Infectious Diseases (NCID) has won the National Clinical Excellence Team Award for its role in the pandemic response in Singapore and globally.
The work group is among six recipients of the National Medical Excellence Awards 2021 announced by the Ministry of Health (MOH) on Friday (Nov 5).
In a news release, MOH said the recipients were recognised "for excellence in the areas of care quality, patient safety, research, as well as education and training".
Among the COVID-19 Research Workgroup's achievements is the world's first SARS-CoV-2 neutralisation antibody test to identify people previously infected with the virus and who subsequently developed an adaptive immune response.
The team was involved in the use of remdesivir and baricitinib to treat COVID-19 patients in Singapore.
It also helped provide patient samples used to develop the Regeneron monoclonal antibodies, which have since been shown to be effective in treating hospitalised patients with severe COVID-19 in the RECOVERY trial in the UK.
RESEARCH LED TO "IMPROVED STANDARDS OF CARE"
The work group was convened on Jan 22, 2020, a day before Singapore reported its first confirmed coronavirus case.
Chaired by Professor Leo Yee Sin with Associate Professor David Lye as deputy chairman, it is aimed at conducting studies to better understand COVID-19 and its transmission in Singapore.
The team is advised by MOH's chief health scientist Tan Chorh Chuan.
Professor Lisa Ng of A*STAR, Dr Barnaby Young of NCID and Dr Chia Wan Ni of Duke-NUS Medical School are also part of the team.
On Jan 24 last year, it recruited its first subject for PROTECT, a study to detect novel pathogens and characterise emerging infections according to an outbreak drawer protocol developed in 2012. The protocol "served as a foundation platform covering all public hospitals in Singapore, and enabled the collection of clinical data and biological samples for research", said MOH.
More than 600 COVID-19 patients had participated as of December 2020.
The work group made "significant research contributions" in the pandemic, leading to "improved standards of care, diagnosis, health outcomes, and management of COVID-19 patients both locally and globally", said MOH.
Twenty-three of the 212 publications the group has produced made it to "top-tier scientific journals", said MOH. These include the New England Journal of Medicine, The Lancet, JAMA, Science, Nature and Cell.
MOH added that their findings "have been translated and incorporated into investigation of outbreaks, infection control measures, and public health policies on quarantine and isolation".
OTHER AWARD WINNERS
The National Outstanding Clinician Award was given to Professor Dale Fisher of National University Hospital, one of 12 international experts selected for the first WHO-China Joint Mission on COVID-19 to China to investigate and advise on the global response.
Prof Fisher also advised on strategies to manage the COVID-19 outbreak at foreign worker dormitories, and enhanced risk communication and communication engagement by helping to establish My Brother SG.
"This initiative has received WHO funding to develop a sustained system to support future COVID-19 needs as well as chronic diseases and mental health issues in foreign workers," said MOH.
The National Clinical Excellence Team Award went to the GPFirst programme, an initiative spearheaded by Changi General Hospital in 2014 to encourage patients with mild to moderate conditions to visit a general practitioner instead of presenting themselves at the Accident & Emergency (A&E) Department at first instance.
The programme has benefitted more than 33,000 patients in the East from 2014 to 2019 and resulted in a 14 per cent reduction in proportion of attendances at A&E with mild and moderate conditions, as well as a 36.6 per cent reduction in walk-in attendances, according to MOH.
It has since been implemented in other hospitals, including Khoo Teck Puat Hospital, National University Hospital, Ng Teng Fong General Hospital, Sengkang General Hospital and Woodlands Health Campus.
Another recipient, Professor Chong Siow Ann, won the National Outstanding Clinician Scientist Award "for his outstanding contributions to mental health research and treatment, and changing the perception of mental illness".
The National Outstanding Clinician Mentor Award and National Outstanding Clinician Educator Award were given to Associate Professor Wong Kok Seng and Professor Tan Hak Koon respectively.
Health Minister Ong Ye Kung gave out the awards at a ceremony held on Friday.