NDR 2018: Fundamentals of Singapore's relationship with Malaysia have not changed, says PM Lee
In his National Day Rally speech, Mr Lee stressed the need for both countries to work together to tackle common challenges, and find constructive ways to resolve differences when interests diverge.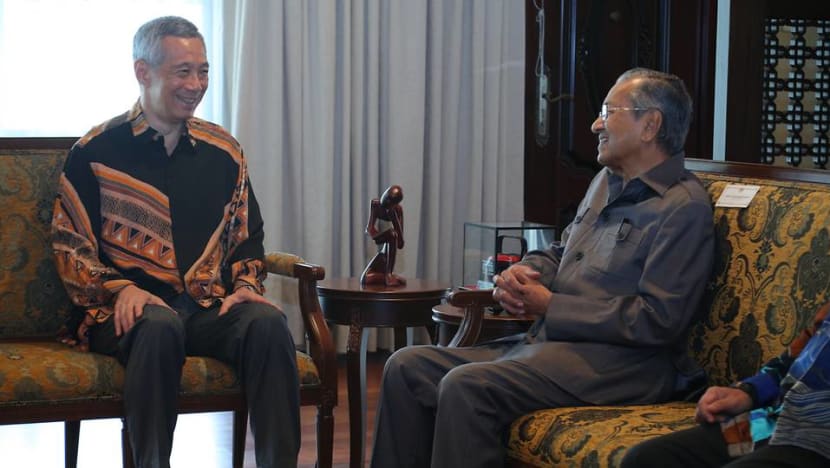 SINGAPORE: Singapore and Malaysia are closely bound by ties of kinship and history, geography and economics, and the fundamentals of Singapore's relationship with its neighbour have not changed, said Prime Minister Lee Hsien Loong on Sunday (Aug 19).
In his National Day Rally speech, he stressed the need for both countries to work together to tackle common challenges, and find constructive ways to resolve differences when interests diverge.
"If Singapore-Malaysia relations can stay stable and close, we can pursue win-win cooperation and we can each focus on our own domestic priorities," he said.
HIGH-SPEED RAIL, RTS LINK PROJECTS HAVE LEGALLY BINDING AGREEMENTS 
Mr Lee pointed out that Malaysian Prime Minister Mahathir Mohamad and his team are determined to review and change many of the policies set by their previous government. But while he "appreciates their reasons", he noted that some of their reviews affect Singapore's ongoing projects with Malaysia, such as the High-Speed Rail (HSR) and Rapid Transit System (RTS) Link to Johor.
After Dr Mahathir's Pakatan Harapan coalition formed the new government in Malaysia after the country's General Election in May, Malaysia took a stand to negotiate a deferment of the HSR project.
"We entered into these two projects in good faith, after careful negotiations, because they benefitted both countries," said Mr Lee, adding that both have legally binding bilateral agreements.
"These set out clearly the duties of each party, and what happens if either party wants to change or to terminate the agreements," he said. "Both sides have to carry out what has been agreed to, unless we mutually agree to vary the terms."
Dr Mahathir had also expressed displeasure with the 1962 Water Agreement, under which Singapore is given the full and exclusive right to draw up to a maximum of 250 million gallons of water per day from the Johore River. He had said that it was unfavourable to Malaysia, and wanted it renegotiated. Singapore subsequently said it will fully honour the terms of the 1962 Water Agreement and expects Malaysia to do the same.
Speaking in Parliament earlier this month, Minister for Foreign Affairs Vivian Balakrishnan reiterated Singapore's "clear and consistent position" on the issue – something that Mr Lee also highlighted in his speech.
"You know Singapore's view – the Water Agreement is sacrosanct," he said. "We must proceed strictly in accordance with its terms."
Nonetheless, Mr Lee said that Singapore has worked well with Malaysia over the years, and done "substantial projects with successive governments".
"I hope that with Dr Mahathir and his new team, we can build on our deep partnership, look ahead, and make further progress together," he said. 
Mr Lee was speaking about relations between Singapore and its two closest neighbours, Malaysia and Indonesia.
In the case of Indonesia, Mr Lee said he was worked well with Indonesian President Joko Widodo, who will also be hosting him to their annual Leaders' Retreat in Bali in October.
"We will be discussing ways to do more together," he said.
WORLD SITUATION "MUCH MORE UNCERTAIN", NEED TO STRENGTHEN ASEAN
In his speech, Mr Lee also stressed the importance of regional grouping ASEAN "in an uncertain world", and work on relationships with all ASEAN partners.
He said he hopes that the recent Trump-Kim Summit has helped to defuse tensions on the Korean Peninsula, but noted that Korea is not the only trouble spot in the world.
Describing the world situation as "much more uncertain", Mr Lee said that openness, globalisation and free trade have all come under pressure.
The United States, for example, which used to promote free trade and the free movement of people, has now made "rebalancing trade" a top priority, he explained, and unilaterally imposed tariffs on imports from other countries. This includes the European Union, Canada, Mexico and especially China.
These countries are retaliating and imposing their own tariffs on US exports.
"This tit-for-tat affects business confidence, undermines the multilateral trading system, and threatens global prosperity," he said. "There are no winners in a trade war."
"Small and open economies are especially vulnerable, and Singapore will suffer collateral damage."
But beyond economics, Mr Lee noted that world peace and stability are at risk, as the trade frictions have eroded trust, and sharpened tensions and rivalries between countries.
The United States and Europeans, for example, have long been firm friends and allies, but are now "arguing fiercely" over trade and defence spending, he said.
As for China and the US, Mr Lee said both powers have the "most important bilateral relationship in the world".
"They are interdependent, and they need to work closely together on global issues like climate change," he said.
"But the Trump Administration has named China as America's 'strategic competitor', and President Xi Jinping has warned that China will punch back and will not 'turn the other cheek'."
Mr Lee described this as an "unprecedented situation", and a "turning point".
"We cannot be confident that the major powers will continue to work with one another, and that the existing international system which has held the world together for so long will still hold," he said. "We do not know whether after a while, new rules and norms for international cooperation will form, or whether there will be prolonged tension and suspicion, mutual rivalries and hostile blocs."
"We hope all countries will act with restraint and wisdom, overcome the current challenges, and find a new way to move forward together," he added.