NDR 2018: Scheme planned to redevelop more old HDB flats before leases end
Residents would need to vote for the Voluntary Early Redevelopment Scheme (VERS), which will take place when their flats reach about 70 years of age.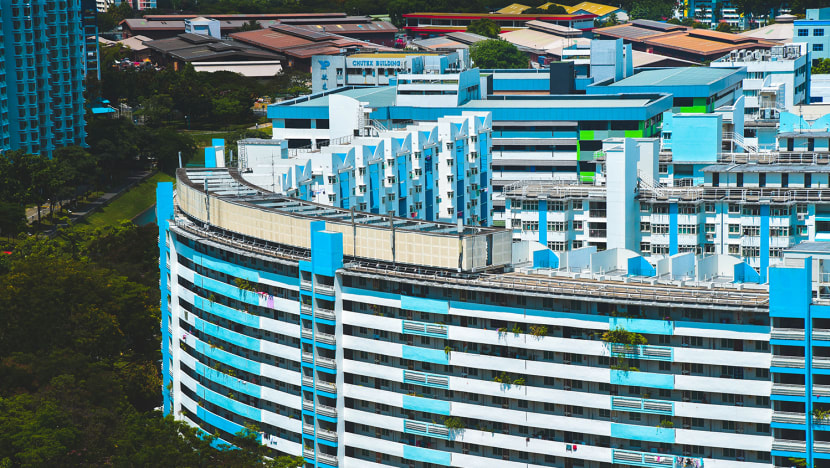 SINGAPORE: The Government is planning a new scheme which will allow more HDB households to benefit from redevelopment before the 99-year leases on their flats expire, Prime Minister Lee Hsien Loong announced on Sunday (Aug 19).
The Voluntary Early Redevelopment Scheme (VERS) is part of a "long-term plan" to allow the Government to progressively redevelop precincts, Mr Lee said in his National Day Rally speech. It will take place when the flats reach about 70 years of age, he added.
Mr Lee said that the Government will compensate residents whose flats are taken back early, and will also help them get another flat to live in, just as they would if their leases had run out.
But the terms will be less generous than that of the Selective En-Bloc Redevelopment Scheme (SERS), as there will be "less financial upside".
Hence, he said, the scheme will be voluntary, and residents would have to vote for VERS, just like they currently do for the Home Improvement Programme (HIP).
"If the residents vote yes, we will proceed," he explained. "The Government will buy back the whole precinct, all the flats and redevelop it, and residents can use their proceeds to help pay for another flat."
"If the residents vote no, then they can continue to live in their flats until their leases run out."
However, Mr Lee said that the Government will need time to work out the details of the scheme, such as how to select the precincts, pace the redevelopments out and the specific terms of the Government's offer. He added that they also need to study how to afford VERS for the long term.
Hence, the scheme will not start for another 20 years, although planning for it will begin now, he said.
NEED FOR REDEVELOPMENT TO BE STAGGERED
In explaining the rationale for the new scheme, Mr Lee said that the Government has good reason to take back more flats, and redevelop them as they grow older, before their 99-year leases are up. He added that when HDB towns grow older and the leases in the estates are nearing expiry, it is necessary to also redevelop the towns.
The Government, he said, wants to do this in an orderly way.
He explained that HDB often built in a "tremendous rush" in the early years due to the housing shortage, and several older HDB estates, such as Marine Parade, Ang Mo Kio and Bedok, were built within short periods.
"If we do not plan ahead, 99 years later, all the leases in such towns will expire around the same time, and all the flats will be returned to the state in a few years," he said.
"We will have to find new homes for a lot of people at once, and HDB will have to tear down and rebuild all the old flats in a hurry, just like when we first built Marine Parade, Ang Mo Kio and Bedok," he added.
"I don't think this is a good idea", he said. "The towns will become construction sites all over again, with cranes all over the place."
Hence, Mr Lee said old towns should be redeveloped progressively, over 20 to 30 years, rather than within 4-5 years.
"And that means starting from when the oldest flats reach about 70 years old onwards," he said. 
"So some flats, you redevelop when they get to 70 years old, some 75, some 80, and you stretch it out over 20-30 years, and progressively, do things in a measured and considered way." 

SERS LIMITED TO ABOUT 5 PER CENT OF FLATS
In his speech, Mr Lee pointed out that SERS is a very good scheme for estate rejuvenation. But he noted it is a "very limited scheme", and HDB estimates that only about 5 per cent of flats are suitable for SERS.
The issue of the lease expiry of older HDB flats has been in the spotlight recently, following a blog post last year by National Development Minister Lawrence Wong. He had said that SERS is, as its name implies, done on a selective basis, and said that home owners should not automatically assume that all old HDB flats would be eligible for it. 
More recently, amid concerns about the impact of lease expiry on HDB resale prices, Mr Wong said in Parliament that there is still value in older HDB flats that can be unlocked for retirement. 
Mr Lee said that there will be a few more SERS projects to come, but many projects with high redevelopment potential have already been done.
He explained that SERS is meant for selected HDB blocks or precincts which have high development value that can be unlocked. Tanglin Halt, which is being redeveloped through SERS, is one such example. 
But it was not built optimally, and the precincts, he said, were not always well laid out: There are low-rise flats, large surface car parks, many empty spaces and odd leftover areas.
He said that in cases such as Tanglin Halt, it makes economic sense for the Government to take back the flats early and redevelop the site.
"Because there is a lot of value unlocked, we share this value with residents through generous compensation," he said. "And with generous compensation, we can make the acquisition compulsory."