Nepal plane crash: Domestic flights remain 'most efficient' mode of transport, despite risks
Almost 70 people were killed in the Yeti Airlines crash on Jan 15, putting in the spotlight Nepal's history of aviation disasters and issues about its air safety.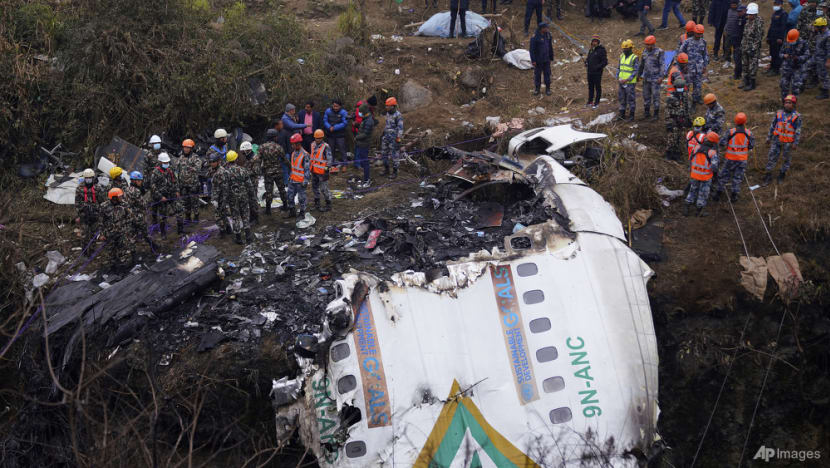 SINGAPORE: Avid cyclist Alex Koh, who has visited Nepal about seven times on cycling trips before the pandemic, recalled the "interesting" time he took a domestic flight from Kathmandu to Pokhara to visit a friend. 
"The tiny aeroplane was really small. I could not even stand upright walking down the aisle. When the flight was in midair, I felt that it moved whenever there was strong wind," the 46-year-old Singaporean told CNA on Monday (Jan 16).
"I was a little petrified to say the least."
Nepal's history of aviation disasters and issues about its air safety were recently thrust into the spotlight when a domestic flight under Yeti Airlines crashed in the central city of Pokhara on Sunday. 
At least 68 out of 72 passengers have been found dead so far, making it the country's deadliest air crash in three decades, according to the Aviation Safety Network database.
Even so, Nepal's domestic flights remain the "most efficient" way to get around, despite the country's chequered record of aviation safety and the risks involved, said travel and aviation safety experts who spoke to CNA. 
Some, like Mr Koh, suggested driving as an alternative option, although being on the road in the mountainous country comes with its own set of safety challenges.
AIR TRAVEL EFFICIENT AND FAST  
Industry experts highlighted Nepal's terrain as a reason domestic air travel remains a top option despite the risks.
With the country's rough terrain and "quite long distances", air transport is going to be "by far your most efficient way to get around a country like that", said Mr Greg Waldron, Asia managing editor at FlightGlobal. 
"Despite the risks, a 45-minute flight could take you a multi-hour drive."
Founder of non-governmental organisation Safety Matters Foundation in India, Captain Amit Singh, added that air transport remains "the fastest means", as most destinations in Nepal are through mountains, which can take several hours to days to reach. 
"With the quantum of visitors rising in Nepal, faster access through airports is an attraction which helps the visitors pack in more in their itinerary," he told CNA.
Even though Nepal's history of aviation accidents might prove otherwise, Captain Amit noted that air transport is "still considered the safest means of travel as compared to other modes". 
"Visitors just need to choose an airline with a good safety record and infrastructure, like a younger fleet. The airport and navigation infrastructure also needs to be upgraded to global standards to assure safety," he said. 
At UK-based travel agency Lost Earth Adventures, its founder Richard Goodey acknowledged that flying in Nepal is "riskier than we are used to in more developed nations". Even though there is a "low chance" of being involved in an accident on a domestic flight, there is a "much higher chance" than on an international airline. 
Still, with "dozens of fatalities every day on the roads of Nepal", Mr Goodey confirmed that "the risks (of flying) are still very low, and it's safer to fly than take the roads". 
TRICKY TOPOGRAPHY, AIRPORT RUNWAYS
Those who do opt for domestic flights tend to be aware of the risks involved. 
"Even though Nepal has a history of air disasters, they don't happen all the time," said Mr Waldron.
"But, wherever you fly, especially in some of these more developing markets (like) Nepal and maybe Africa, you just have to be aware that there's great beauty and adventure to be had. But this is also going to come with certain potential risks."
He advised travellers to "look very carefully" at an airline's records before booking a flight. 
Reports often state that the Himalayan nation's treacherous terrain and capricious weather conditions, together with its tricky airport runways, can challenge even accomplished pilots. 
"You're contending with extremely rough terrain. The weather can be extremely challenging up there as well with very difficult, strong wind conditions. You could take off from one airport and the weather is fine at your destination, but then when you arrive, the weather could have changed quite radically," explained Mr Waldron.
At the moment, flying in Nepal also requires pilots to take "very tight approaches into small airports" and navigate "short runways", added Mr Michael Boyd, president and CEO of Boyd Group International.
"If something goes wrong with an airplane (in Nepal), there are not a lot of places to go. You don't have alternative airports. It's a mountainside," he noted. 
Mr Boyd, who also spoke on CNA's Asia First programme on Monday, said that a great deal of concern "has to do with the topography of Nepal, not so much whether their air transportation system is less or more safe than anywhere else". 
"I won't call it dangerous but (it is) a lot more vulnerable to accidents than other places in the world." 
Nonetheless, knowing these threats, "there is a need to mitigate the risk associated with them by using modern technology for terrain and specialised flight crew training", added Captain Amit.  
DRIVING, WALKING AS ALTERNATIVE MODES
Getting around the landlocked country by road is an option too, with some online travel guides highlighting the safety of driving in Nepal over taking a domestic flight.
Hiring one's own set of wheels allows travellers "much more freedom to explore independently and get off the beaten track, especially in remote regions where public transport is limited or infrequent", according to Lonely Planet.
There are no self-drive rental cars in Nepal, but travel agencies across the country can organise a car or Jeep with a local driver for interested travellers. 
Mr Goodey from Lost Earth Adventures also recommended hiring a private Jeep and a driver to traverse Kathmandu's valleys, as the roads can be dangerous and there are "issues with public transport".
"The roads are bumpy, so it's more comfortable, and you can ask the driver to drive at a speed you prefer," he said. 
But driving in Nepal comes with its own drawbacks.
"Access through roads is recommended for backpackers who have the luxury of time," said Captain Amit.
"Tourism in and around Kathmandu is limited if the visitor needs to have the real feel of mountains and culture of Nepal. Alternate options like cableways would help increase access." 
Mr Koh, the avid cyclist, pointed out that while many places in Nepal may be accessible by four-wheel drive, some people might find the journey too long. He cautioned that travelling with a four-wheel drive is not necessarily safer either. 
"Rocks do fall from hills. There are also steep ravines that many cars have fallen into," he said. 
If travellers are not strapped for time, Mr Goodey suggests walking over driving or flying. 
"Anywhere there is an airport in Nepal, you can walk from a road if you have the time. The most popular trek is Everest Base Camp and it takes two weeks to walk it if you fly to Lukla – a remote, steep and short, high-altitude airstrip that has been the location of several air disasters," he explained. 
"Walking from Jiri takes one month, but it passes through areas of Nepal most people do not see. It's incredibly beautiful, the walk is safe, the road to the trail head is safe."