New cycling paths launched in Tampines, linking residents to key amenities and green spaces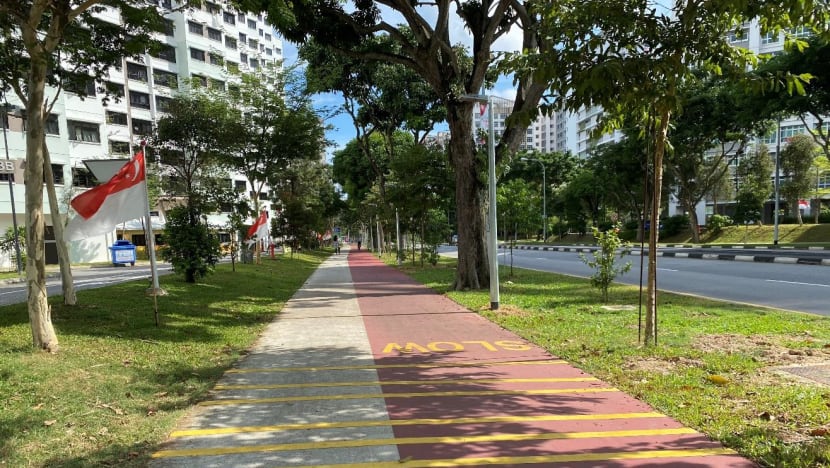 SINGAPORE: Residents in Tampines can now cycle more safely to key amenities and green spaces in the town, with the launch of 4km of cycling paths on Saturday (Jan 29).
The new paths, located along Tampines Avenue 1, 4, 5 and 8, links residents from their homes and schools to places such as Tampines West MRT station, Our Tampines Hub, Tampines Central Park and Tampines Green Forest Park.
There is now 25km of cycling paths and park connectors in Tampines. 
"This makes Tampines one of the towns with the most comprehensive cycling path network," said MP for Tampines GRC Masagos Zulkifli, who is also Minister for Social and Family Development.
"The newly constructed cycling paths in Tampines shows the Government's commitment to expand the cycling infrastructure in Singapore, to facilitate a sustainable and healthy mode of transport."
The Land Transport Authority (LTA) previously announced plans to triple the cycling path network in Tampines, to connect residents to three MRT stations: Tampines, Tampines East and Tampines West. 
Saturday marks the completion of the first phase of the cycling paths works for Tampines.
The new cycling paths have a distinctive red coating to clearly distinguish them from footpaths, said LTA.
Safety markings and speed regulating strips have also been installed along the new paths to remind people to ride safely and keep a lookout for other path users, it added.
Five pedestrian crossings along the cycling routes were widened to enhance safety for both pedestrians and cyclists. 
Improvement works were also carried out to create space for cycling paths behind 13 bus stops in Tampines, said LTA. 
To help people find their way around, map boards were installed at the junctions of Tampines Avenue 5 and 8, as well as the junctions of Tampines Avenue 8 and 1, highlighting key amenities and transport nodes within walking and cycling distance.
 "Under our Islandwide Cycling Network programme (ICN), LTA will expand cycling path connectivity to around 1,300km by 2030," said the authority.
"Besides the new paths in Tampines and the recently launched ones in Taman Jurong, new cycling paths are progressively being built and completed in other towns as well to allow more to embrace active mobility and enable greener and healthier commutes."