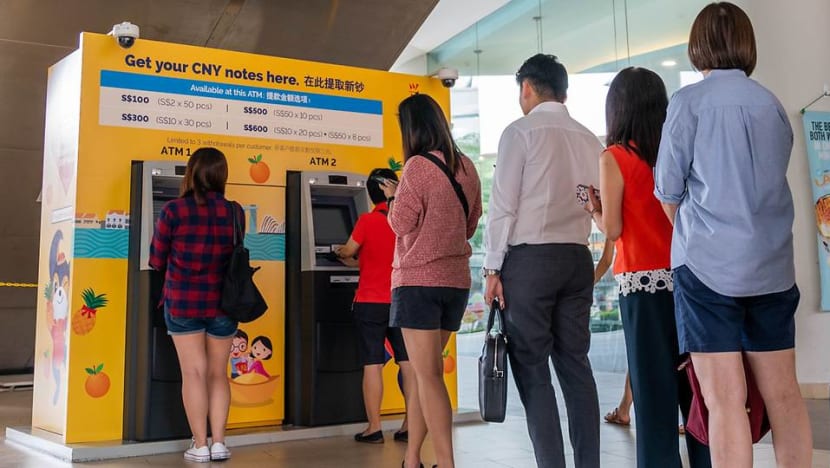 SINGAPORE: If you're looking to get new or good-as-new notes for Chinese New Year, online reservations will open from Jan 4 at five banks - DBS Bank/POSB, OCBC Bank, UOB, Standard Chartered and Maybank.
Reservations are required before collecting the notes at bank branches, in line with COVID-19 safe management measures, said the Association of Banks in Singapore on Tuesday (Dec 28).
However, customers aged 60 and above and those with disabilities need not make a pre-order before collecting the notes.
"If possible, they are highly encouraged to still make a booking so as to avoid having to queue at the bank branches," the association said.
It added that customers are encouraged to consider digital gifting via PayNow instead of handing out physical red packets.
The 10 participating PayNow retail banks are Bank of China, CIMB, Citibank, DBS Bank/POSB, HSBC, ICBC, Maybank, OCBC, Standard Chartered Bank and UOB.
POP-UP ATMS
For those who prefer new or good-as-new banknotes, they can also get them at selected POSB/DBS and UOB ATMs - without the need for prior bookings. 
These will be available from Jan 11, said DBS in a media release. It added that there will be 64 of such ATMs across 45 locations islandwide, including pop-up facilities.
Customers will be able to withdraw new notes in sums of S$100 (S$2 x 50), S$300 (S$10 x 30), S$500 (S$50 x 10) and S$600 (S$10 x 20 + S$50 x 8), said DBS.
The service will be available from 10am to 10pm daily from Jan 11 to Jan 30, and 10am to 1pm on Jan 31. Each customer is limited to a maximum of three withdrawals throughout this period, said DBS.
"In view of strong demand, customers are encouraged to consider using old notes where possible, or to obtain recycled notes from the bank's network of more than 1,200 regular cash machines which are available round-the-clock," the bank added.
The Monetary Authority of Singapore (MAS) on Tuesday urged members of the public to reduce the use of new notes in hongbao or red packets to "support the environment and reduce queues at bank branches".
About 100 million new notes are issued annually for Chinese New Year and other festive periods, said MAS, with a "large proportion" returned after Chinese New Year and subsequently destroyed as it "far exceeds normal circulation demand".
"The carbon emissions from the production, transportation, and destruction of such new notes each year is highly wasteful, unnecessary, and impacts the environment negatively," said MAS.