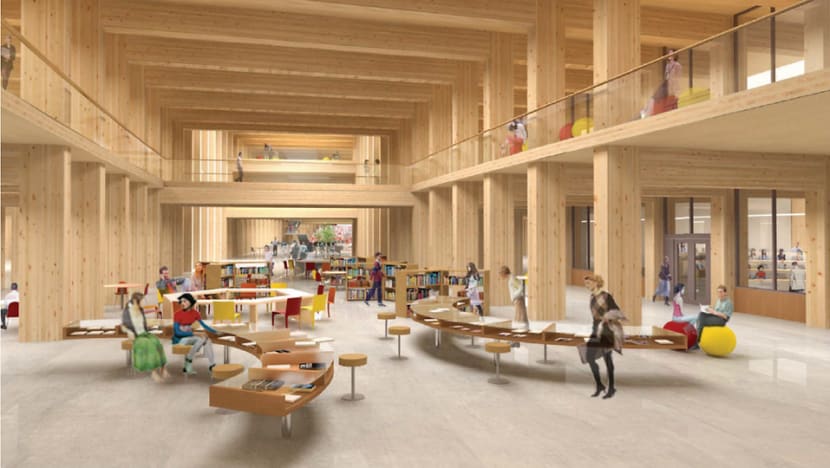 SINGAPORE: Nanyang Technological University (NTU) will soon boast Asia's largest wooden building, the university revealed on Monday (Aug 27).
This was announced by Professor Subra Suresh, President of NTU, as part of the university's five-year plan to advance as a leading global university through a number of what Prof Suresh called "moonshot" projects.

The new 40,000 gross sq m academic building will cost S$180 million and is expected to be completed in 2021.
Designed by RSP Architects Planners & Engineers, one of the firms behind Changi Airport Terminal 4, the six-storey building will house the Nanyang Business School as well as activities of several other colleges and schools, the university said in a press release.
The building will be constructed using mass-engineered timber, with material procured from renewable forests and pre-fabricated before being installed on site.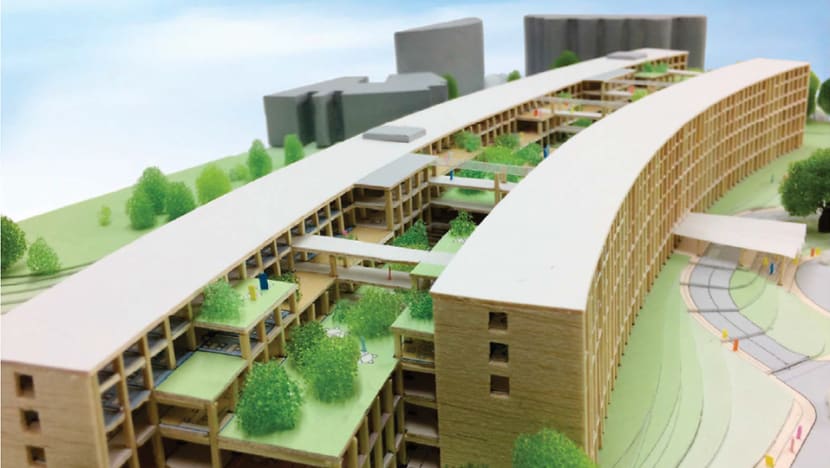 This will be more environmentally friendly and require less manpower than traditional construction methods, according to NTU.
"Bringing together our approaches to innovation and sustainability, the new academic building will be the largest wooden building in Asia, and it will exemplify our distinctive NTU Smart Campus and show that we 'walk the talk' of our commitment to sustainability," said Prof Suresh.
NTU also has a sports hall, The Wave, which was built using mass-engineered timber and completed last year.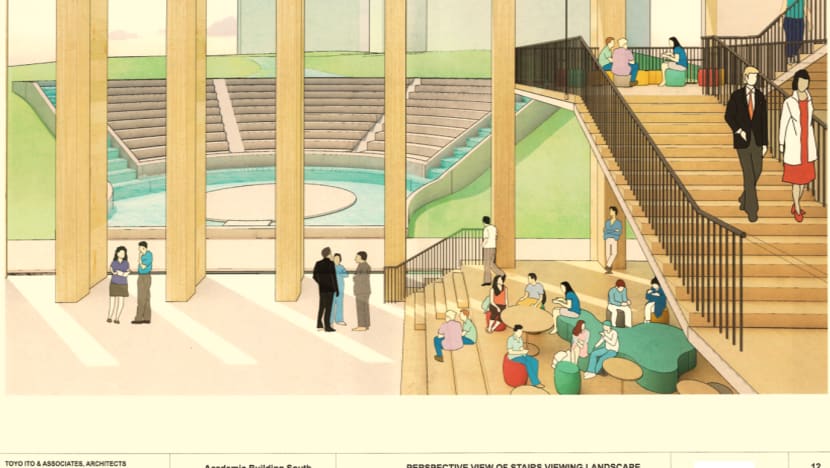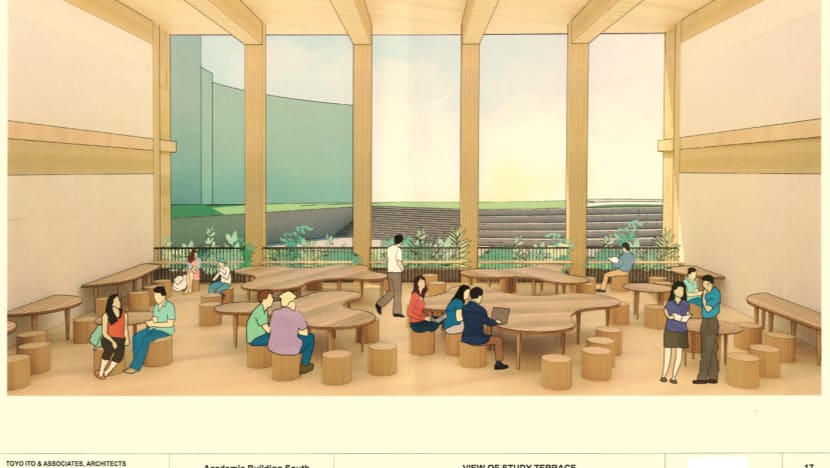 The university will also double the solar energy harnessed to power it to 9.9 megawatts by 2019, said Prof Suresh. This will supply between 7 and 10 per cent of the university's electricity needs.
ATTRACTING TALENT
Speaking at a university town hall meeting, Prof Suresh announced specific targets focusing on attracting top faculty and students, developing new academic and research programmes and enhancing campus-wide community engagement.

NTU will aim to recruit about 300 faculty members over the next five years, and will support 350 new two-year "post-doc" positions to attract researchers starting this year.
The university will also renew its commitment to support the recruitment of top undergraduates through scholarships and bursaries.
"No deserving Singaporean student will be denied a world-class education at NTU because of financial or other impediments," Prof Suresh said.

He announced another plan to create up to 100 new named professorships over the next five years, which will increase the number at NTU by about 10-fold.
"NTU's next phase of major growth as one of the leading global research universities will critically depend on people: The recruitment and retention of top talent among faculty, staff, post-docs and students," said Prof Suresh. "We are therefore very pleased to present a vision, and a means to achieving this vision, through a number of 'moonshot' projects over the next five years."

NO MORE FREE PLASTIC BAGS
In addition, the university also announced a charge for plastic bags at all campus events, retail and food outlets from Oct 1 this year, as part of a broader push by the institution to reduce energy, water and waste intensity.
"In order to encourage the use of biodegradable and recyclable materials, plastic bags will no longer be issued free of charge at all campus events, retail and food outlets," said NTU.
Proceeds from the sale of plastic bags at such outlets will go towards NTU's assistance fund for students, said the university.
Editor's Note: A quote on the firms behind Changi Airport Terminal 4 has been edited by NTU.