New Science Centre at Jurong Lake Gardens to open in 2027
There will be several new features for the public to enjoy, including a children's gallery, which will feature its own interactive outdoor waterplay area, discovery trails in a secondary forest and a sensory trail at the roof garden.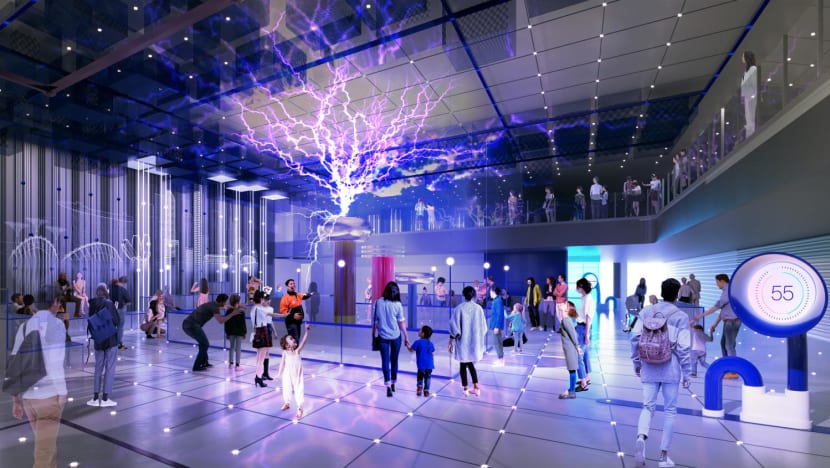 SINGAPORE: A new Science Centre is set to open in the Jurong Lake District in 2027, aiming to be a one-stop destination for the public to access science, technology, engineering and mathematics (STEM) education and experiences.
Visitors can also enjoy facilities such as a new observatory to learn about astronomy and a digital fabrication lab that will support incubator programmes.
The 2027 target opening coincides with the 50th anniversary of the Science Centre, it said in a news release on Friday (Dec 2), together with the Ministry of Education (MOE).
"The new Science Centre will continue the mission since its founding in 1977 to spark curiosity and innovation in generations of young school children and leverage the new location and facilities to expand its outreach to Singaporeans of all ages to encounter and appreciate the importance of science and technology in our lives," they added.
Designed by Zaha Hadid Architects in collaboration with Architects 61, the new Science Centre is inspired by the natural landscape and lake at Jurong Lake Gardens.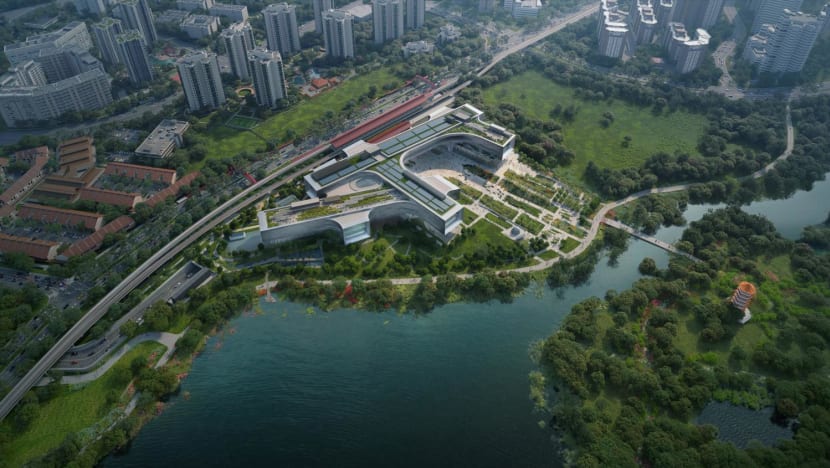 The firms have envisioned to "design a science centre that looks to the future and is functional, while maximising the interaction with the garden and lake settings".
The building consists of five interlocking rectangular blocks with large glass windows offering strategic views of the lake to capitalise on its location, Science Centre Singapore and MOE said.
It also optimises the use of the surrounding landscape, creating a structure that appears to float above the parkland and lake, while defining outdoor gardens and courtyards.
ENGAGING THE PUBLIC WITH NEW FACILITIES, PROGRAMMES
The new centre will include several new features for the public to enjoy.
The new children's gallery, which will be more than twice the size of the current KidsSTOP area in the Science Centre, will features its own interactive outdoor waterplay area, discovery trails in a secondary forest and a sensory trail at the roof garden.
Specialised labs and workshops that encourage hands-on learning of scientific concepts will also be available for older students.
"For example, the new Eco-Lab will support students in scientific investigations, where they can retrieve and analyses samples taken directly from the Eco-Garden," they said.
Students can then continue to monitor the data collected from the samples with Internet of Things equipment using their personal learning devices in school or at home.
A new outdoor activity plaza will also offer "many possibilities for placemaking activities", both for STEM programmes and civic activities for the community, Science Centre Singapore and MOE said.
Additionally, the new Science Centre will extend its opening hours for more regular night programming, offering specially curated "after dark" STEM exhibitions and programmes for adult visitors.
Associate Professor Lim Tit Meng, Chief Executive of the Science Centre board, said the ambition for the new centre is to be a "truly rewarding destination for all ages and abilities".
"The universal design principles of the new building will facilitate equal opportunities for all visitors, regardless of demographic or learning abilities," he added.
He noted that they have been experimenting with new programmes and exhibition formats at the current site in Jurong East, "taking note of the best practices (they) can apply to provide enhanced experiences to (their) audiences".
"Top of the list is to seek community partnerships to ensure we co-create a place that individuals will not only want to visit, but also leave feeling more curious about science," he said.
SUSTAINABILITY, ENGAGEMENT EFFORTS
The new centre, which will be designed with sustainability principles in mind, aims to be a super low energy building, Science Centre Singapore and MOE said.
It will adopt green technologies and intelligent building management systems to reduce energy use, as well as educate visitors on sustainability practices such as vertical farming systems through programmes and exhibitions.
In addition, the centre said it aims to strengthen existing collaborations and grow new partnerships with local companies and Institutes of Higher Learning.
This is in line with its aspiration to "showcase local innovations to the world and celebrate the creative and entrepreneurial spirit of Singaporeans".
"In the coming years, the board will also engage stakeholders such as schools, community and industry partners to co-create STEM programmes, and plan exhibitions and activities," it said.