'I can never say no to football': The Singaporean who played on 5 different continents
This Singapore footballer's career has taken him to the four corners of the earth - but he's never been called up by the national team at home.
SINGAPORE: South Africa, Australia, USA, Germany, Switzerland, Hungary, Thailand, Mongolia, Iceland, New Zealand, Italy, Cameroon, Portugal and the Netherlands.

The list of countries which 34-year-old David Low has visited reads like a traveller's dream. His usual itinerary, however, is a straightforward one: Eat, sleep, football, repeat.
Here is a footballer who never played professionally in Singapore, but since 2007 has turned out in foreign leagues that no Singaporean had ventured to.
The midfielder's career had taken him to five continents: Africa, Australia, North America, Europe and Asia. He has had to brave racist remarks and Malaria-transmitting mosquitoes, all because he had one goal in mind: To test himself as a footballer at the highest level possible.
"Football is my passion, I just fell in love with the game," said Low. "I wanted to challenge myself to be the best I could."
OUT OF AFRICA
Low's love for the game blossomed on South Africa's streets, rather than Singapore's street soccer courts. His father decided to relocate the family to the city of Newcastle to pursue business opportunities there when Low was 10.

"I didn't have a proper coach," Low recalled. "I played in school; I played street football all the time."
Much to his parents' annoyance, too. Low would tell them he was attending extra lessons in school, when he was actually out playing football.
His parents would eventually find out what he had been up to. "When I didn't do well in school or my grades were poor, they would ban me from playing," Low said. "But that only made me more determined to make it."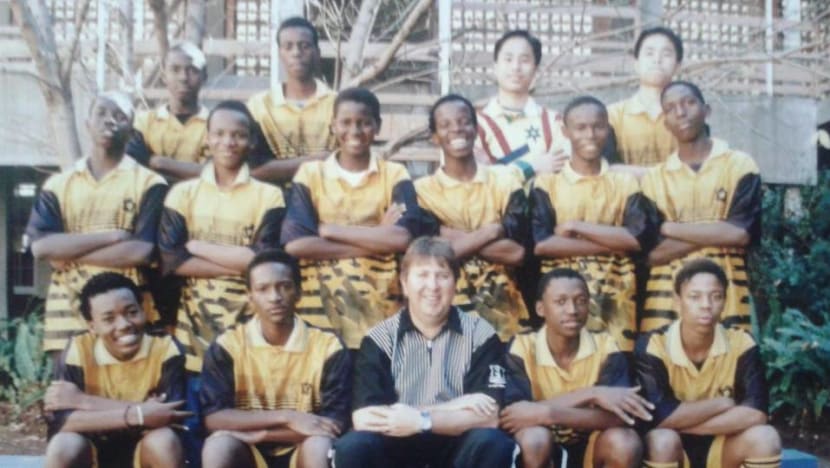 Life in South Africa for the family was different, too. The crime rate there was high - his parents had their car windows smashed twice and Low remembers hearing gunshots on the streets - and so the family eventually returned to Singapore. 
In 2002 Low enlisted for National Service in the Army. After he completed his stint he trained with Tampines Rovers' Prime League team, but nothing came out of it.
"I thought I had a good chance to break into the team," he said. "But I was told that the National Football Academy (NFA) and the Under-18 boys were given preference as they came through the system and were mostly 18- to 20-year-olds while I was already 22."

Undeterred, Low decided to look abroad. In January 2007 he left for Australia, where he signed a contract with semi-professional side South West Phoenix FC.

"It wasn't very far from Singapore, the flight didn't cost much and I have a family friend there," he explained. "(At that point) I was (already) prepared to be kicked out of the house for football - I had to do what I had to do."

But an ankle injury meant that Low had to fly back to Singapore for treatment later that month. "I was not used to playing with big, physical players," he said. "Their fitness was on another level ... the way they trained, the facilities, they were very professional."

He returned to Australia in June and remained there until the end of the year. He was not offered a new contract, so he left for the US in 2008. 
But later that year, Low got an opportunity to attend a training camp with German fifth division side Freiburger FC.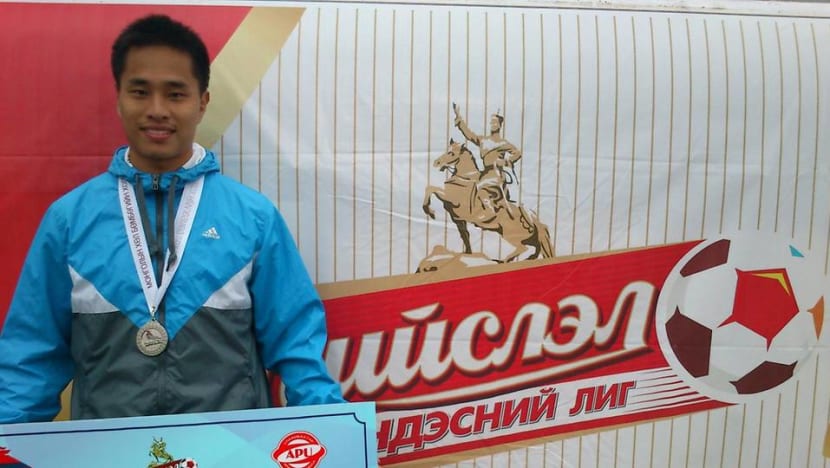 It's one of Germany's oldest clubs, but Low was unhappy with the way Freiburger's coaches treated him. 
"They looked down on Asian players, especially if you're not from Japan, Korea, China or the Middle East," he said. 
Instead Low signed with Offenburger FV, another fifth division team, where he played for eight months.

HOME NOT SO SWEET HOME
Stints in Switzerland, Hungary and Thailand followed before Low returned home to try out once again in the S.League (now Singapore Premier League).

But he did not make the cut at one club and his wage demands proved a stumbling block at another.

"I just felt I deserved to be in but the coaches had their own opinions," said Low. "It didn't really bother me anyway."

His next stop: Mongolia, where he played for Khoromkhon FC in the country's top division in 2012.
"Some of the Mongolians had no clue Singapore even existed," Low recalled. "I had to tell them 'Malaysia? Do you know Malaysia? It's somewhere around there'."

Due to extreme weather in Mongolia, clubs would play outdoors in the summer and indoors - in a 5-a-side futsal league - during the winter, Low said.

And things were going well on the pitch. Low was part of the side that won the Mongolian Cup and the team finished runners-up in the league.
Yet he was already aiming for bigger and better things. "I had already pre-planned that I was not going to stay put," Low said. "While the season was ongoing, I was already talking to agents and coaches from other countries."
He went on to play in Iceland, France, New Zealand, Italy and again in the US. 

"After Italy and US, I told myself, 'That's it for me'," said the globetrotting Low. "My parents were telling me that I'd better settle down and get married. I said okay, I will try to please my parents for once."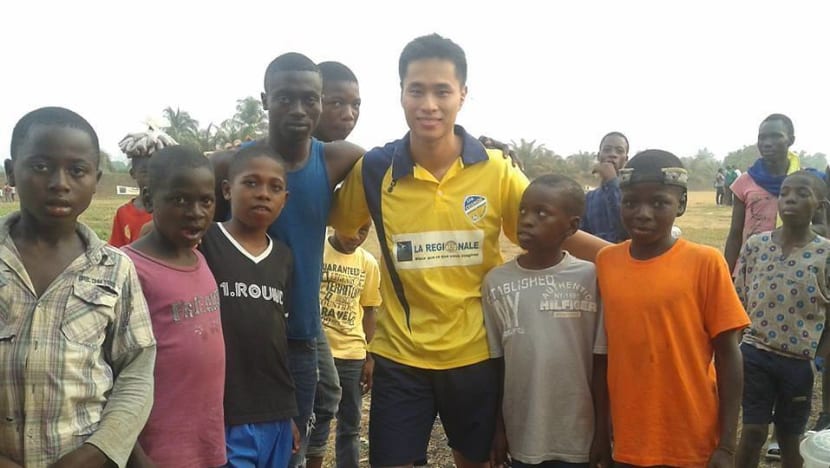 That was until he received a call from former Cameroon international Emmanuel Maboang Kessack, who knew the Singaporean from his short stint with a recreational side of African players in Paris. Kessack asked if Low was keen on a trial with a Cameroonian side in the top division. 
"Without hesitation, I packed my bags and left," Low said.

THE 'CHINESE MAN OF COSMOS'
Landing in the Cameroonian capital of Yaounde in 2015, he saw a city unlike any he had seen from his travels. 
"There were no malls, no high-rise buildings," he said. "A lot of the terrain was rocky and mountainous. Everything was different."

The locals found him strange, too. "I was the only white guy there," he explained. "The last time an Asian played there was in 2007. I was an alien."

Fans would swarm Low for photographs after training sessions. He also recalled attending a trial match where the opponents wanted pictures with him as well.

"They would come in hordes," said Low, who signed for Canon Yaounde after a two-week trial. "The fan clubs there had power. If you didn't play well in training sessions, they would tell the coaches not to play you in games."

Low joined his second club in Cameroon the following year, linking up with Cosmos de Bafia.

"I was loving it in Cameroon," explained Low, who was given the nickname Cosmos Chinois (Chinese in French) or Cosmos Le Blanc (the White) by fans. "I was being tested at a high level of football and that was what kept me going. I had a place to stay and my basic necessities were met, so I was happy."

"The mosquitoes were the most difficult thing about living in Cameroon," he added. "We had to burn a lot of mosquito coils and use a mosquito net. There could be 10 in a room if you didn't close your door at night!"
He returned to Singapore in mid-2016, preparing to wind down his career.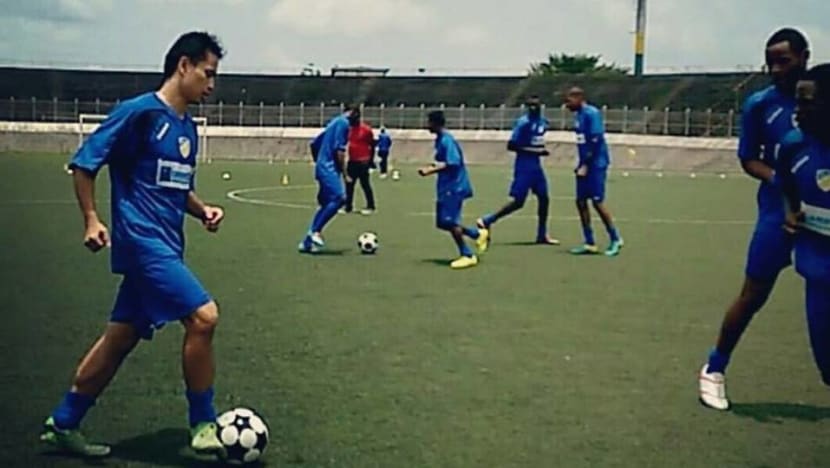 A TOUGH TRANSITION
The following year, Low found a job as a security systems administrator in a bank.
For a man who has travelled all over the globe, being bound to a desk was the hardest part. 

"I was a bit depressed because I was not playing competitive football," he admitted. "I felt that I was not in my element, I could not express myself and living a fake life doing a nine-to-five office job. But I have no complaints because I know this is the way it is in Singapore."

Earlier this year, Low turned down an offer from Cameroon champions Coton Sport due to concerns over accommodation and safety - the club are based in the country's North, not far from the Nigerian border where militants Boko Haram rule.

But just days after his interview with Channel NewsAsia, he jetted off to the Netherlands - signing as a non-contract player for Dutch side NEC Nijmegen.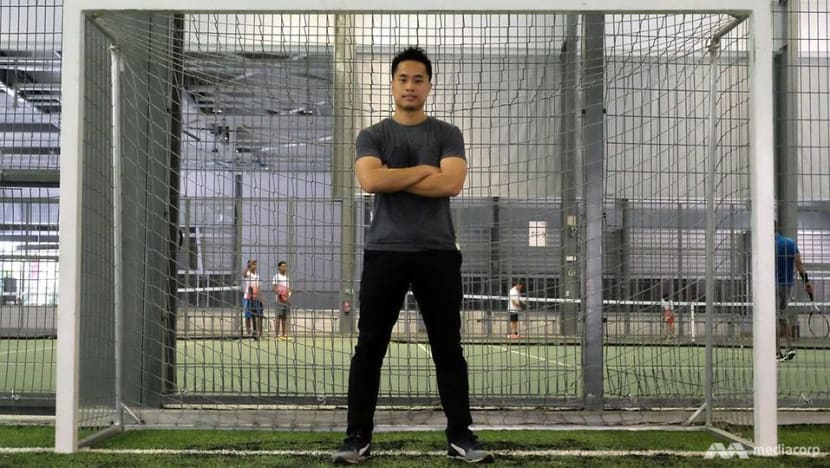 He will be based there till Christmas, playing with the top-tier side's third team and assisting with youth coaching.
This time around, Low has got his parents' blessing. "The funny part is that before I went to Holland, they told me to go and enjoy myself, go and do what I love. They saw that I was struggling when I was working the nine-to-five job," he said.

Low is adamant that youngsters who aspire to be full-time footballers should be in the game for the right reasons. For him it was never about the money, he insisted.
"Whatever the clubs could give me, and whatever is a decent wage for a single man like me, I would take it," said Low, who earned a monthly wage of between US$1,500 and US$2,500 in Mongolia and Cameroon.
He does not foresee himself playing at the professional level for much longer.
"Maybe after Holland, I might stop playing," he said. "But for me to go into coaching is also a no-brainer ... I can never say no to football, it's part of me now."