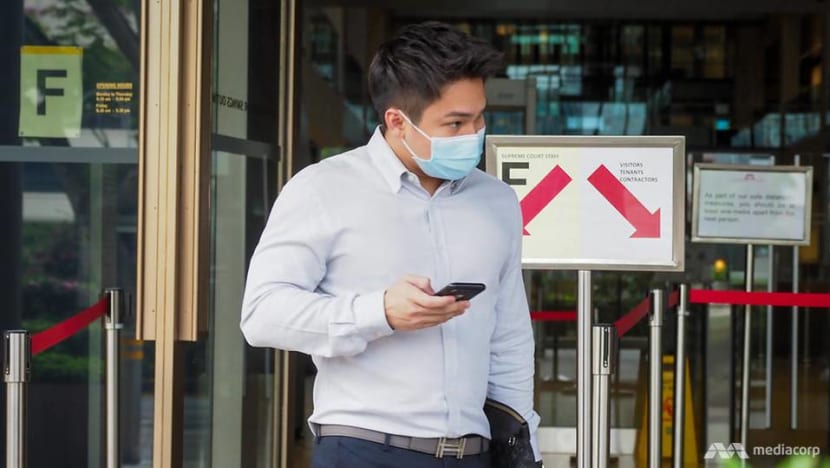 SINGAPORE: A man was on Friday (Jul 15) found guilty of sexually assaulting his sister's friend, who was staying over at his family's flat after a night of drinking in 2016.
Norvan Tan En Jie, 26, was convicted after claiming trial to two counts of sexual assault by penetration and two counts of outrage of modesty.
The identity of the victim, who was 19 at the time, is protected by gag order. She was a friend of Tan's sister.
The victim and Tan's sister returned to the flat in the early morning on Dec 26, 2016. The victim was heavily intoxicated and Tan's sister had to help her change her clothes. Around the same time, Tan returned home with two friends.
Deputy Public Prosecutors Ng Yiwen, Sheryl Yeo and Niranjan Ranjakunalan put forth the case that the assaults took place while Tan's sister was talking to one of his friends in his room.
VICTIM'S TESTIMONY
According to the victim's testimony, while she was in the toilet, she heard a man ask from behind: "Are you okay?" He then carried her out of the toilet to the sofa in the living room, where he kissed her lips.
The victim felt an urge to vomit and ran to the toilet, where she heard the same male voice asking if she was okay. The man then carried her and placed her on Tan's sister's bed, where he touched her chest and sexually assaulted her.
The victim felt nauseous and returned to the toilet, where she again heard the man's voice asking after her. The man then sexually assaulted her in the toilet.
The victim testified that Tan's sister later found her in the toilet and brought her to her room to sleep.
When the victim woke up later that morning, she was emotional, anxious and upset, and told her boyfriend and friends about what she had experienced.
She also exchanged messages with Tan's sister about what had happened to her, and Tan's sister said that she would find out who the assailant was.
The victim changed out of her shirt and shorts before going home. Tan's DNA was later found in semen on the back of the victim's shirt, which was seized from the laundry basket in the toilet.
A few days later, Tan's sister told the victim that her brother admitted to their family that he had carried out a sexual act with the victim. Tan's sister also repeated this in her police statements.
Tan's sister testified as a prosecution witness during the trial, but later claimed she had lied in her messages to the victim and her police statements.
She claimed that she lied about her brother's admission to carrying out a sexual act with the victim, in hopes that this admission would be enough for her friend to drop her intention of making a police report.
TAN'S VERSION
During the trial, to explain the presence of his semen, Tan claimed that he and his girlfriend at the time had sex on a daily basis at various locations around the flat, including the toilet.
Tan, who was represented by lawyer Amarjit Singh, claimed that the semen transferred to the victim's shirt when it came into contact with the toilet floor or wall, or other clothes in the laundry basket.
Tan's version of events was that he was in the kitchen smoking when he heard a thud and went to the toilet to check it out. He said he saw the victim sprawled on the toilet floor.
He claimed that he called the victim and tapped her shoulder but received no response. He said he then helped her into an upright position and left her sitting with her back against the wall of the toilet.
He said that when his sister and friend came into the kitchen, he told his sister her friend was "damn drunk". He claimed that he then went to bed and the rest of the day passed uneventfully.
Tan also claimed that his sister was trying to frame him in her messages to the victim and police statements, and denied admitting that he had carried out a sexual act with the victim.
JUDGMENT
Justice Ang Cheng Hock found that the prosecution proved its case beyond reasonable doubt on all four counts of sexual assault and molestation.
He said that the victim's account of events was unusually convincing, and that she was an honest and forthcoming witness.
He added it was clear from her evidence that she had formed the view that Tan was her assailant during each assault, based on the man's voice and build.
In contrast, Tan's testimony at trial was "an afterthought concocted as a defence to the charges" and full of inconsistencies, said the judge.
He found that the defence also failed to show how Tan's semen could have transferred to the victim's shirt through contact with other surfaces in the toilet.
Justice Ang said that the court also had to grapple with the relevance of Tan's sister's evidence and her credibility as a witness.
He found that Tan's sister's messages and her police statements that her brother had admitted to a sexual act with the victim were truthful, despite her claims that she lied in them.
He rejected the defence's argument that Tan's sister was a habitual liar, instead finding that she was honest in her communication with the victim and demonstrated concern for her in the messages.
In contrast, by the time Tan's sister testified at trial, her integrity as a witness was "impeached" and she took the stand intending to lie to help her brother, he said.
Tan will return to court for sentencing in August.
For sexual assault by penetration, he could be jailed for up to 20 years and fined or caned.
He faces up to two years' jail, a fine, caning, or any combination of these penalties for outrage of modesty.