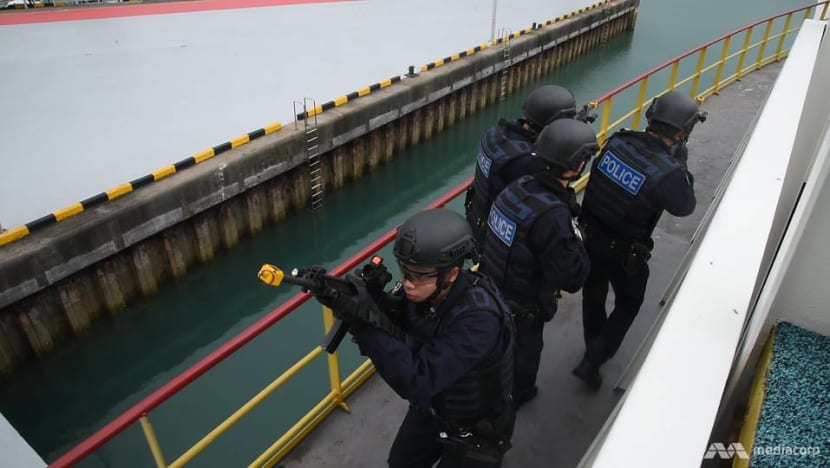 SINGAPORE: Patrolling and protecting Singapore's territorial waters can be a challenge because of the porous nature of the island nation's watery borders.
On Wednesday (Dec 20), I shadowed the Police Coast Guard (PCG) for a day to get a first-hand look at how they protect Singapore's waters.
Brani Base, a stone's throw away from Sentosa Island, is home to the Special Task Squadron (STS) and the Emergency Response Team (ERT) of the PCG.

Made up of elite officers, the STS is trained to respond to high-risk, sea-bound threats, while the ERT was set up earlier this year to be the maritime version of counter-terrorism police. Up to November this year, 63 illegal immigrants have been arrested by the PCG.

Following STS officers in their inceptor-class craft which goes up to 55 knots, or about 100km per hour, we went out to sea to experience how they would take out suspicious craft.

With the engines roaring in our ears and wind whipping our faces as we straddled on a saddle seat and clutched onto a handlebar, it felt like we were moving a lot faster than 55 knots.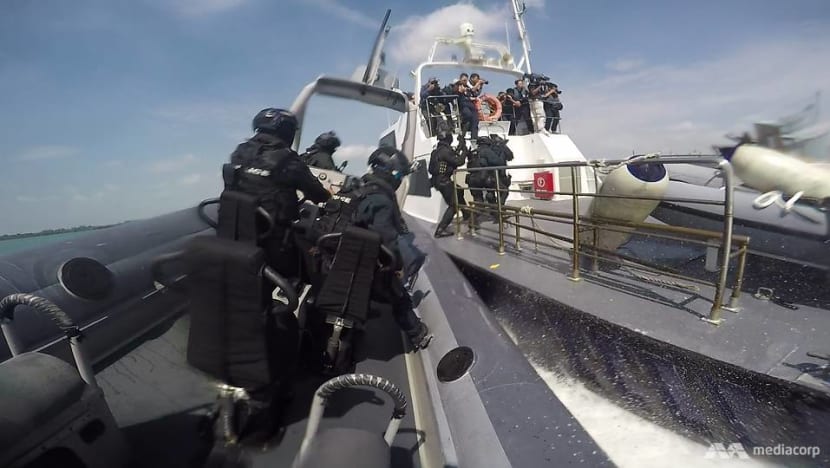 Further out at sea, we switched to a smaller and more agile rigid-hulled inflatable boat to observe how STS officers force their way onboard a target and later in another scenario, how ERT officers take back a vessel hijacked by two suspicious characters.
Riding on the foamy white wake of the "suspicious" craft, the police boat had to ride the waves like a surfer would.
Once our inflatable craft was right alongside the target craft, STS officers moved swiftly and steadily despite the choppy waters to board and subdue the threat.

ERT officers, who have been trained specifically to respond to terror threats, showed us how they would storm a vessel and search it. Since ERT became operational in August, they have checked more than 22,000 craft.
Clad in 18kg of gear including a bulletproof vest, ballistic helmet and glasses, and tactical gloves, the ERT officers fired blanks while shouting at the role-playing terrorists. Gunshots reverberated through the steel walls and down the hallways of the vessel.
They took out the terrorists, located survivors and saved them, all while climbing seven floors cautiously and manoeuvring tight spaces.
The journalists' jobs? To stay out of the way as the officers moved in to tackle the threat.
"Keep your arms and legs in, and stay in your seat. And when we shout 'backwash', stay down," an officer instructed sternly.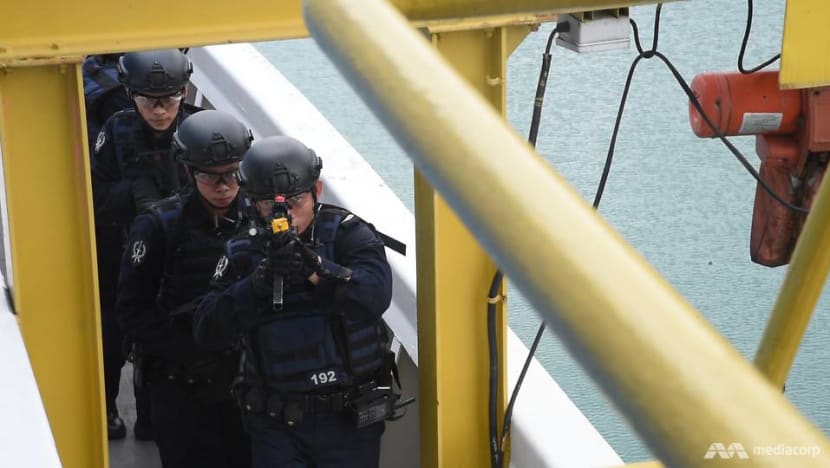 TAKING THE PLUNGE?

As part of the media visit, we were given the opportunity to do an 8m jump that all PCG officers go through as a "rite of passage" to build their confidence.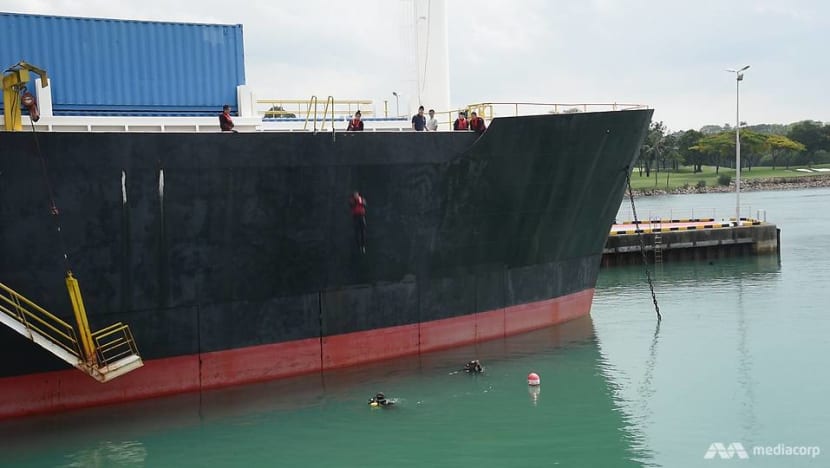 "Keep your arms close to your body, look to the horizon and just go," said the officer overseeing our jump.
I would also have to hold an arrow-straight position, pinch my nose and cross my arms while holding the life-vest down so that it will not pop off my body.
A slight bend and I might face plant or belly flop onto the surface of the water, ensuring bruises and pain for the next few days, I was told.
A practice jump of two metres from a jetty was nothing. It was over in a second and I felt elated as I emerged from the salty seawater.

But when it came time for the real deal, I looked down and froze. There was no big leap, it would take just one small step, but 8 metres suddenly seemed a dizzying height. 
I couldn't do it. I only sneaked a peek at the other reporters when they jumped and hit water because it made me feel lightheaded. 
The courage and steadfastness required to go through the coast guard training hit home then.

UNMANNED SURFACE VESSELS

Since last year, the PCG has also been testing Unmanned Surface Vessels (USVs) in two models – a 16m model and a 9m model.
Both are equipped with an array of sensors to detect threats in their vicinity. When the need arises, human operators will be able to take control of the USVs remotely, said superintendent Lin Zhenqiang, head of operations and security at the PCG.
The bigger 16m version is supposed to look like a regular patrol boat, making it hard for seafarers to tell whether the police craft is manned or unmanned.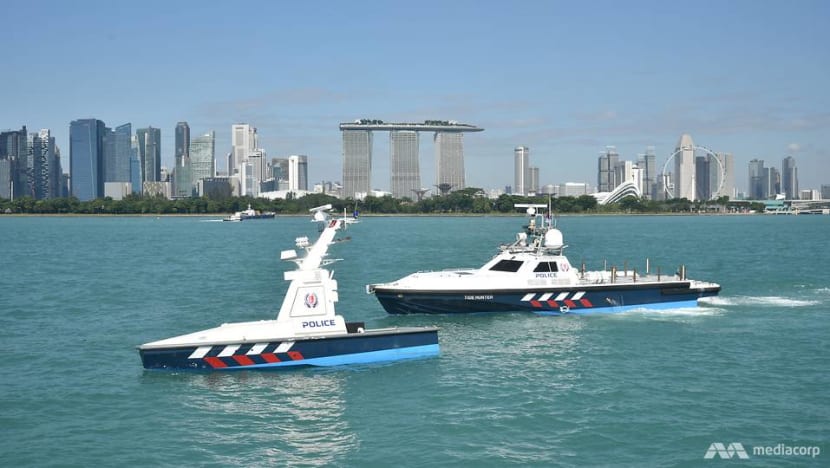 Both models are being tested for their robustness in dealing with collision avoidance, behaviour in different sea conditions and communications among others. 

While these robots are being tested, patrols are still being carried out by coast guard officers.

"The USV, which can conduct autonomous patrols, will help project police presence to deter intruders," said Mr Lin.