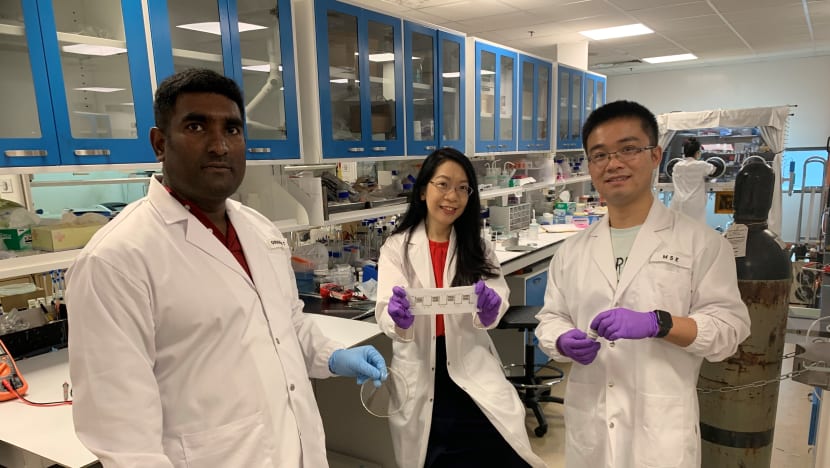 The battery only needs 2ml of sweat to run for 20 hours
It does not require charging and does not contain heavy metals
It can be used on wearable devices like watches and health sensors
SINGAPORE: Scientists from the Nanyang Technological University (NTU) have developed a sweat-powered battery, capable of generating enough energy to operate commercial temperature sensors.
The prototype battery, which measures 2cm by 2cm, only requires 2ml of sweat to discharge 20 hours worth of electricity.
The stretchable battery is meant to be used on wearable devices like watches and health sensors. It also does not require charging.
Materials scientist Professor Lee Pooi See, who led the study, told reporters at a media briefing on Monday (Aug 16) that the device is also sustainable as it does not contain heavy metals or toxic chemicals, thus reducing harmful electronic waste. 
Other members of the research team include NTU's School of Materials Science and Engineering's Dr Lyu Jian and Dr Gurunathan Thangavel. The study was published in the peer-reviewed journal Science Advances in July.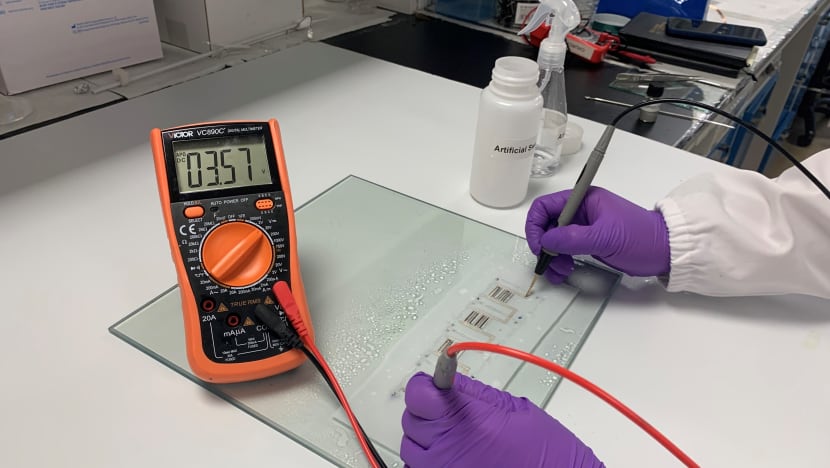 HOW DOES IT WORK?
The battery is created by printing ink that contains silver flakes and hydrophilic poly(urethane-acrylate), which function as the battery electrodes, onto stretchable fabric.
When sweat comes into contact with the battery, it improves the conductivity of the silver flakes and also causes an electric current to flow. 
As the stretchable textile used is very absorbent, it retains a lot of sweat, allowing the battery to remain powered even when the rate of sweating is inconsistent. 
This is vital for consistent functioning of the battery as the amount of sweat produced by people varies and depends on factors such as the area of the body, environmental conditions and time of day, added NTU. 
The device is also "more durable" than current technology, said Prof Lee, as the team has shown that it can withstand strain from a wearer's daily activities and repeated exposure to stress or sweat.
The slimness of the battery additionally addresses two problems in wearable technology: It is sleeker and thus more attractive to consumers compared to traditional button batteries and it carries enough charge to last throughout the day, unlike current thinner batteries.
However, Prof Lee noted some challenges in the use of the battery, including its ability to last longer when there is not enough sweat, or when faced with the inconsistent sweating rate for different people.
FROM HINDRANCE TO ASSET
Associate Professor Irene Goldthorpe from the University of Waterloo's Department of Electrical and Computer Engineering, who is not involved in the research, said the study may open a "new paradigm" in the design of wearable electronics. 
"It is well-known that electronics do not like moisture and thus wearable devices are typically fully encapsulated to shield them from sweat," she said, adding that the study turns sweat "from a hindrance into an asset".
A patent application for the sweat-powered battery has also been filed through the university's enterprise and innovation company, NTUitive.
The researchers plan to further explore the effects of other components of human sweat and how factors such as body heat may affect the performance of the battery, added NTU. 
"WE DO NOT USE HAZARDOUS HEAVY METAL"
In an email to CNA, Associate Professor Stefan Adams from the National University of Singapore's Department of Materials Science and Engineering raised concerns that the battery contains heavy metals.
He said that the battery used by Prof Lee and her team uses zinc and silver nanoparticles, silver oxide or silver chloride, adding that both are heavy metals.
In response, the NTU team said that silver and silver oxides in the battery are "stable, non-toxic and not in nanoparticles form", while the zinc undergoes reduction to zinc oxide during the electrochemical reaction.
"We do not use hazardous heavy metal such as mercury that was used in conventional aqueous batteries.
"We recognise that silver in certain forms could pose an environmental threat, but the silver flakes, in their current form in the battery, do not form major free ions and are not considered an environmental risk."