'Mislabelling' of salmon weight at FairPrice outlet likely due to human error, says supermarket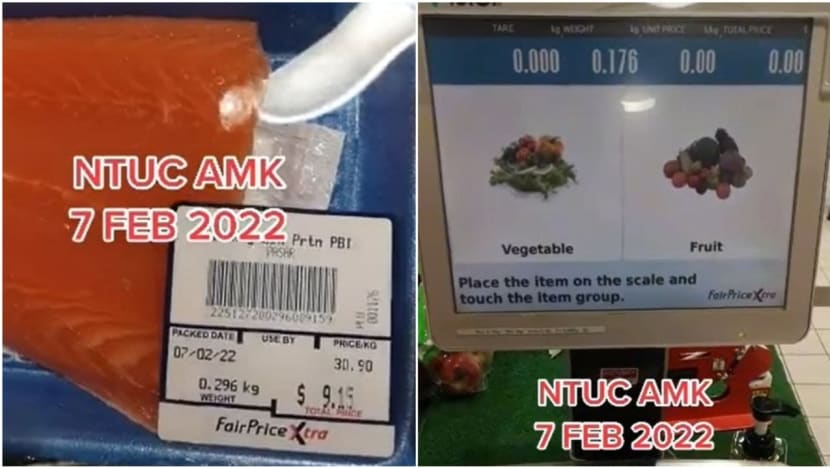 SINGAPORE: A packet of salmon sold at a FairPrice Xtra outlet was mislabelled, said the supermarket chain on Wednesday (Feb 9) after a video emerged showing that its weight on a scale was different from what was stated on its label.
The TikTok video showed that the weight on the label was 0.296kg. However, when placed on a scale, it weighed only 0.176kg.
"Based on the initial assessment from the video, the mislabelling incident which occurred at our store at FairPrice Xtra @ Ang Mo Kio Hub is likely caused by human error," said FairPrice in response to CNA's queries.
"We ask that the customer who posted the video contact us to provide further information so that we may conduct a more comprehensive investigation. Regardless, we apologise for the public concern this might have caused and agree this should not have occurred."
The video prompted questions online about whether consumers should check the weight of their groceries. 
It comes after another recent TikTok video which showed that a packet of chicken from FairPrice weighed only 0.165kg, although it was labelled 0.224kg. 
FairPrice had apologised over that incident in a Facebook post on Feb 5, adding that it is investigating "the cause of the alleged mislabelling".
On Wednesday, the supermarket chain said all weighing scales at FairPrice supermarkets, FairPrice Finest and FairPrice Xtra outlets are "independently calibrated by authorised vendors certified by the authorities".
"The scales are checked on a yearly basis and undergo maintenance twice a year, thereafter, it is affixed with its respective certification dates," it added.
"In addition, as an added preventive measure, we have instituted additional protocols where all our stores will need to conduct daily checks on the scales before the start of business. Fresh products that have already been labelled will also have the weight rechecked to ensure label accuracy."
Customers who discover labelling discrepancies are encouraged to approach any staff member at the store, said FairPrice.
"To safeguard the interests of our customers, we have in place a policy where we will honour a full refund or exchange for products that have been inaccurately labelled," it added.