Singapore unions want more job protection for gig workers, including CPF and medical insurance
CPF contributions and injury coverage were some areas highlighted by the labour movement and its affiliated organisations representing cabbies, private-hire vehicle drivers and delivery riders.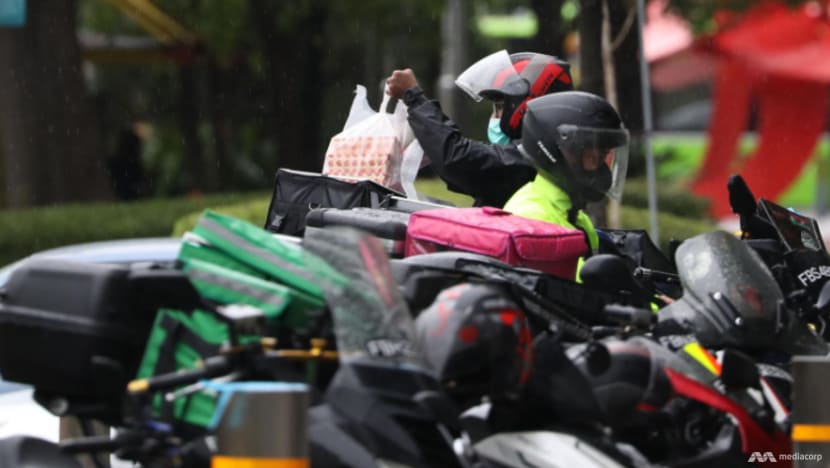 SINGAPORE: The National Trades Union Congress (NTUC) and affiliates on Tuesday (Nov 15) called for better protection of platform workers in areas such as long-term financial adequacy and medical and injury coverage.
In a joint news release, NTUC, the National Taxi Association (NTA), National Private Hire Vehicles Association (NPHVA) and National Delivery Champions Association (NDCA) also raised the issue of better representation for such workers.
"Platform workers find it a struggle to plan for their long-term needs as they generally have modest incomes and are unable to determine the fees they charge for their service as these are dictated by platform operators, making them price-takers," the organisations said.
A study by the Institute of Policy Studies (IPS) released earlier this month showed that fewer than 4 per cent of food delivery riders make more than S$5,000 a month, with the largest proportion – 33.9 per cent – earning between S$1,000 and S$1,999.
MANDATORY CPF CONTRIBUTIONS
Platform operators are also not required to make Central Provident Fund (CPF) contributions for platform workers, as they are not considered employees.
Last month, Non-Constituency MP Hazel Poa (PSP) asked Manpower Minister Tan See Leng for an update on a study to make CPF contributions mandatory for platform workers.  
In a written answer, Dr Tan said more than half of workers who responded to a public consultation felt that mandatory CPF contributions are important for housing and retirement needs.
But some also expressed concern about the impact on their take-home earnings.
"Although platform companies recognise the importance for platform workers to build up their CPF for retirement and housing needs, the companies have raised concerns that such a move will result in increase in business cost," Dr Tan added.
In a separate statement on Tuesday, the Digital Platforms Industry Association (DPIA) - made up of Grab, Foodpanda and Deliveroo - said a recurring concern it has been hearing from rider partners is the potential drop in take-home earnings from them having to contribute to CPF, and whether gig work can continue to be a viable source of income for them and their family.
"To mitigate the impact of these additional costs on riders' earnings, DPIA members will work with the (Advisory Committee on Platform Workers) to look into ways to ensure that implementation is carried out over a viable timeline to ensure gig work is still sustainable for our rider partners," DPIA added.
"Overall, we hope the recommendations would take our partners' realities and perspectives into account, as well as complement DPIA's continual efforts to address the needs of our rider partners."
On Tuesday, NTUC and its affiliates also highlighted that platform workers find it challenging to make CPF contributions as they need to do it themselves - in contrast to employees whose contributions are automatically processed by employers.
"As a result, some platform workers do not have sufficient amounts in their CPF," the organisations said.
They added that it is "critical" for both platform workers and operators to contribute to CPF so that workers can build up financial adequacy for long-term needs.
"Should CPF contributions be implemented, there needs to be necessary support provided for platform workers through the transition period where CPF contributions are enforced so as to mitigate the impact on their take-home pay," said the statement by the associations.
They also called for "long-term support" for the earnings of lower income platform workers, to supplement their income and boost long-term financial adequacy.
MEDICAL COVERAGE 'INADEQUATE AND UNEVEN'
The second point raised by NTUC and the other associations involved medical and injury coverage for platform workers.
According to the IPS report, delivery riders who earn more are also likelier to get into accidents that need medical attention.
"Platform workers are vulnerable as they are unable to claim for work injuries under the Work Injury Compensation Act," said the organisations on Tuesday, adding that medical coverage provided by operators is currently inadequate and uneven.
This leaves little to no income support for platform workers if they are on medical leave, they said.
A survey of 302 delivery riders conducted by the NDCA earlier this year showed that of the 21 per cent who made insurance claims, 36 per cent found coverage to be insufficient.
"Hence, there needs to be adequate and consistent coverage provided by all platform operators for all platform workers," Tuesday's statement read. "The coverage must cover medical expenses, loss of income, and unfortunate situations such as loss of life and total permanent disability."
BETTER REPRESENTATION NEEDED
The organisations also said it is "crucial" for platform workers to be represented, so that their key concerns are voiced out and negotiated on.
As platform workers are not classified as employees, NTUC's associations do not have the same legislative powers as trade unions to represent them.
"NTUC and our affiliated associations have been calling for legislative backing to better represent these workers, whom we feel are subjected to a high degree of control by platform companies, so that we can collectively advocate and advance their interests," they said.
"We want to represent our platform workers in the areas of fair structures, fair terms and fair processes because platforms' gains in market share and margins cannot be at the expense of fair earnings to these workers."
Ms Yeo Wan Ling, advisor to NTA, NPHVA and NDCA, said the Advisory Committee on Platform Workers has been having "close discussions" with stakeholders on these issues.
"We encourage more platform workers to join in our conversations on how to better improve and protect your livelihoods," she said. "So that our associations can be strong voices to continue championing your interests."