NUS graduation ceremony 'not a forum for advocacy': University on student who held up anti-death penalty sign
NUS student Luke Levy held up a sign protesting the death penalty on stage during his commencement ceremony last week.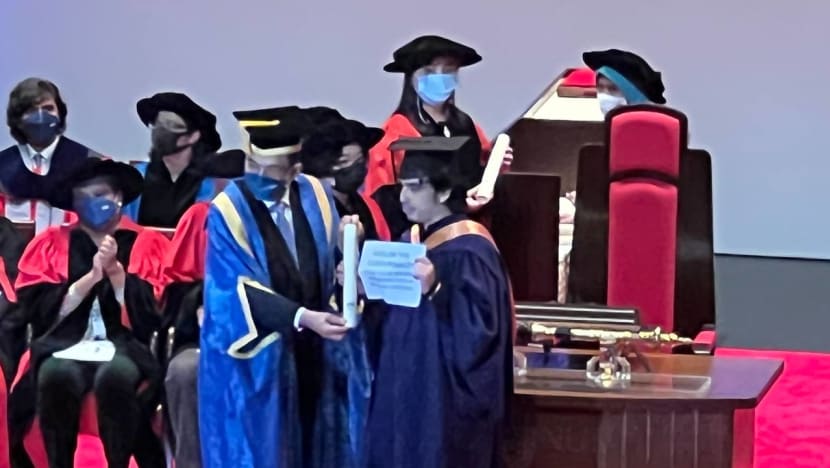 SINGAPORE: The National University of Singapore (NUS) Commencement Ceremony is "not a forum for advocacy", said the university on Thursday (Jul 14), after a student held up an anti-death penalty sign during his graduation ceremony last week.
NUS student Luke Levy alleged on Twitter on Monday that the university had "tried their hardest to erase" what he did on stage, and had edited out his time on stage in a recording of the ceremony.
Responding to CNA queries, the university said: "The NUS commencement is an important ceremony celebrating the achievements of our 13,975 graduates and the completion of their NUS journey. 
"All graduates and guests are expected to conduct themselves appropriately during the occasion. It is not a forum for advocacy." 
In the Twitter post, Mr Levy alleged that NUS took down a live recording of the commencement ceremony, and later reuploaded an edited version with "the most obvious jump cut in the world". 
He also said that in the official stage photograph that he paid for, the photo studio had tried to edit out the words on his sign. 
"When I went up on stage, I unfolded this sign from my gown pocket. It read 'Abolish the death penalty. No to state murder. End poverty, not life. Blood on your hands'," read one tweet. 
"I held that sign as I walked on stage, took my on-stage photo, and left the stage, sign in hand," said Mr Levy in the tweet. 
NUS did not confirm whether it edited Mr Levy out of the clip uploaded on its YouTube channel. According to checks by CNA, the video of the commencement ceremony linked in Mr Levy's tweets has since been made private.
The police said that a report against Mr Levy has been lodged and they are "looking into" the matter. 
The NUS spokesperson confirmed that the university did not make a police report against Mr Levy.