New AI training programme launched at ITE College Central in partnership with tech firm Nvidia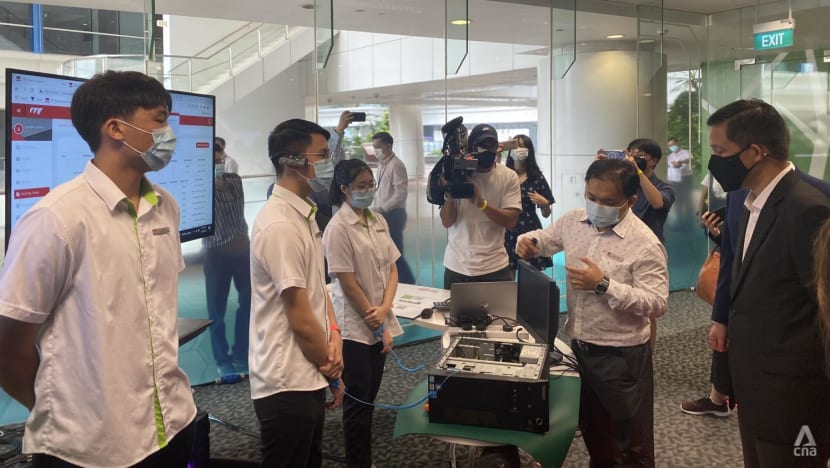 SINGAPORE: A new training programme in artificial intelligence was launched by the Institute of Technical Education (ITE) on Wednesday (Jan 19), in partnership with technology firm Nvidia.
The company is best known for its graphics computing technology, which the metaverse relies heavily on.
Under the partnership, ITE College Central will set up its first AI training facility, equipped with Nvidia's supercomputing platform which is used for the development of AI applications. Students will work with companies to develop AI solutions to address business needs, said the college in a press release. 
This will provide ITE students with "a suite of AI capabilities" for the future, said Minister of Education Chan Chun Sing at the launch. 
"Students will be exposed to skillsets in computer vision, pattern recognition and data analytics, and trained to support AI applications in predictive maintenance, industrial inspection and video analytics," he added. 
Close to 400 students will benefit from this partnership each year, said ITE.
Nvidia will also train ITE lecturers as its certified instructors, who will then deliver the company's AI curriculum to students. 
This refers to Nvidia's "industry-standard" deep learning institute programme, said Mr Dennis Ang, Nvidia's senior director for enterprise business in Southeast Asia and Australia-New Zealand. 
"These are programmes that are widely adopted by the industry, and they provide the students here in ITE a very good grasp of what AI technology is and also this is very hands-on, very practice-oriented, which basically suits the curriculum the ITE students will endeavour to learn," he added.  
Singapore has set a target to be a leader in developing and deploying AI solutions by 2030, said Mr Chan. 
"To achieve this target of adopting AI in our economy, a wide spectrum of complementary skill sets and job roles are required.
"This ranges from tech-heavy roles focused on more complex functions and innovation and require more advanced IT skills in technology development and data engineering, and roles focusing on operating and applying AI, such as digital marketing executives where skills such as technology application and data analytics are important." 
Singapore's education system is key to developing talent in this area, said Mr Chan. 
Although universities will continue to train students to meet the growing demand for AI talent, the "full suite" of AI professionals cannot be fulfilled by a "single pipeline" of university graduates, he added. 
"There is a growing range of job roles required to deploy and integrate AI systems. Examples include business analyst and AI translators, user experience designers, quality assurance managers and marketing analysts," said the Education Minister. 
"Our polytechnics and ITE provide an important source of talent for these roles." 
Nvidia has a "strong" partner ecosystem, and the intention is for students to work with these start-ups on real-world problems, said Nvidia's Mr Ang. 
Nvidia's supercomputing platform is also "very critical" for students who want to work on AI projects, and it will allow them to learn how to use real-world tools when they secure jobs in the AI industry, he added. 
"In terms of the opportunities for ITE (students), many of the partners that we have with industries and with the partner ecosystem, they're always looking for AI skillsets. So ITE students would play very well in terms of being able to fulfil some of the gaps in the skillsets," said Mr Ang. 
"In terms of Nvidia, we do have an office here, and from time to time we do take in interns. So part of the opportunity that was presented with this engagement with ITE is the ability for some of the ITE students to join us as interns and then be able to pick up more technology skills." 
Editor's note: An earlier version of this story said that a new AI training facility was launched. ITE has clarified that it was the AI programme that was launched, and that the training facility under the programme is in the works.