'It came as a shock': Orchard Towers nightclubs, bars worried for their future after non-renewal of licences
Some nightclub and bar operators at Orchard Towers also say they are worried about their lease agreements and getting back their rental deposits.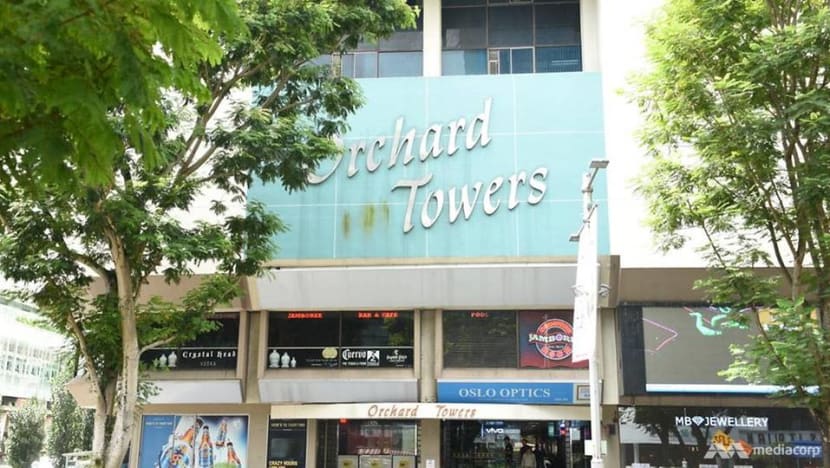 SINGAPORE: Nightclubs and bar operators said they were not the only ones to blame for Orchard Towers' seedy reputation, and expressed shock and worry about the authorities' decision not to renew their licences.
The operators were notified last month that all public entertainment licences for businesses at Orchard Towers would not be renewed. This was part of the Government's "continued efforts to manage the law and order situation and disamenities" at the building, the notice from the police said. 
"We were very enthusiastic we could finally come back, make a living and clear off all our debts … Everything was okay and business was very good," a nightclub owner and tenant who declined to be named told CNA on Monday (Aug 15).
"All of a sudden, we saw this letter. It came as a shock ... How am I going to pay my debts now? What is going to happen to all my rental deposits … What is going to happen to my new lease agreement with the landlord? It's a binding agreement."
Nightlife businesses like those at Orchard Towers were only allowed to reopen in April this year after a two-year closure due to COVID-19 restrictions.
Another nightclub operator, who has been at Orchard Towers for more than two decades, said they had spent money upgrading equipment and signed leases on apartments to house some performers.
"There are a lot of repercussions … many, many problems that come in. I think it's too overwhelming. We cannot handle (this)," said the operator, who is similarly renting the space. 
CONCERNS OVER PUBLIC SAFETY, VICE ACTIVITIES: POLICE
In response to queries from CNA, the Singapore Police Force (SPF) said the law and order situation at Orchard Towers "remains of concern" and has not improved over the years.
"There has been a consistently high volume of and strong feedback from nearby residents and neighbouring developments on concerns over public safety, vice activities and nuisance contributed by the presence of nightclubs and bars at Orchard Towers," it said.
To address these concerns, the police said they will not grant new public entertainment licences for Orchard Towers businesses. Licences for existing outlets will not be renewed beyond May 31 next year.
Most floors in the 18-storey building are occupied by offices, but commercial units take up the first few floors.
In 2019, the building was the scene of a fight which resulted in the death of a 31-year-old man. 
There was another fatal incident at Orchard Towers in 2016, when a Frenchman died after he was assaulted by two men, who were subsequently convicted and jailed. 
Fights in the vicinity are not uncommon. In the latest incident, three men were arrested near the building after a fight broke out in the early hours of Sunday morning.
The nightclub and bar operators told CNA they have tried their best to comply with the law and maintain order.
"We have to be very alert and very focused. When there are small issues that get heated up, we come in and resolve the problem. If not then we will get them outside and get the police," said an operator who also did not want to be named. "We are club owners and we have a licence which we have to uphold."
But there is a limit to what clubs and bars can do, the operator added.
"(What happens) outside of the club is really beyond our control, because we are not law and order enforcers.
"There are some who 'fly by night', they come in, they get into trouble, they disappear, they run off ... Then this problem becomes our problem."
Mr Abe Isaac, the owner of the Naughty Girl club, said the authorities had raised similar issues prior to the police's notice.
He said he tried to help address these concerns by adding security at the taxi stand outside the building and the surrounding area in April.
The fights are gang-related and are not just an Orchard Towers issue, he told CNA.
IT'S NOT ALWAYS OUR FAULT: NIGHTSPOTS
The nightspots also pointed their finger at shady beauty or massage salons. More have sprung up in Orchard Towers over the years and were partly to blame for the problems, they said.
One club operator estimated that there are about 30 to 40 of these establishments in the building.
The beauty salons "contribute a lot more problems" but the clubs get the bad reputation, the operator said.
The police conducted a series of raids at Orchard Towers over nearly two weeks in July to clamp down on vice activities. Seven women were arrested and a 52-year-old man was charged with operating an unlicensed massage establishment.
Another six women were fined S$800 each on Wednesday after being arrested near Orchard Towers earlier this year for offering male passers-by paid sexual services, TODAY reported.
When CNA visited Orchard Towers on Tuesday afternoon, there were scantily clad women outside several shops, including a beauty salon.
There are also issues with prostitution on the perimeters of the building, the nightspots said. This, they pointed out, has nothing to do with their establishments.
Other business owners at Orchard Towers whom CNA spoke to expressed indifference at the decision to not renew the licences of the nightspots.
"Something new will come in," said one business owner who requested to remain anonymous.
Several said that Orchard Towers' reputation for being a seedy area has affected their business over the years. 
"Some of the customers are scared to come here – even those who are from overseas," said clothes shop owner Alice Tan.
Mr Andrew Liew, who owns a piano shop, said Orchard Towers has deteriorated over the years. He noted that there are some establishments that obey the law, while others do not.
"I have no feelings now. (The building has) already gone down the drain," said Mr Liew, who has been running his shop at Orchard Towers for nearly five decades.
"(Married) customers tell me if I come, I will come alone, not with my husband."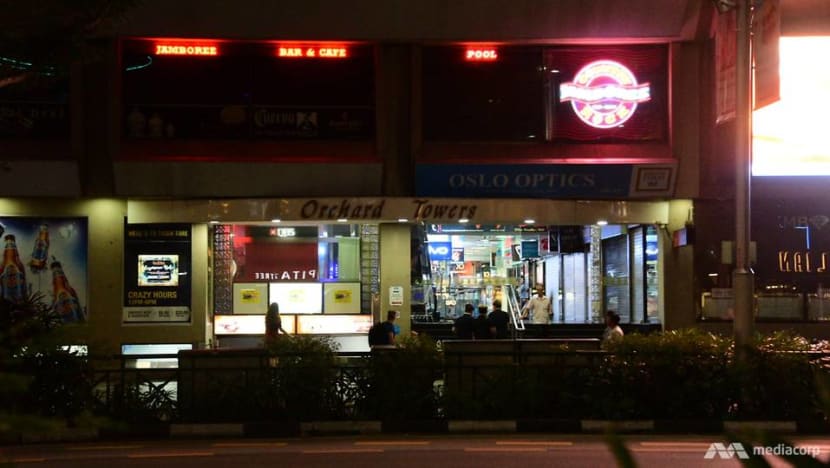 BEING "BLACKLISTED"
Relocating is also easier said than done, said affected nightspots.
"There are no alternatives ... When it comes to nightclubs, it is like you are blacklisted," said the club owner, who has been unable to find a suitable place for relocation. "There must be a place for entertainment in Singapore."
The SPF notice said the nightspots have until May 2023 to "make adjustments". During this period, they may apply to the Urban Redevelopment Authority for a change of use application – in effect changing their business to one that does not require a public entertainment licence – or relocate elsewhere and apply for a new licence.
Naughty Girl club's Mr Isaac said he does not have the luxury of just moving on to a new place, as he is not a tenant but owns the space.
"I look after it very well, I secure it very well ... because this is my future, this is my life. And I owe a lot of money to the bank, I have to pay interest. I can't afford to close this," he said.
Mr Isaac also disagreed with the reasons listed in the police notice for not renewing the nightspots' licences.
"I don't accept all these reasons," he said, insisting that those who commit crimes or cause problems should be the ones that are forced to close, and not law-abiding club owners.
Some hope for a compromise to be reached. 
"Previously in Boat Quay and Clarke Quay they had the same problem," a nightclub owner said. "Don't just cut us off like that, what do we do now?"
Under regulations introduced in 2013 following a rise in violent crimes, bars and clubs in Clarke Quay had to stop selling liquor by 3am on Sundays and weekdays, and by 4am on Saturdays and the eve of public holidays, instead of 6am previously.
"We want to request to have our PE licence back, and then give us a trial period. See whether we can come up with our own solution, whether we can control these problems," said another club operator. 
Mr Nasen Thiagarajan, president of the Singapore Nightlife Business Association, said he is aware of the current situation.
"From an association standpoint, we will try and see if a meeting can be set up between SPF and (nightlife) operators so business owners can understand the issues in detail and propose measures to manage for authorities' consideration," he said.
For now, the affected operators remain in limbo.
Said Mr Isaac: "There are so many shopping centres, every shopping centre is the same. But there's one Orchard Towers in Singapore."