Relocation of otters from Seletar was 'last resort' given the presence of pups and location of burrow: Experts
Setting up barriers to prevent the otters from accessing private estates and ponds is still a critical first measure, said experts.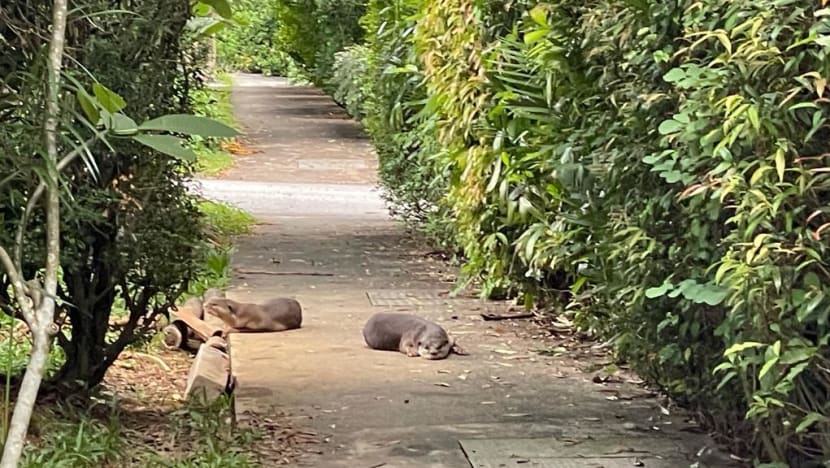 SINGAPORE: The otters that were relocated from Seletar had been moved as a last resort due to the location of their burrow and the presence of pups. 
Experts who spoke to CNA on Tuesday (Oct 18) said that exclusion measures – setting up barriers that would prevent otters from accessing compounds or fish ponds – remained a priority. 
Last week, the family of six smooth-coated otters – three adults and three pups – were moved to an undisclosed area where they could access their natural food sources, the National Parks Board (NParks) said on Monday.
The authorities carried out the operation with other members of the Otter Working Group, which includes the Animal Concerns Research and Education Society (ACRES), Mandai Wildlife Group, National University of Singapore (NUS), OtterCity, and OtterWatch.
This was after media reports earlier this year stated that otters had entered a private home and killed more than 50 fish in a pond.
Mr N Sivasothi, a senior lecturer at NUS' Department of Biological Sciences, told CNA that ahead of the transfer operation, NUS students and otter watchers conducted two months of research to get a better context of the situation. 
"These otters were likely to have sought refuge within Seletar Hills, after facing competition from more dominant otter families in Sungei Punggol," said Mr Sivasothi, who also founded OtterWatch, a group that shares news about the mammals.
"Observations revealed they were resident rather than transient, and feeding solely on pet fish in ponds of the estate which is an easily accessible prey for them. The female was observed to be pregnant and the holt they had established was a natal holt." 
Holts are burrows in which the otters rest and sleep. 
The need to move the otters, which are listed as critically endangered in Singapore, became apparent in light of their potential conflict with humans. 
"Unfortunately the location of the natal holt was underneath a heavily used pedestrian path, bringing otters and people too close to each other," said Mr Sivasothi. 
"With pups, otter parents would become increasingly defensive. The busy road adjacent to the holt would be hazardous to the pups that would explore their environment when they emerged. So this forced the need for mitigation."
ACRES, which is leading trials to exclude otters from homes in Seletar, concurred.
"The holt was in between a busy road and a busy walkway. As the pups grow older and start emerging, there would be safety issues for the animals and possible conflict issues between people and animals," ACRES co-chief executive officer Kalai Vanan said.
"The transfer of the otters was a last resort decision, keeping in mind the welfare of the pups." 
He added that transfers in most cases would not be required. Had there not been pups involved in the Seletar case, prevention measures would have sufficed, the experts said, as the otters would have left in search of new food sources. 
CHALLENGES, DRAWBACKS OF RELOCATION
According to NParks, in order to secure the otters, perimeter fencing was installed around the holt before they were moved. Vets were involved in the process to ensure the health and welfare of the otters. 
The process of relocation was not without its challenges and downsides. 
"Firstly, it will displace the animal, causing it stress. Secondly, the removal of the animal from the location will create a vacuum causing other animals of the said species to enter. It will be an endless cycle and that is why, co-existence and more proactive measures like exclusion are the way to go," Mr Kalai Vanan said.
Mr Sivasothi said that active interference required a "significant effort of planning, manpower and materials" and is "fraught with difficulty" to ensure the otters are not harmed.
While the research phase - involving observing the otter's behaviour pattern and identifying potential issues - took two months, the transfer operation took almost a week, the senior lecturer said.
This gave the otters the time to get used to the perimeter fencing and enclosure, as well as to improve on the design to minimise stress to the mammals. 
"Handling a social group of animals is more difficult compared to a solitary animal. And young pups are vulnerable and are at high risk. Also, there are few alternative sites in Singapore to relocate otters to," he added. 
Mr Sivasothi noted that otters would return to a site if it was attractive to them and the authorities are still working with residents on recommended exclusion measures. According to him, the Seletar holt has been filled in.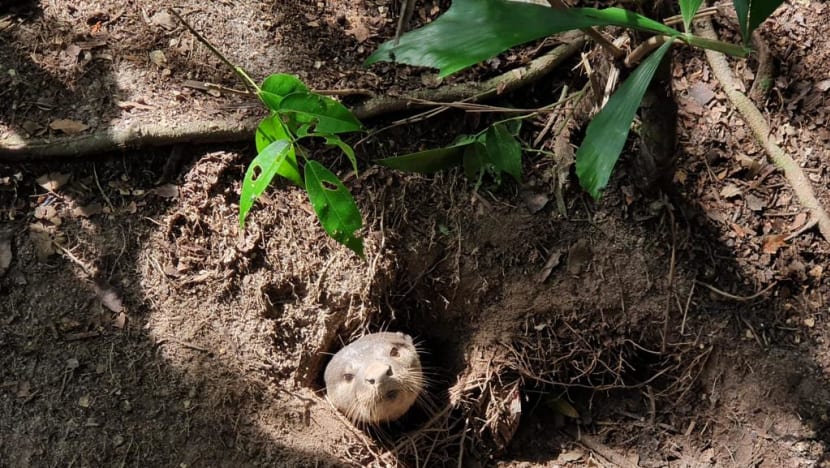 OTTER MOVEMENTS ACROSS SINGAPORE
According to numbers from the NParks, there are about 170 otters in around 17 families in Singapore. Among these, the Bishan, Marina, and Zouk groups are the most prominent, with some otters seen crossing busy roads over the years. 
Like many other species of wildlife, otters will explore their surroundings to seek resources and transient otters would pass through urban areas in their exploration. 
"There is an ongoing ecological dynamic of otter families in Singapore exploring areas, establishing territories, fending off rivals and surviving traffic and predators," said Mr Sivasothi.
In the case of otters venturing onto roads, an understanding of the larger area they occupy and the reasons for their movement becomes necessary, the senior lecturer added. 
"In the case of the Zouk family which got especially famous for wanderings during the circuit breaker, it is also competition in waterways which drove them to seek and find alternative feeding and resting spots," he said.
ACRES said it was difficult to manage the movement of otters and referred to citizen watch groups that tracked the movement patterns of otter families. 
While the authorities mentioned sterilisation as a possible measure to control the otter population in the future, this will need to be studied in detail and cannot be taken as an effective measure to resolve human-wildlife conflict, both experts said. 
When asked at what point the population of smooth-coated otters in Singapore would need to be controlled, Mr Kalai Vanan said more public awareness was needed first.
People have a part to play to co-exist with wildlife and more studies have to be conducted, he added.