Outram Community Hospital pilots face scan gantries to save visitors' time
SingHealth plans to roll out these gantries to all its other institutions, including Singapore General Hospital and KK Women's and Children's Hospital.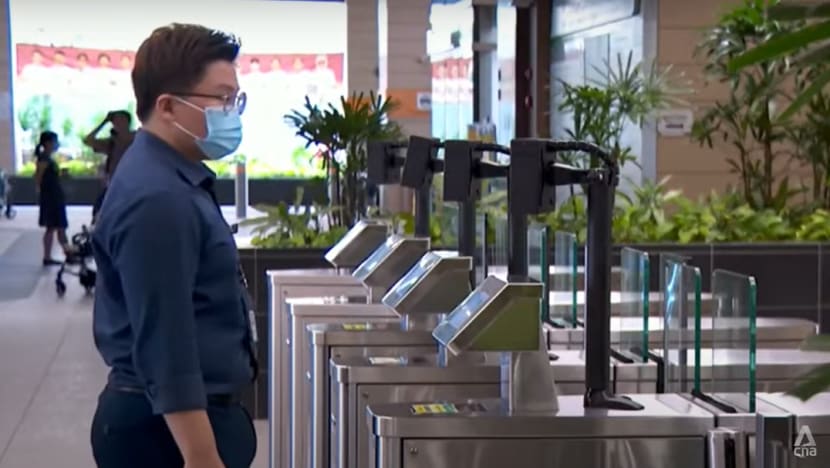 SINGAPORE: Visitors to Outram Community Hospital will be able to access wards without needing to queue and register themselves on site, under a pilot programme using facial recognition software.
The initiative by SingHealth group allows visitors to pre-register key details online. Their faces will also be scanned.
When they arrive at the hospital, contactless face scan gantries will let them enter seamlessly.
SingHealth expects more than 300 visitors every day to save up to 15 minutes each using this system.
Implemented by technology firm Integrated Health Information Systems (IHiS), the software can also manage the number of visitors per patient.
Mr Ong Leong Seng, deputy chief executive of IHiS- which was set up to pursue an integrated approach in IT implementation of public healthcare systems - described how the system helps visitors.
"They don't have to physically come here to queue up for pre-registration. The minute they come over to the premises, all they need to do is just to present themselves in front of the camera and then they can enter," he said.
He added that the information is captured using strong encryption methods, and will only be retained during the stay of the patient. 
"Once the patient is discharged, this information will be (removed) from the systems," Mr Ong said. 
Besides the convenience, another benefit is increased hygiene from contactless technology, said Mr Lee Jiunn Kee, director of patient support services at Singapore General Hospital (SGH).
"Because of the contactless experience, they do not actually need to exchange the NRIC, so they will cut down their risk of community-acquired infection," he said.
WIDENING USE OF TECHNOLOGY
There are bigger plans for the use of the technology, said Mr Lee. 
As SingHealth refreshes visitor management systems throughout its hospitals, there are plans for the cluster to roll out these gantries to all its other institutions, which include SGH and KK Women's and Children's Hospital.
"We would like to see a high take-up rate so that our visitors can enjoy the convenience and the seamless experience that comes with this solution," said Mr Lee. 
Following the pilot, IHiS will evaluate the benefits of the face scanners and how they were received by the public, said Mr Ong, adding that the technology could also be applied in other areas. 
These include employee check-in and check-out. Apart from body temperature scanning, it could also detect levels of pain, with the aid of newer technologies such as artificial intelligence and machine learning.
Other public healthcare clusters have also expressed interest in the technology, he said. 
SingHealth's trial comes on the back of other Government efforts to use technology to improve processes.
For instance, Singapore's first "smart" fire station, where automation, facial recognition and licence plate reader technologies are used to enhance security, was officially launched in Punggol in February.