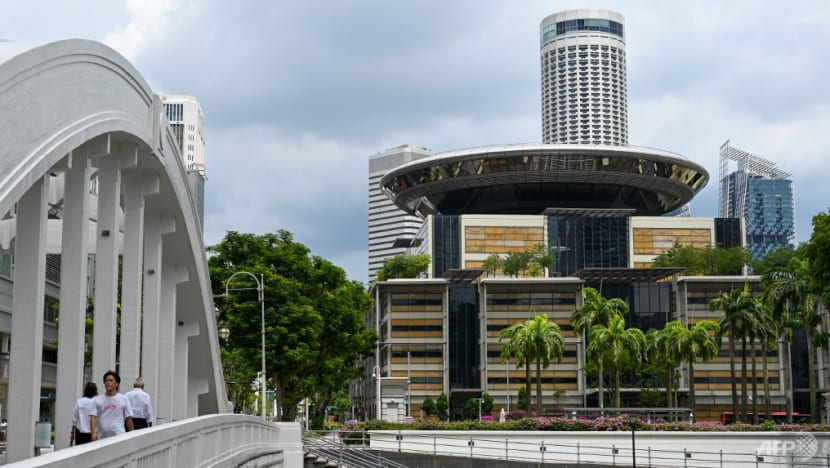 SINGAPORE: A man was on Monday (Jun 27) sentenced to 45 years' jail for committing sex offences against eight children, some of whom had learning difficulties.
The 54-year-old man cannot be named to protect the identities of the victims.
His offences came to light in 2018 when a woman who bought his laptop found photos and videos of the man sexually assaulting various children.
The man pleaded guilty to six charges of aggravated rape against three victims, then aged five to nine. They were among eight victims he preyed on between 2002 and 2018.
Eighty other charges involving sex offences against children and making and possessing obscene films were considered for sentencing.
The offender had a history of watching pornography, including child sexual abuse material, on the Internet.
"(He) admitted that he found child sexual abuse material interesting and that he wanted to 'try' the same on real-life subjects," said Deputy Public Prosecutor Andre Ong.
"This is one of the worst cases of paedophilic sexual abuse that has come before the courts," said the prosecutor, describing the man's crimes as "extensive and sickening".
GAVE TUITION TO ACCESS CHILDREN
The man was involved in a dance group. This was where he met the mothers of four of his victims.
At the time of his arrest in June 2018, he was working as an ad-hoc tutor for children, including those with special needs.
He told the parents of some of his victims that he was a qualified educational therapist with a diploma in learning disorders management and child psychology.
He also gave tuition to "gain access to a ready pool of children, including children with learning or physical disabilities", said Mr Ong.
Investigations revealed that the man was never a qualified educational therapist and was never employed in the education or childcare sectors.
OFFENCES AGAINST V5
The earliest victim, identified as V5 in court documents, was five to seven during the offences from 2002 to 2004. There were a total of 21 charges in relation to her.
The offender knew V5's mother and shared a close relationship with the family. He frequently brought the girl to watch movies or play arcade games at a mall.
After many of these occasions, he would take the girl to a toilet in the mall and sexually abuse her there. He also committed aggravated rape against her in a dance studio.
He placated V5 by buying her many gifts, including a computer, and told her not to tell anyone about the assaults. V5 complied as she was worried that her parents would have to pay him for the gifts if she did not.
V5 cut ties with the offender around 2006 or 2007, at her mother's instructions.
OFFENCES AGAINST V4
Another victim, identified as V4 in court documents, was five to six years old at the time of the offences and had a history of learning difficulties. There were six charges in relation to her.
The offender and V4's mother were acquainted through the dance group. 
After learning that the girl had hearing disabilities, the man offered to tutor her for free twice a week at her home at night.
During V4's tuition sessions at her home, the man would close the door and ask V4's mother to sit outside in the living room so as not to affect her daughter's learning.
In 2007, the offender moved in with the family and started a relationship with V4's mother.
On four occasions that same year, he committed aggravated rape against the girl at her family flat. In October 2010, the offender also took photos of V4's brother, then 13, when he was naked.
The offender and V4's mother eventually ended their relationship in 2015.
OFFENCES AGAINST V1
Another victim, identified as V1 in court documents, was six to nine years old when the man committed the offences against her. There were 38 charges involving her.
V1's mother got to know the offender through a friend in 2015. V1's mother was concerned about her daughter at the time as she was experiencing learning difficulties and had required speech therapy.
The offender introduced himself as an educational therapist. V1's mother engaged him to tutor her daughter in weekly sessions from 2015 to 2018, held at his flat.
The man cultivated a close relationship with V1's family. He was often invited to have meals with them and gained their trust.
But under the guise of tuition and speech therapy lessons, he carried out "a campaign of rapidly escalating intrusions" upon the young girl, said the prosecutor.
On three occasions in September and October 2017, following multiple incidents in which he molested V1 and took obscene photos of her, he committed aggravated rape against the girl.
During these assaults, the man often manipulated the girl into complying by distracting her with games or videos on his mobile devices. 
ARREST AND PSYCHIATRIC ASSESSMENT
The police arrested the man on Jun 11, 2018, after the complainant who had bought his laptop made a police report.
The man was found in possession of more than 3,200 obscene films as well as two pairs of children's underwear.
An Institute of Mental Health psychiatrist diagnosed the offender with paedophilic disorder and found him to be at "very high risk" of reoffending, according to court documents.
The psychiatrist noted that the man was evasive and inconsistent about committing the offences, and claimed selective memory loss over the number of times he had assaulted victims.
The psychiatrist also found that the man had fabricated psychotic symptoms, such as claiming to hear voices, in order to minimise his criminal responsibility.
The prosecution sought at least 45 years' jail for the man, who cannot be caned as he is above 50.
Mr Ong argued that the offender's acts against his victims were "the ultimate betrayal of trust and authority" as he assumed paternal roles in relation to several of them.
He also argued that the offender carried out "premeditated conditioning" of his victims using gifts and repeated requests for their silence and complicity.
"The fact that the law had not caught up with him earlier is indicative both of the victims' trust and confidence in him and his own sway over them," said the prosecutor.