Parents' dialect groups to appear in digital birth certificates after initial exclusion: ICA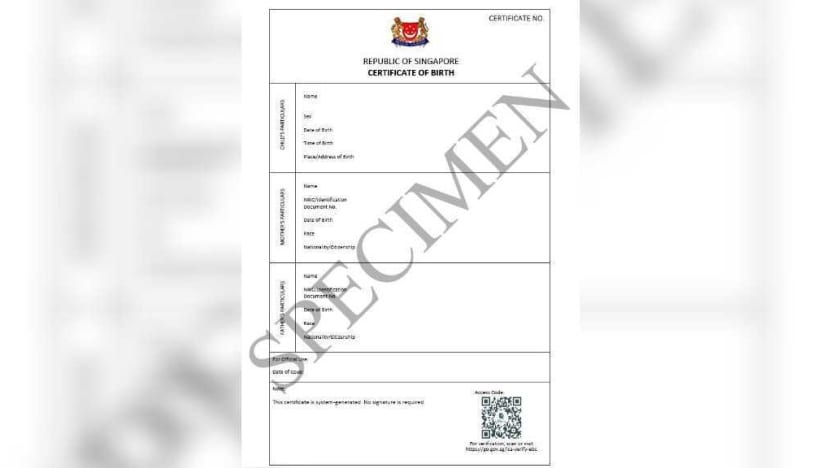 SINGAPORE: Parents' dialect groups will be included in digital birth certificates issued from Sep 1, the Immigration & Checkpoints Authority (ICA) said on Friday (Aug 12).
This comes after ICA received several queries regarding the exclusion of this information.
Parents' dialect groups were among the fields of information that were left out during the transition from physical to digital birth certificates. These fields of information were dropped as they were "not necessary for policy and other administrative needs", ICA said.
Other fields of information excluded are: The parents' countries of birth, the mother's address, the child's place of birth registration and a section called "Informant's Particulars".
This was done "to simplify the registration process, and to reduce the number of fields", the authority added.
Information about parents' dialect groups continues to be registered by ICA, said the authority, adding that it is available in Singpass. However, ICA acknowledged "the feelings that have been expressed on the matter".
"We should have made clear the reasons for not including the information on the parents' dialect in the digital birth certificate, and that the information was still available in Singpass," ICA said.
"Taking into account the feedback, however, ICA will include the parents' dialect in the digital birth certificate of a child, from Sep 1, 2022."
Digital birth certificates issued between May 29 and Aug 31 can be re-downloaded for free from Sep 1 with parents' dialect groups included.
The dialect groups of both the father and the mother of the child will be reflected.
Birth certificates went digital on May 29 as part of the Government's efforts to streamline and digitalise services for Singaporeans.
REGISTERED DIALECT INFORMATION
Singaporeans aged 15 and older who have Singpass accounts can access their dialect information via Singpass under the "Personal" tab.
For individuals under the age of 21, dialect information can also be found in their parents' Singpass profiles, under the "Family" tab.
At birth, ICA assigns to a child the dialect group of his or her father. This information is recorded in the national registration database.
The dialect registered with the Government can be changed by the child or by either parent via a written declaration to ICA.
"This means that an individual can have a different registered dialect from his/her father, or even both parents," ICA said.
This has been the practice in Singapore since the 1970s.
"In consideration of the fact that there were races in Singapore that did not have dialect groups, individuals were allowed to also register the language/dialect that they spoke, instead of their dialect by lineage," ICA said.
"Hence, dialect registration changed to the current practice, where individuals can change their registered dialect via a written declaration to ICA."
ICA noted that physical birth certificates carried the registered dialect groups of the parents, but not that of the child.