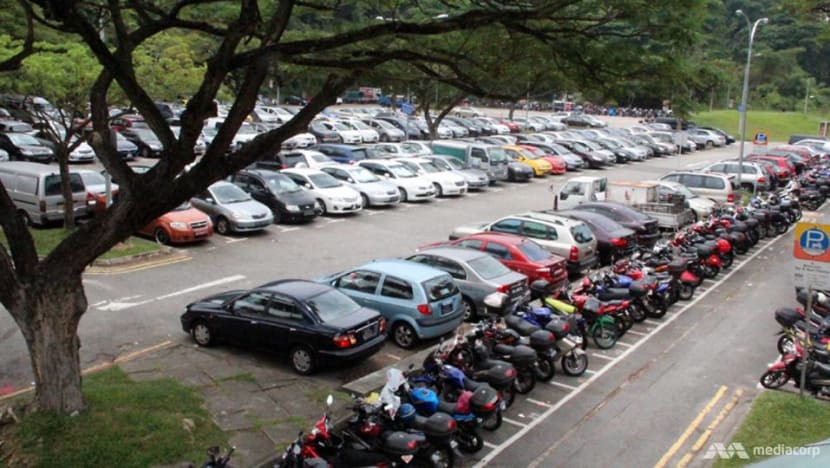 SINGAPORE: A parking officer who issued more than S$1,000 worth of fake parking summonses while she skipped her patrols was sentenced to four weeks' jail on Monday (Oct 15).
Noorasimah Jasman, 33, was employed by Ramky Cleantech Services, which manages several parking lots owned by the Housing and Development Board (HDB).
Between Jun 5 and Jul 1 last year, Noorasimah issued 54 parking summonses to motorists who had parked at Bukit Panjang or Choa Chu Kang, and who had not actually broken any rules.
Of these, 16 vehicle owners paid the falsely imposed fines, which were mostly in sums of S$8 or S$30. A total of S$304 was paid, and HDB has since refunded the money to those affected.
Noorasimah's ploy was discovered when one of the vehicle owners, Ms Catherine Toh, received a letter about a parking offence supposedly committed past midnight on Jun 9, 2017.
Ms Toh had been overseas at the time, and people with access to her keys said they did not take the car out.
She contacted HDB about the matter and while waiting for a reply, she received another letter for a separate "parking offence" committed on Jun 18, 2017, the court heard.
Ms Toh again approached HDB and she was asked to make a police report.
Police investigations revealed that Noorasimah had issued the summonses even though she was not physically present at the parking lots.
ACCUSED SAID SHE NEEDED TO CARE FOR GRANDMOTHER
Noorasimah did not patrol the car parks assigned to her as she said she needed to care for her grandmother who was in ill health, the court heard.
As part of her job, Noorasimah was required to check at least 60 vehicles per car park, record the number of vehicles checked and the number of summonses issued on an accountability form.
She would be the only person patrolling the areas assigned to her, the prosecution said.
To prevent her employer Ramky from finding out that she was not conducting patrols, Noorasimah keyed in registration numbers of vehicles without season parking tickets using the Electronic Handheld Terminal scanner she was issued at the start of each shift.
She recorded that they had committed parking offences, as she had kept records of these vehicles from previous car park patrols.
Although the parking offences logged would have to be accompanied by photos, Noorasimah planned to explain the lack of photos as an oversight on her part.
She knew that if any vehicle owner appealed against the summonses, HDB would waive the summons since there were no photos.
She also knew that her company Ramky would be fined for her failure to stick to standard operating procedure, the court heard.
HDB CANCELLED REMAINING SUMMONSES; ALLOWED APPEALS
Noorasimah pleaded guilty to 18 charges under the Computer Misuse and Cybersecurity Act, with another 36 similar charges taken into consideration for sentencing.
HDB has since cancelled the remaining summonses issued by Noorasimah in the charges against her. It also allowed 13 appeals by vehicle owners who received wrongly issued summonses and cancelled the notices against them.
HDB also intends to take action against Ramky, likely in the form of fines, Deputy Public Prosecutor Alfie Lim said.
The prosecutor asked for at least four weeks' jail, saying Noorasimah abused the authority entrusted to her for "self-serving reasons, in order to cover up her absence from work".
"There are several victims resulting from the accused's offences," Mr Lim said. "Multiple vehicle owners, the company itself and HDB."
"Significant inconvenience was likewise caused to HDB in terms of the work devoted into addressing the complaints from the car owners, waiving the summons issued by the accused and refunding the car owners of fines that had been wrongly paid," he added.
Channel NewsAsia has contacted HDB for more information.