MPs call for more support for teachers, special bonus to recognise hard work during COVID-19 pandemic
The Members of Parliament also urged the Ministry of Education to review the non-teaching-related workload of teachers.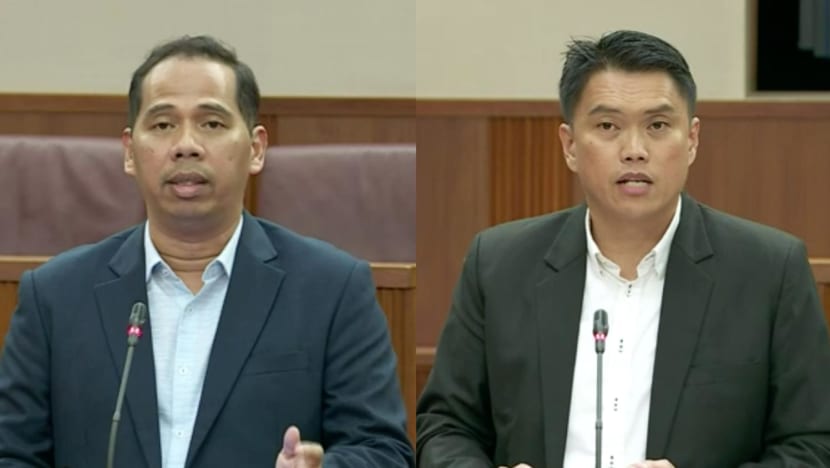 SINGAPORE: Members of Parliament called for more to be done to support teachers, including a special bonus to recognise their hard work during the COVID-19 pandemic. 
Speaking in Parliament on Monday (Sep 12) during an adjournment motion, Nominated MP Abdul Samad Abdul Wahab said he decided to raise the motion after seeing a video of a student in St Andrew's Secondary School threatening a teacher with violence. 
Unions that represent teachers across Singapore said they receive more than 1,000 cases of grievances each year, ranging from managing students' behaviour, abuse from parents, and issues relating to mental health or career progression, said Mr Samad. 
"The unions acknowledged that Ministry of Education (MOE) had been supportive towards them in resolving conflicts and take feedback positively on salary scale and career progression," he added, citing the recent pay bumps announced for MOE officers. 
However, the unions believe that the Education Ministry could do more to implement policies to address teachers' concerns, including ones that would "set a baseline" for school practices, said Mr Abdul Samad, who is the vice-president of the National Trades Union Congress (NTUC). 
Assistant secretary-general of NTUC Patrick Tay (PAP-Pioneer SMC) said while he welcomed the pay bumps for MOE officers, he hoped the salary increases and improved retention benefits could also be extended to all other educators, including those in polytechnics and Institutes for Technical Education (ITEs). 
"I am happy to share that some unionised companies in the private education sector have also done a review and given salary adjustments," he added. 
"We hope that the rest of the players in the private education sphere, which includes early childhood, student care, autonomous universities, and PEIs (private education institutes), will also do likewise and review their salaries to ensure that their overall salary packages remain competitive, and also to help those who need to cope with the rising cost of living." 
Some trainers and lecturers in private education institutes are independent contractors, or gig workers, and a review of their compensation and benefits is also timely, said Mr Tay. 
"All these will go a long way to give an assurance to our educators that whether they're from the public and private sectors, their role in educating our future generations is recognised and valued," he added. 
The salaries of student care educators are "disproportionately low" compared to the deliverables and expectations from parents, said Mr Tay. 
"There are minimal progression opportunities for this group of educators. I hope that we can do more to uplift the profession of this group of educators and help raise the salary and progression of these student care educators," he added. 
Mr Abdul Samad called upon MOE to consider giving teachers a special bonus to recognise their effort in "managing extraordinary workload and stress during the pandemic". 
"This gesture is also similar (to the one) given by Ministry of Health for all their healthcare personnel in managing the pandemic," he added. 
Both Mr Tay and Mr Abdul Samad urged MOE to reduce teachers' workloads, especially when it comes to responsibilities not related to teaching.
Calling on parents to support teachers, Mr Abdul Samad stressed that teachers also have their own personal lives and families. 
"We as parents need to understand that teachers need their work-life balance as much as us. Even with this, the teachers will always go beyond the call of duty," he added. 
"However, parents must always respect teachers' private space and time. Parents can play a role in becoming constructive and complementary partners of teachers to support the students' growth and development." 
Teachers need more time outside of the classroom to mark homework, prepare for lessons and guide students, said Mr Abdul Samad. 
"To then load them with committee work, non-teaching-related duties and meetings as well as constant, non-stop WhatsApp messages from multiple chat groups is unwise and untenable," he added. 
Mr Tay suggested educators be given opportunities to go on sabbaticals or gap years to go on industry attachments outside of the education service to "recharge and refresh their knowledge and perspectives". 
He also noted that teachers spend a lot of time setting and preparing for exams. 
"Can I suggest that all exam papers be set at a group or cluster level for all our mainstream levels... so that time can be saved and there is greater uniformity, consistency, and alignment, especially such as during the pandemic, where prelim results are used as a proxy when the student is unable to undertake national exams," said Mr Tay. 
"This will reduce disparity and take a whole load of onerous time off teachers and schools with this co-sharing of exam script preparation." 
MANAGING TEACHERS' WORKLOAD
Responding to Mr Tay and Mr Abdul Samad, Minister of State for Education Gan Siow Huang (PAP-Marymount SMC) noted that managing teachers' workload is "an important area of focus" for MOE. 
"We have reduced administrative work by strengthening centralised services and leveraging technology," she added. 
MOE will consider other ways to "create capacity for our educators", including Mr Tay's suggestion to set common exam papers across schools, said Ms Gan. 
She added that during school holidays, all schools have protected vacation time for educators, ensuring that they have time to rest and recharge. 
Schools and education institutions have also introduced more flexible work arrangements for educators "where feasible". 
"This includes holding virtual or hybrid parent-teacher meetings and staff meetings. Educators who require greater flexibility in working hours can also apply for part-time teaching arrangements," she added. 
Polytechnics and ITEs are currently conducting a salary review, and the outcome will be shared with staff when it is complete, said Ms Gan. 
She also thanked Mr Abdul Samad for his suggestion on a special bonus for teachers. 
"While paying our educators competitively is important, building a quality teaching service goes beyond salaries," she added. 
Parents play a significant role in supporting the well-being of teachers, said the Minister of State. 
She urged parents to work with teachers to establish "positive partnerships and set appropriate expectations" of teachers' responsibilities. 
"For example, parents could respect educators' personal time by minimising non-critical communication with them outside work hours.
"Give schools and educators some time to respond to your queries and feedback. Work together with the educators to support your children's learning and complement the learning with what can be done at home."