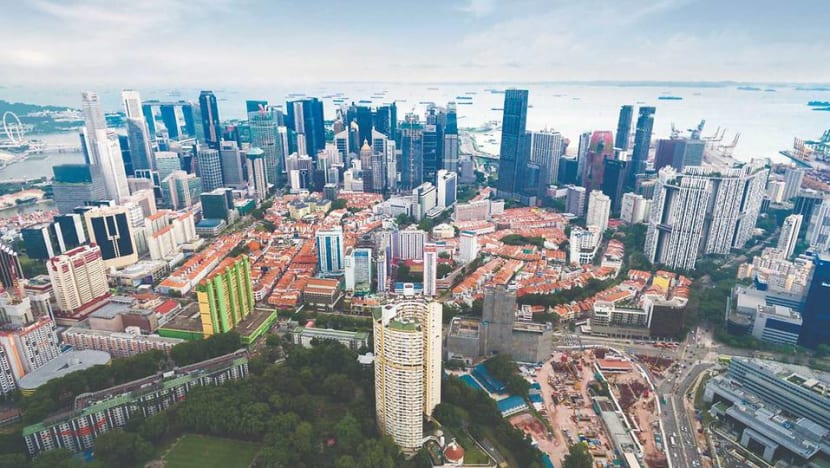 SINGAPORE: Pearl Bank Apartments has been sold for S$728 million to CapitaLand through a private treaty collective sale, marketing agent Colliers International announced in a news release on Tuesday (Feb 13).
The sale of the iconic horseshoe-shaped building at Outram comes after the close of its collective sale tender on Dec 19 last year - its fourth attempt at a collective sale.
The collective sale tender attracted keen interest from developers, Colliers International said, adding however that they flagged concerns which included uncertainties arising from the Pre-Application Feasibility Study (PAFS) on traffic impact which will affect the number of units that can be built on the site. 
The collective sale committee then instructed Colliers International to enter into private treaty negotiations with interested parties who needed more time to assess the impact of PAFS.
According to collective sales rules, the owners may enter into a private treaty contract with a buyer within 10 weeks from the close of the public tender. It was during this period, Colliers said, that it managed to seal the deal for Pearl Bank Apartments, selling it to CapitaLand.
The sale price - which met the owners' reserve price - translates to a land cost of about S$1,515 per square foot per plot ratio, said Colliers International.
This is after factoring in an upgrading premium of approximately S$201 million for the lease top-up. There is no development charge payable.
The 37-storey development comprises 288 units (280 apartments and eight commercial units) and has a 99-year leasehold tenure with effect from June 1970.
Apartment owners whose unit sizes range from 123 sq m to 371 sq m stand to receive between S$1.8 million and S$4.9 million.
Owners of commercial units with sizes ranging from 65 sq m to 523 sq m will potentially receive between S$1.2 million and S$6.9 million.
PLANS FOR HIGH-RISE RESIDENTIAL DEVELOPMENT
In a news release, CapitaLand said it plans to redevelop the site into a high-rise residential development comprising about 800 units with a host of "social, shared facilities which will foster community spirit and celebrate the area's unique heritage".
"Our upcoming residential development offers a rare opportunity for young urbanites to own a home in a mature estate brimming with local culture and heritage," said Mr Ronald Tay, CapitaLand Singapore's chief executive officer. 
"Targeted for completion by early 2023, right after the opening of the third MRT line in Outram, the Thomson-East Coast line, the commute from the development to Shenton Way, Marina Bay and Orchard will be even more convenient for residents," he added.
Dr Lee Nai Jia, senior director, Southeast Asia Research head, Edmund Tie & Company, said that the new development at the site could potentially attract buyers willing to pay "top buck".
"The area has a very strong cultural identity. It will attract of a new group of buyers, which we've been seeing entering the market. This group of buyers are younger, they can be foreigners or locals, in their early 30s, professional and highly paid," Dr Lee said.
"They usually like places that are near the CBD that have a strong cultural identity, that have many cafes. They want to live that kind of lifestyle. So I can see that site has the potential be redeveloped into something that can attract this group of buyers who are willing to pay top buck," he added.
RULE CHANGES
The site is subject to the Pre-Application Feasibility Study (PAFS) announced by the Urban Redevelopment Authority last November, which the chairperson of the building's collective sale committee said was a "setback".
"The introduction of the PAFS - just weeks before the close of the public tender - was a setback for the collective sale as interested parties needed more time to assess its impact," said Mr Alex Poh, chairman of the Pearl Bank Apartments collective sale committee.
The new rules require potential buyers, developers and real estate agencies submitting outline or development applications for en bloc proposals to seek approval from the Land Transport Authority (LTA) and conduct a PAFS.
They require applicants to assess traffic impact of the redevelopment on the area and propose car-lite measures or initiatives, traffic demand management measures, and feasible transport improvement plans.
The Urban Redevelopment Authority will only be able to support the proposed number of dwelling units in the applications after LTA approves the PAFS.
"There's been some concern in the market that this requirement of PAFS - or in layman's terms, the traffic impact study - may adversely affect an en bloc sale. But we must bear in mind that ... the amount of gross plot ratio or GFA allocated will remain the same," said Mr Nicholas Mak, executive director of ZACD Group.
"The only difference is whether or not the traffic impact study will require the developer to build a fewer number of apartments, which means the size of each apartment will be larger. Some developers may actually not want to build many shoebox units out of a particular land parcel ... We have also seen that in some prime districts in Singapore, larger apartments can command a higher price on a per square foot basis," he added.
CONSERVE VS REDEVELOP
Mr Poh, the chairman of Pearl Bank's collective sale committee, said that although residents had previously explored the idea to conserve the apartments due to its history and design, "recent sentiment has strongly shifted to redevelopment".
"A deeper analysis of the building structure and the required enhancement work show that conservation would be a costly undertaking and a huge burden for the owners," he said. "It is not a viable nor favourable option for the residents."
Additional reporting by Wendy Wong.